We don't often connect the city of Venice with world domination, given that today it's associated in the popular imagination with being a well-known (and increasingly soggy) tourist destination and not much else. Journeying back in time through its music, we learn that Venice the political entity was one of the major players in Europe for nearly 700 years, from the early Middle Ages to the 18th century. The Most Serene Republic of Venice comprised not only the city itself, but the rest of Northeastern Italy, the islands of Crete and Cyprus, ports north of Athens and an archipelago of various Greek islands as well as ports in Albania and Croatia. Just as Rome was an empire based on one city, so too was Venice – but the latter remained the envy of the other European powers long after the Romans had quit. Venice came to be one of the richest cities in the world over time, the envy of The Ottomans and the Papal States. For a power no one bothered to teach us about in school, the Venetians didn't do too badly at the game of empire.
The rich history of the Venetians, fuelled as it was by a voracious appetite for wealth and power, was, unsurprisingly, also something of a golden age for culture, and Venice's rulers and patricians funded a galaxy of talented musicians, composers, artists and architects throughout the Middle Ages and Renaissance. Titian, Giovanni Canaletto, Francesco Guardi and the entire Bassano family remain influential artists from the period of Venice's glory, artists who still hold significance in the art world today. Similarly, Venetian musicians were some of the greatest composers in Renaissance Europe: Diruta and Zarlino, Claudio Merulo, Cipriano de Rore, Andrea and Giovanni Gabrieli, and the father of opera himself, Claudio Monteverdi are all Italian composers who spent most of their lives in the city of Venice.
For concert programmers, especially of early Baroque and vocal music, the city of Venice is a veritable gold mine gold mine, and the Cantemus Singers, a local choral group dedicated to Renaissance and Baroque music, have tapped this Venetian vein for their upcoming concert at the Church of the Holy Trinity on March 21 and 22, In a concert titled, appropriately enough, "The Glories of Venice" the 14-voice a cappella group will be delving into a fascinating chapter in the city's musical history by performing selections from the madrigals and motets of Adrian Willaert, de Rore, the two Gabrielis and Monteverdi. They'll also be featuring Giovanni Gabrieli's glorious Easter motet for double choir Angelus Domini Descendit and Monteverdi's remarkable Missa da cappella, a tour de force of sacred music writing from the early Baroque. They'll be joined by new members Amy Dodington and Rachel Krehm as well as lutenist Ben Stein. As choir concerts go, this program seems remarkably focused in both its scope and style, so if you're at all interested in Renaissance vocal music or Italian music, or just enjoy choral music in a lovely intimate venue, this is definitely the concert for you.

Capella Intima's Dido: If you're in the mood for a vocal concert that takes you further from Italy and closer to (say) England, Capella Intima has just the concert you've been looking for. They're touring a version of Purcell's Dido and Aeneas based on its first ever public concert performance in 1780, almost a century after the work was first debuted at a girls' school in 1688. Warming to the occasion, Intima has come up with "An Evening of Antient Music" – namely, what musicians and concertgoers of previous centuries, exhibiting both more than a little historical chauvinism and a fanaticism for new music, called a performance of any piece that was more than a half-century old. Capella Intima is touring their Dido around Southern Ontario, including performances in Hamilton and St. Catharines, and will be taking the show to Toronto for a special evening of music making. They will be joined by Sheila Dietrich, soprano; Jenny Enns Modolo, alto; Bud Roach, tenor; and David Roth, baritone, for the Purcell as well as some rounds, a few catches (like a round, but with dirtier lyrics), and airs. You can catch this at Trinity-St. Paul's Centre, on March 6 at 7:30 pm.
Out of the Ordinary: If you're a fan of English poetry as well as English song, check out the Musicians in Ordinary's concert devoted to the poetry of John Donne. Donne's intricate poems include some of the most sensual and the most spiritual in English literature. To assist in evoking the poet's craft, the Musicians in Ordinary have invited Seth Lerer, a scholar of Renaissance literature from theUniversity of California at San Diego, to read some of his work as part of the concert.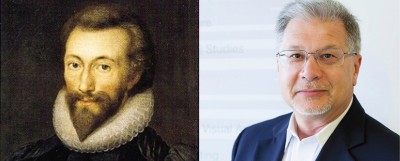 Donne's contemporary, the Renaissance composer Thomas Campion, was also a Donne fan and expressed his appreciation by setting a few of Donne's poems to music. Soprano Hallie Fishel will be singing these with some accompaniment from John Edwards on lute at Heliconian Hall on March 7 at 8pm. This concert will be a musical tribute to a seminal figure in English literature. But be prepared! While much of Donne's writing is full of light and grace, his Nocturnal Upon St. Lucy's Day, which is on the program, is bleakness personified.
According to St. John: Tafelmusik is helping to escort us through Lent this month with an appropriately pious concert. Johann Sebastian Bach's St. Matthew Passion's reputation as the composer's magnum opus seems completely unshakeable save for his underappreciated Passion According to St. John, and it's the latter that the orchestra will be bringing to Trinity-St Paul's Centre on March 19 to 22. From the opening chorus, "Herr, unser Herrscher" to the closing chorale "Ach Herr, lass dein lieb Engelein," the St. John Passion is some of the finest vocal music of the 18th century. Ivars Taurins will conduct the Tafelmusik orchestra and chorus; soloists Julia Doyle, Daniel Taylor, Charles Daniels and Peter Harvey will be on hand to deliver some spectacular arias. Whether or not you've ever heard a performance of the St. John Passion or any other of Bach's vocal music, this concert is definitely a must-see.
Finally, the hardworking Musicians in Ordinary will be performing a second time this month – this time as part of their series as the ensemble-in-residence at St. Michael's College. They will be playing St. Basil's Church on March 16 at 7:30 pm, as part of a free tribute to that most famous of saints (and alleged inventor of whiskey) St. Patrick. The concert repertoire itself isn't particularly Irish, but instead features some large-scale works by some 17th-century Italians: Monteverdi, Fontana, Marini and the like. With the Saint Michael's Schola Cantorum choir joining the group along with harpsichordist Boris Medicky and violinists Christopher Verrette and Patricia Ahearn, this looks to be a concert well worth checking out – as well as being a chance to hear some of the top players in the city free of charge.
David Podgorski is a Toronto-based harpsichordist, music teacher and a founding member of Rezonance. He can be contacted at earlymusic@thewholenote.com.