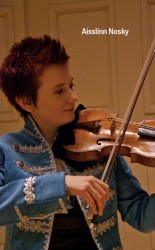 I miss German composers. They are an unavoidable part of the musical topography for anyone playing music from Mozart to Schoenberg, but in early music, there are only a few chances to play anything German or Austrian. There's Bach, of course, and the odd piece by Telemann, which I suppose is enough for most non-Germanophiles. Handel's Messiah rolls around every December, too and a baroque violinist will occasionally program a Biber violin sonata, but that's about it. There isn't, alas, exactly a major movement in the city devoted to reviving Heinrich Schutz, nor is anyone particularly interested in programming anything by C.P.E. Bach anymore. Hasse? I never hear him in Toronto. Graun? Forget about it. So I'm particularly indebted to Opera Atelier for increasing diversity and enlivening the musical conversation in the city by adding a bit of Christoph Willibald Gluck to their regular repertoire. More specifically, I'd like to throw my support behind their decision to put on his best-known opera, Orfeo ed Eurydice, this month.
Never heard of Gluck? Don't worry. Gluck is very much a conventional Classical (with a capital C) composer, so if you know Mozart, you'll have a pretty good idea of what to expect. Gluck wrote Orfeo when Mozart was just a child, and given that the opera got its first performance in Vienna, it's very likely that it was a direct influence on the young composer. It's reasonable to say that Gluck comes across as an old-fashioned version of Mozart, with perhaps more of a French influence (accompanied recits, dance movements, a lot for the chorus to do) but his Orfeo is much more hummable, than, let's say, Monteverdi's. Combine this music with Opera Atelier's diverse and estimable talents, e.g. Marshall Pynkowski's direction, and accompaniment furnished by Tafelmusik under David Fallis, and this show is a sure-fire hit. Opera Atelier performs Orfeo ed Eurydice at the Elgin theatre April 9 to 18.
Tafel in the Underworld: The story of Orpheus, the famed musician descending into hell to charm the denizens of the underworld and rescue his princess, has captivated musicians for centuries. As epic stories featuring heroic musicians go, though, the myth of Orpheus still pales, at least in contemporary relevance, to the ongoing saga of Who Will Lead Tafelmusik. Finding yourself under scrutiny as a potential artistic director for one of Canada's top orchestras is not unlike having to face down Cerberus, a comparison which, I would venture, is not lost on potential candidates.
This month's installment of the Tafelmusik audition process (a season with invited conductors/concertmasters) brings us violinist Aisslinn Nosky, who will be leading Tafelmusik in a program of music by Purcell, Charpentier and Telemann. Nosky's got quite a few things going for her, as an up-and-coming musician with a following in Toronto (her chamber band I Furiosi has just about the youngest audience I've seen at a classical music concert) as well as having a long history with the group as both a student and full-time member. Is Aisslinn Nosky the next Jeanne Lamon? Does she have what it takes to beat the odds and win Canada's most coveted music job? Well, we won't know that until next year. You can, however check it out and decide for yourself from April 23 to 26 at Trinity-St. Paul's Centre as well as April 28 at George Weston Recital Hall.
Ahearn at TEMC: There are a number of members of the Tafelmusik crew who are busy this month with a few smaller (and potentially less stressful) chamber music concerts. Tafelmusik violinist Patricia Ahearn will perform a solo concert under the Toronto Early Music Centre banner in a program at St. David's Anglican Church that features a few of the Germanic stalwarts of the early music repertoire I mentioned earlier – Bach, Biber and Telemann. And what a solo program! It's a concert of monstrous pieces – namely an unaccompanied Telemann fantasia, the Bach unaccompanied violin sonata in G minor, and the Biber passacaglia. None of these pieces is particularly easy by itself on a program, so all three together on the same bill is quite an ambitious array of difficult music. Watching Ahearn pull this off will be a thrilling experience – she'll be performing on Sunday April 19, at 2:30pm.
Early at Eastminster: Tafelmusik's artistic director Jeanne Lamon and principal cellist Christina Mahler are also highlighting a chamber concert at Eastminster United Church in a concert of Haydn and Boccherini on April 18 at 8pm. They'll be joined by a couple of notable younger musicians – namely Edwin Huizinga and Kerri McGonigle, so this should be an enjoyable performance that brings together a couple of established artists with two of Toronto's most talented up-and-comers.
Torture at Calvin: Aisslinn Nosky will also be performing earlier in the month with her regular band, I Furiosi at the group's most regular venue, Calvin Presbyterian Church (26 Deslisle Ave., St. Clair subway). They're calling it Instruments of Torture, which sounds either particularly unpromising or promising, depending on your bent. One thing it won't be, though, is painful to the ear; I Furiosi is known for putting together amusing musical miscellanies that never take things too seriously. Given the title, it's likely to include a few selections to appease your organological fetish, and the group will throw in a pop tease here and there. I Furiosi will be presenting Instruments of Torture along with lutenist Lucas Harris on Friday April 10 at 8pm.
17th-Century Avant Garde: There's one more chamber concert featuring Tafelmusik violinists going on this month - the group Musicians in Ordinary, probably the hardest-working instrumental group in Toronto, will be presenting a concert featuring Chris Verrette and Patricia Ahearn along with their core duo of soprano Hallie Fishel and lutenist John Edwards. This particular concert, entitled In Stile Moderno, features the music of Renaissance Italy's avant-gardists. Claudio Monteverdi broke more than a few conventions of traditional style and perceptions of good taste when he began publishing madrigals and instrumental music as a court composer in Mantua. The musical establishment of the day was outraged, but Monteverdi's musical revolution eventually made him the most famous composer of his day. It's also interesting to note that he didn't do it alone - the master had a few followers in his circle who either tried to imitate his style or were just sick of the last two hundred years of tedious Renaissance polyphony. Salamone Rossi was one such disciple, and he didn't do too badly either: although he never enjoyed Monteverdi's level of fame, he's still the most famous (and the most talented) Jewish classical composer before Mendelssohn.
The Musicians will be dedicating a concert to the music of the aforementioned two audacious Italians along with some of their Mantuan "modern style" contemporaries. You can check them out at Heliconian Hall on May 2 at 8pm.
David Podgorski is a Toronto-based harpsichordist, music teacher and a founding member of Rezonance. He can be contacted at earlymusic@thewholenote.com.