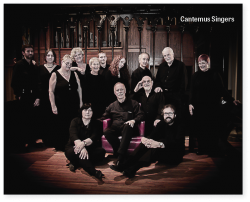 For most non-musicians, the end of December is a welcome opportunity to take a break from the pressures of work, usually present year-round, and spend time with family and friends. This is sadly not the case if you happen to be a performing musician. While most of us are winding down for the holidays, it seems like Toronto early music groups are working harder in the next couple of months. December and January are two busy months for early music groups in the city, and whether it's Christmas repertoire or part of their regular programming, if you're in the mood for a concert on any given week in the next couple of months, there will be an early music concert that will be well worth going out to hear.
It's not often that I find myself in the position of trying to argue that Antonio Vivaldi is an underrated composer who needs to be given his due. But while Vivaldi still ranks as the great Italian orchestral composer of the 18th century, it's rare to hear his opera music, and still rarer to hear his sacred vocal music performed in concert. I'm happy to say that the Aradia Ensemble will be doing their part to give us a new take on the Red Priest with their recording of his sacred vocal music, which they'll be celebrating with a CD launch concert at 7:30pm on December 5 at St. Anne's Anglican Church (270 Gladstone Ave). Soloists Hélène Brunet and Vicki St. Pierre will join the group to sing in an all-Vivaldi program that includes his cantatas Beatus Vir, Cur Sagittas, Cur Tela, and Vos Aurae per Montes. Aradia has over 50 albums under its belt, many of them excellent, so it's a bit of a shame that the group remains largely ignored by the Toronto concert-going public. This promises to be a solid concert of some rare music by a first-rate composer.
Not Ordinary: Another Toronto group that deserves a little more attention is the Musicians in Ordinary. Over the last few years, the group has been positively thriving as the ensemble-in-residence at St. Michael's College, of the University of Toronto. In an age of cuts to culture and with symphony orchestras being forced to close their doors for lack of funding, it's heartening to see that U of T is giving the group a regular performance space as well as some resources for larger-scale concerts. There is absolutely no group on the Toronto early music scene that performs as wide a range of repertoire as frequently as this one. Their concert next month is a great example of what the group can do when it's scaled up. St. Michael's Schola Cantorum will be joining the Musicians in Ordinary for a concert of English music by Handel and Geminiani. Violinist Chris Verrette will also be performing with the group in what promises to be a very enjoyable musical evening, December 7 at 7:30, at St. Basil's Church, St. Michael's College. The holiday season also promises a chance to get out and see some concerts, and it's nice to see that there's more than just Messiahs to get us all in the mood.
Cantemus Singers start the Christmas season off early at 7:30pm on December 5 with a concert of Christmas music from the courts of 16th-century Spain and Austria at the Church of the Holy Trinity. If you happen to be in Kingston, or if you'd prefer a choral concert that's a little more conventional in its repertoire, you might want to consider checking out the Melos Choir, who will be doing a program of Advent and Christmas songs and readings featuring music by some Renaissance heavyweights –Schütz, Byrd, Praetorius and Victoria. It's at St. George's Church in Kingston on December 5 at 7:30.
The Oratory at Holy Family Church often puts on timely music and a well-researched repertoire. This month's concert at 8pm on December 9 at the Oratory is no exception. They'll be doing Advent music by Charpentier and Bach, as well as some baroque composers that I had to look up. Giovanni Rigatti was a 17th-century Venetian composer, while Nicolaus Bruhns was a Danish-German composer, organist and violinist, who was a student of Dietrich Buxtehude. Both these composers wrote music for Advent, and both of them would probably be better known if more of their work had survived to the present day. Have they been justifiably ignored, or are they neglected masters? Check out the concert and find out.
Zak Ozmo: As far as original ideas for Christmas concerts go, you can't get much more creative – or exotic – than the Toronto Consort's Christmas concert this year. On December 11, 12 and 13 at Trinity St-Paul's Centre the group will present a concert of Christmas music from the monastery of Santa Cruz. Guest director and lutenist Zak Ozmo will lead the group in a program of Portuguese- and Brazilian-influenced music unearthed from the monastery's archives. I'm especially looking forward to hearing this concert, as it's a unique program from a musical tradition we don't often get to hear much of in Toronto (Be honest, when was the last time you got a chance to go to a concert of Portuguese baroque music?) and this find could very well be a treasure trove of scores to add to the early music canon.
I Furiosi: After the holidays, I'm happy to say that the music scene in the city won't be quieting down at all. The always-boisterous I Furiosi ensemble will be presenting a mixed concert of Luzzaschi, Charpentier and Purcell at 8pm on January 9 at Calvin Presbyterian Church. The band will be joined by soprano Merry-Anne Stuart and organist Stephanie Martin for a concert of songs about unrequited love, rejection, and futility.
Tafel welcomes Glodeanu: Finally, at the end of January, more Vivaldi. Tafelmusik will be honouring Vivaldi's music in an all-Italian concert led by Romanian violinist Mira Glodeanu. Vivaldi's L'estro armonico ("harmonic fancy") is a series of 12 concertos published by Vivaldi that endure as the composer's best-known work and was hugely influential on music in the 18th century. (J. S. Bach liked the concertos so much he transcribed six of them.) On January 20 at 7pm and on the following weekend, Tafelmusik will perform the second, fourth, and eleventh concerts from the work, along with chamber music and a concerto grosso by Locatelli as well as music by Vivaldi's contemporary Giovanni Guido, who was so enamoured of The Four Seasons that he based his Scherzi Armonici on them. This promises to be an exceptional sampling of 18th-century Italian music and with Glodeanu making her debut with the ensemble from the first violin, the concert offers for Tafelmusik regulars another teasing view of how the ensemble plays with someone other than Jeanne Lamon leading from first violin.
David Podgorski is a Toronto-based harpsichordist, music teacher and a founding member of Rezonance. He can be contacted at earlymusic@thewholenote.com.