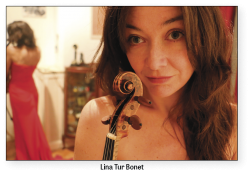 With the arrival of summer weather – and the attendant cottage weekends – it's a safe bet that it'll be a few months at least before next season starts up again for most major early music ensembles around town. Most of their concert seasons wound down the year by the end of May, but there are a few concerts to catch around Toronto, most of them free. But if you can make it out of town, or you're willing to take a chance on some music festivals, you can actually hear quite a wide variety of good music this summer.
Montreal Baroque: It's completely impossible to talk about early music festivals over the summertime without mentioning Montreal Baroque, which completely dominates the musical landscape every year. Its four-day, long-weekend-in-Quebec extravaganza is packed with nearly 30 concerts, lectures, free public events, and just out-and-out weird ideas, and features top-tier Canadian talent salted with a few international artists who fetch top dollar anywhere in the world.
And the festival isn't just about spectacle alone – this year's is actually delivering a sizeable chunk of the Bach catalogue, including some rarely performed works. A casual glance at their program shows there's about a half dozen must-see concerts packed into one weekend. The festival will feature Bach's complete sonatas and partitas for solo violin, played by rising star Lina Tur Bonet. Then, in the weird ideas category, there's a concert devoted to The Art of Fugue featuring Les Voix Humaines and the electric guitar collective, Instruments of Happiness, which as a concert idea is likely the perfect way to get people interested in what's probably the most academic composition of the classical canon. But if you need further motivation to pack your bags for Montreal, here are two other concerts make the road trip worth it: the near-legendary Italian gambist Paolo Pandolfo will be joining the festival for a concert of Bach cello suites (which he's decided, somewhat mercurially, to transcribe and play on viola da gamba); and harpsichordist Eric Milnes will direct the Montreal Baroque Festival band, which includes the festival's best soloists, for an all-star concert of Bach cantatas.
And there's plenty more good music to see: a concert of instrumental music composed by Purcell and his contemporaries; soprano Jacinthe Thibault singing late 18th-century French cantatas; and a fantastical concert dedicated to the music of Jean-Féry Rebel, to name a few. If the idea of taking a weekend off to hear non-stop Baroque concerts appeals to you, consider giving this festival a look. It takes place on and around the McGill University campus in downtown Montreal from June 23 to 26.
Tafelmusik Summer Baroque: To some, getting outside the city for a weekend of concerts might be a bit ambitious. Fortunately, Toronto's top baroque band has a little festival of its own. The Tafelmusik Summer Baroque Festival features a series of free concerts running from June 6 to 18, and while the group isn't forthcoming on details, they're solid enough to take a chance on, particularly when they're free. A couple stand out: Tafelmusik soloists will be playing a mixed program of chamber music on June 11 at 12:30 in somewhat baroque-unfriendly Walter Hall in the Edward Johnson building; if you prefer a full, woody orchestral sound, consider checking out their concert for choir and orchestra at Grace Church on-the-Hill on June 18 at 7:30.
Cappella Intima: One lesser-known group that's been putting on some great concerts for a while now is also worth a listen this month. Tenor Bud Roach's ensemble Cappella Intima has been getting quite a reputation for its exciting, well-researched concerts of late-Renaissance Italian vocal music, and their next show promises to be more of what the group does very well. "The Paradise of Travellers" will be an evening devoted to the Venetian stop on the grand tour, featuring canzonettas, arias, and sacred motets written by the composers (Monteverdi, Croce, Banchieri, and, somewhat later, Rolla) with accounts of the city of Venice by tourists from the early 17th-century (spoiler: not all of them thought the city lived up to its reputation). You can catch this show at Trinity St.-Paul's Centre on June 22 at 8pm.
Have cello, will travel: I've always liked the idea of casual classical concerts; so, if you're not in the mood for a formal evening at the concert hall, consider giving this show a try. Steuart Pincombe is an American baroque cellist who has recently come back to North America after doing a degree at the Royal Conservatory at The Hague. Not content to tough it out on a more conventional, and in all probability, slower, path to a musical career, he has taken the artistic lifestyle to new extremes. He has bought a used trailer, in which he now lives, and is putting on a series of concerts all over North America in whatever venue will put him up.
His current solo project, "Bach and Beer" is a pay-what-you-can concert of three of the Bach cello suites, which he'll be performing at the Rainhard Brewery in the Junction on June 16 at 7 pm. Each suite is paired with a brew from Rainhard's own selection. As a concert idea, Pincombe's approach is fun. But as a beer aficionado, don't get me started! (Did you know people have been brewing beer using recipes that are hundreds of years old and changing them gradually over time? Sort of the same way music has evolved? Surely I'm not the the first person to suspect the craft beer movement as being a thinly applied intellectual veneer meant to rebrand alcoholism as a fun hobby...oh dear, there I go.)
Anyway, as I said, you can't deny it sounds like a fun idea. I am all in favour of getting classical music out of the concert hall and into as many different venues as possible. Bach, in particular, is rarely if ever performed on the bar scene; letting the audience relax with some food and drink while listening is a great idea for winning over a new audience.
Summer Music in the Garden: Speaking of the cello suites, the Music Garden at the foot of Spadina, landscaped to follow the structure of the Bach suites, is a good reason to take a trip down to Harbourfront and find an oasis in the middle of downtown. Among the twice-weekly concerts that will take place there till well into September, this summer some younger Montreal-based musicians will be giving a spirited performance of some composers who don't get much attention at all. Soprano Andréanne Brisson Paquin joins Pallade Musica chamber ensemble – harpsichordist Mélisande McNabney, violinist Tanya LaPerrière, lutenist Esteban La Rotta, and JUNO-nominated cellist Elinor Frey – to perform two female baroque composers (Elizabeth-Claude Jacquet de la Guerre and Rosa Giacinta Badalla) together with the English composer, John Eccle, and the Polish composer, Adam Jarzębski, in a free concert on July 14 at 7pm. This is definitely a group that can take risks with their concert programming, and you can be sure they will play everything on the program with dedication and verve.
David Podgorski is a Toronto-based harpsichordist, music teacher and a founding member of Rezonance. He can be contacted at earlymusic@thewholenote.com