Before George Frideric Handel was hired by King George III, England was in some aspects a cultural backwater, at least as far as music was concerned. The main problem was a lack of patrons. The English court couldn't spend as lavishly on entertainment on the same scale as, say, Versailles under Louis XIV or Vienna under Leopold I, and the Church of England didn't exactly have much of a budget either. England was, unfortunately, a musically dull country, but encouraging culture was considered both a worthwhile political goal and a civic duty by liberally minded politicians around the turn of the 18th century.
For similar reasons, there was a push in England to both foster a native opera scene and build a national opera house in London – an ambitious project in an age when opera was still less than a century old, and far from the accepted musical institution that it is today. And opera has always been a hard sell for people not already inclined towards music or unwilling to accept the idea of a sung drama. While Italy and countries with an Italian influence on their culture embraced the opera readily, the English in particular didn't warm to it. Italian opera had been performed in England in 1674; an early 18th-century writer, Colley Cibber, was still protesting that opera was "not a plant of our native growth, nor what our plainer appetites are fond of, and is of so delicate a nature that without excessive charge it cannot live long among us."
But that didn't stop the most ardent English opera devotees from trying to popularize opera. They successfully had an opera house – the Queen's Theatre – built in London in 1705, by enlisting several like-minded (and wealthy) patrons and pre-selling subscriptions. And they commissioned an opera with an English libretto. There was just one problem. After rehearsals had started, the backers realized that the opera (Semele, by John Eccles) wasn't very good. Changing their plans on the fly, they decided instead to make the debut performance at the new opera house the even more forgettable Gli amori di Ergasto, by Jakob Greber.
The result was a disaster. For one thing, it was sung in Italian, which few audience members could understand, by Venetian singers who, at least one audience member complained, were "the worst that e're came from thence." As a national cultural project, it was also a failure. The national ambitions of English opera also came under fire from critics, as some felt that it was a bad idea to debut a new national opera house with an Italian turkey rather than "a good new English opera." And of course, with so much political capital riding on the success of the venture, political opponents as well as critics had been busy sharpening their knives. They were merciless, decrying the opera house and its lacklustre start as an example of hubris, and its patrons as "Creators, Givers of Being, and God Almighties." The fact that the opera was in Italian was a particular problem for the audiences of the day, and an easy target for satirists, who predicted that future historians would be misled into thinking that average 18th-century Londoners understood Italian fluently.
With so much jingoistic sentiment lurking in the background, a distinctly anti-opera attitude, a backwater musical community, a dearth of native musical talent, and a composer of any worth seemingly nowhere to be found, English music – and English opera – needed a hero.
Surprisingly, they may have already had one in their midst, in the form of Henry Purcell and his epic opera Dido and Aeneas. Purcell's opera had everything the English were looking for: an all-English text and a talented composer who was able to incorporate French and Italian musical style into a music that was distinctly his own as well as sounding very typically English. Unfortunately for the Purcell opera, its subject matter (a monarch who is led astray by Satan-worshipping witches) made Dido and Aeneas, with its implied indictment of the English monarchy, too politically charged and too inflammatory to be performed in a contemporary English opera house.
Given Eccles and Greber as the only alternatives, the tragedy of lack of compositional talent on hand to give the English the opera they needed was complete – Purcell having died the previous decade.
Comeback: With Dido having been overlooked by its contemporaries, and no other English-language opera able to fill its place, it's nice to see that it has been making a comeback in recent years. Opera Atelier in particular has chosen it to kick off their 2016/17 season, and it seems that Purcell's overlooked masterpiece will finally get the treatment it deserves. After some 300 years, the story of an ancestor of Romulus and Remus, founders of Rome, reads more like a foundational myth than an indictment of English royalty today. With a slew of dance numbers, airs and choruses, this is one of a very few operas that's actually catchy. With a cast of established and rising young stars, top-tier staging and costumes, arguably the best theatre in Toronto, and one of the best opera orchestras in the world, Opera Atelier is the ideal company to be performing this opera. It's playing this month at the Elgin Theatre from October 20 to 29. Go see it.
Music for Bloody Mary: If you're not much of an opera fan, if you're more inclined towards choral music, or if you just prefer Renaissance music to the Baroque, English music is once again on the menu with the Tallis Choir's performance of Music for Bloody Mary, at St. Patrick's Church on October 15 at 7:30pm. The Tallis Choir is being much kinder to Mary I than most historians – it's hard to get too nostalgic over a monarch who ruled for just five years and whose main accomplishments were religious purges – but the concert is filled with some forgotten gems of the English Renaissance. Tallis' glorious Videte Miraculum and Loquebantur Variis Linguis are the highlights here, and you can also get a rare chance to hear a John Taverner Mass and the almost never-heard composer John Sheppard. The Tallis Choir is a solid vocal group who has made Renaissance polyphony their specialty – this group is one of the best early music vocal groups in the city.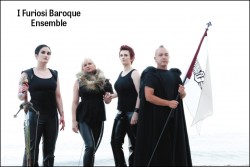 I Furiosi: Another chamber group in town that I haven't written enough about is the great I Furiosi Baroque Ensemble. The ensemble was founded in 1999 by cellist/gambist Felix Deak, soprano Gabrielle McLaughlin and violinist Tim Haig. Deak and McLaughlin were joined soon after by violinists Julia Wedman and Aisslinn Nosky, and that core ensemble remains intact almost two decades later. This is a group that stands out for their fun, engaging thematic concerts featuring a potpourri of Baroque instrumental and vocal music (with the occasional pop tease thrown in) featuring blistering performances and spirited interpretations from a top-tier ensemble to boot.
This month on October 21 at 8pm, I Furiosi will feature music by Fux, Rameau and Lully, in a concert titled "Both Alike in Dignity" at Calvin Presbyterian Church. The group will also be joined by the Toronto's reigning baroque bassoon virtuoso, Dominic Teresi, who is the closest thing to technically flawless I've ever seen in a bassoon player. Consider checking out this group if you're a fan of chamber music.
David Podgorski is a Toronto-based harpsichordist, music teacher and a founding member of Rezonance. He can be contacted at earlymusic@thewholenote.com.