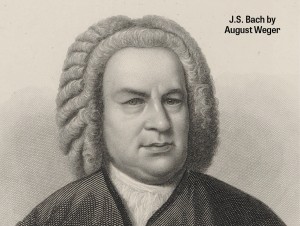 Although an all-Bach program is a tempting, and ambitious project for an artist, there are two perils. One is difficulty, the other, monotony. Bach seldom found himself in a mood to write anything easy, and it's hard to give his music the flair it often deserves in performance. It also doesn't help that a modern concert audience demands variety, and one composer alone, even Bach, is hard pressed to carry an entire evening's worth of music.
Unless of course that Bach program is an Alison McKay multmedia project. This month, Tafelmusik presents McKay's newest production, "J.S. Bach: The Circle of Creation," a celebration of the genius of Bach. Like McKay's previous productions, "The Galileo Project" and "House of Dreams," her latest combines text, music, projected images and video, with the help of Jeanne Lamon, back to lead the orchestra, and Marshall Pynkoski, providing stage direction.
The Circle of Creation promises to be more than just a tribute to Bach. McKay wants the audience to explore not just the composer's world, but also the world of the artisans who lived in Bach's day — the lives of a typical 18th-century papermaker, violin carver, string spinner and performer are all examined in this concert. And if anyone thought difficulty was going to be an issue (even for Tafelmusik) consider this: Tafelmusik will perform the entire concert from memory. This will be quite a stunt, as the orchestra will be expected to pull off the first two movements of the Brandenburg Concerto No.3, highlights from the First and Third Orchestral Suites, and instrumental excerpts from a slew of cantatas. If that weren't enough, the evening will also include a pile of the master's chamber music, including parts of the Goldberg Variations, sonatas for two and three violins, and the Allemande of the First Partita for solo violin. It's not exactly the sort of repertoire one jumps to include in the same concert, let alone try to do all from memory. J.S. Bach: The Circle of Creation will be performed May 6 to 10 at Trinity-St. Paul's Centre and May 12 at George Weston Recital Hall.
While Tafelmusik promises to throw every possible form of staging, multimedia presentation, and musical direction at one of the great composers of classical music, there's another concert gong on later this month that promises to be much more down-to-earth, but no less of an impressive affair. Bud Roach, a great lover of Italian music of the 17th century, will be presenting the music of Giovanni Felice Sances and Alessandro Grandi, two Italian composers who lived late enough in the Renaissance to consider Monteverdi as part of the musical establishment, rather than a radical. Sances was well known in his own time as a composer of opera in Venice. He later moved to Vienna where he eventually became Kapellmeister under Ferdinand III. Unfortunately for Sances' legacy, his operas were all lost, so we have no chance of performing any of his larger-scale works. Grandi was more than a contemporary of Monteverdi – he was also a colleague, and worked under the great composer at St. Mark's Church in Venice, where the two wrote most of their best-known works. Roach will perform a selection of Sances' and Grandi's works as well as accompany himself on baroque guitar, on May 31 at 2:30pm as part of the Toronto Early Music Centre's "Musically Speaking" series of concerts. This all happens at St. David's Anglican Church. Roach is a gifted musician who is blessed with an exceptional voice – this concert will be an excellent chance to uncover some hidden gems from Italy in the 17th century.
Speaking of Italian music, there's another concert this month that takes its inspiration from the vocal music of Renaissance Italy – albeit with a twist. Although we definitely associate the madrigal with Italy, the genre caught on in other countries, with a few changes made in transit. Every composer in Italy felt he had to compose a madrigal to be taken seriously; even Palestrina, the composer of the Pope Marcellus Mass, got in on the craze, publishing a collection of his own madrigals (although he later claimed the work as the youthful indiscretion of a young man who should have written more masses and motets). Once the madrigal had become standard fare for Italian music lovers, and composers like Monteverdi and Gesualdo had stretched the boundaries of the genre, it eventually died out in Italy.
Not so in England. There, audiences were too busy enduring decades of religious strife, violence, and a country in political turmoil to occupy themselves much with the arts, and so discovered the form much later. Still, by the beginning of the 17th century the English had re-dedicated themselves to capital C Classical learning and culture. The result was an eccentric, derivative look at what the Renaissance could have been – a token nod to Greek and Roman culture and learning; none of the Homeric myths, mind you. No stories of gods meddling in the lives of mortals. Rather, an overall aesthetic that sought entertainment in easygoing comedy and diversion rather than in the epic tragedy found in, say, a typical Italian opera. Presumably everyone in the country had seen enough drama and tragedy after Henry VIII's reign.
So while your typical English madrigal of the day may have had enough sighing in it to make a sizeable breeze, it nevertheless kept a tight rein on the emotional range of its earlier Renaissance counterpart – no broken hearts, no ruined lives and absolutely no tragic deaths allowed. There's a reason they called it "Merrie England."
The Cantemus Singers will pay tribute to the jolly, frivolous fun of the English Renaissance in their program "Nymphs & Shepherds," the group's salute to the madrigal rage that swept the kingdom for the last decade of Elizabeth I's reign and after. Highlights will include a few true masterpieces of English vocal music, such as Thomas Morley's Hard by a crystal fountain (from his The Triumphs of Oriana), John Ward's Come, sable night, and Thomas Bateson's Merrily my love and I. As well as some jolly English songs, the group will perform a few more sobering compositions, including Byrd's exceptional Mass for Five Voices and John Sheppard's glorious motet Libera Nos. The concert will be presented at the Church of the Holy Trinity May 30 and 31.
Finally, if you're in the mood for something French (or Turkish), consider checking out Toronto Masque Theatre's Les Indes Mécaniques, a choreographed adaptation of Rameau's great opera Les Indes Galantes. The show also includes The Anahtar Project, traditional Turkish music from the days of the Ottoman Empire. It promises to be an eclectic musical evening featuring one of the great 18thcentury French operas. This concert takes place at the Fleck Dance Theatre at the Harbourfront Centre May 14 and 15.
David Podgorski is a Toronto-based harpsichordist, music teacher and a founding member of Rezonance. He can be contacted at earlymusic@thewholenote.com.