A pattern I'm beginning to see in early music concerts in Toronto is something you might describe as musical tourism – rather than a mixed program or a concert built around a particular composer or work, groups experiment with a time and place in history and give the audience a soundtrack to that particular moment. I'm thinking specifically now of Toronto Consort's "Paris Confidential," which I saw late last year and quite enjoyed – it was a fascinating look at Renaissance Paris, complete with music from the City of Lights circa 1550. This month, I'd like to look at other Toronto groups who are both geeking out on history and putting together some fabulous concerts in the process.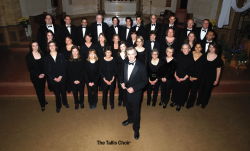 Take for example, Leopold: you have to have at least some background in history to have heard of Leopold I, a very unlikely figure, one might think, to inspire a concert program. Nevertheless, European civilization owes quite a bit to Leopold I of Austria, who ruled over the Holy Roman and Austro-Hungarian Empires for the latter half of the 17th century. Leopold came to power as the King of Bohemia in 1655, after Europe had already been wracked by decades of brutality in the Thirty Years War, which had been waged across the length and breadth of the European continent and had ended when Leopold was just a child. You might think, after three decades of constant warfare, as well as the attendant expense and famine, that a rookie 15-year-old king would welcome a break from fighting and usher in a new era of peace, but the kid wasn't having any of it. The first thing he did was team up with Poland to wage war against the Swedes for five years. Leopold won that war, having in the meantime become king of Austria, Croatia, and Hungary, as well as Holy Roman Emperor of Germany. This bought Eastern Europe nearly two decades of peace – until Leopold went on to battle Louis XIV of France and the Ottoman Turks multiple times from the 1670s until his death in 1705. In so doing, he established himself as the major belligerent of one of the most violent centuries in human history.
Alongside waging constant warfare and his perceived obligation to defend Christendom from the Islamic hordes, the northern barbarians and France, Leopold was, surprisingly, a generous musical patron and composer himself. Many fine Baroque composers, including Antonio Bertali, H.I. Biber, J.J. Fux and Johann Schmelzer owe their careers to his patronage. This month, the Toronto Consort will pay tribute to this magnificent sponsor of European musical life. Lutenist and conductor Lucas Harris will join the ensemble for a program based on a manuscript of music from Leopold's court in Vienna, including that composed for the emperor's court and chapel. This all goes down at Trinity St. Paul's Centre on February 6 and 7.
Guadalupe: Blood-soaked European battlefields are fairly common grist for history's mill. But history can also be built on strange events in the most unlikely of places, as in our next concert, which was inspired by an apparition seen by a simple farmer in a tiny village in Mexico. When the Virgin Mary appeared to a farmer on a hill in Guadalupe (now incorporated as a suburb of Mexico City) and told him to build a church there, the Spanish authorities honoured the pious man's request by building a monumental cathedral. Centuries later, it is surely an inspiring place. The cathedral at Guadalupe is now a number one tourist destination for Catholics worldwide and the Virgin of Guadalupe is a cultural and religious icon for Mexicans everywhere. The Tallis Choir is dedicating a program to the basilica at Guadalupe on February 28 at St. Patrick's Church, featuring music from 17th-century Mexico and Spain. The Tallis Choir will be joined by Philip Fournier on organ and WholeNote columnist Ben Stein on lute in music by Tomas Luis de Victoria, Guerrero and Padilla. Since it's a very rare chance to hear music from 17th-century Mexico, I highly recommend you take this opportunity to hear it.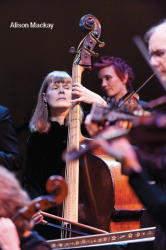 Paris 1737: From the emperor's palace in Vienna to the cathedral of Guadalupe, the next stop on the musical tour this month is Paris, which probably takes the prize for being the most clichéd tourist destination of all time. Still, when Georg Phillip Telemann took a trip there in 1737, he got a chance to perform with some of the greatest musicians of the day, including the French flutist Michel Blavet and the viola da gamba virtuoso Jean-Baptiste Forqueray. Telemann prepared for the occasion by writing a dozen quartets which the group (along with a lesser-known violinist and cellist) performed, and nearly 300 years later, the composer's Paris Quartets are a classic of the early music chamber repertoire. This month, Scaramella will present a program devoted entirely to Telemann's Paris Quartets at their usual haunt at the Victoria College Chapel on the U of T campus on March 7. Scaramella, or rather gambist Joëlle Morton, will be joined by American flutist Kim Pineda, as well as Toronto-based musicians Edwin Huizinga (on violin) and Sara-Anne Churchill (on harpsichord). While it may not have the variety of a mixed program, the Paris Quartets make for a great concert for anyone who appreciates late Baroque music. This concert will feature top-drawer music from a composer who in his day was considered by many to be better than Bach.
House of Dreams: Of course, if you're into musical tourism, Tafelmusik has that beat covered with their concert and multimedia event "House of Dreams," the brainchild of Alison Mackay, who, not coincidentally, came up with "Paris Confidential," mentioned above. Mackay's presentation/concerts are a great way of giving people a chance to explore the cultural and social history of the music, and are as educational as they are entertaining for audiences (besides, it gives us something to look at during the concerts). For this project, Mackay mashed up the music of Handel, Marais, Bach, Sweelinck and Vivaldi with paintings from the same time and place as the composers. As if that weren't enough, Mackay actually collaborated with the European museums in all these composers' hometowns, so this concert, in addition to being a giant whistle-stop tour of London, Paris, Leipzig, Delft and Venice, will actually show you what it was once like to live in those cities. As a cultural experience and musical tour, it's hard to beat. The extravaganza will take place February 11 to 15 at Trinity St-Paul's Centre, before launching out on an Australian tour. This program, which spans both the length of Europe and the Baroque era, is nothing if not ambitious, but don't let that put you off. At least you won't have to worry about jet lag.
David Podgorski is a Toronto-based harpsichordist, music teacher and a founding member of Rezonance. He can be contacted at earlymusic@thewholenote.com.