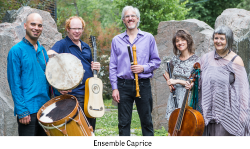 In deference to holiday tradition, I'll mention the Messiahs first: Tafelmusik's sing-along Messiah will be at Massey Hall at 2pm on December 21 this year, while Aradia's Dublin Messiah will happen on the December 20 at 7:30 at St. Anne's Anglican Church. These are the only two Messiahs in Toronto I think you need to see. If a Messiah was all you were planning on catching over the holidays, please turn the page!
Right. Now if you're serious about music, and you want to find some first-rate medieval, Renaissance, and baroque music this holiday season, or if you're just looking for an antidote to every saccharine Christmas carol you've been subjected to in every shopping mall you've been to since the beginning of November, keep reading. You certainly might find something new in the Toronto Consort's Christmas concert, "The Little Barley-Corne," a program of Yuletide hits from Renaissance Europe. This program is based on the Consort's fifth album of the same name, which although, or indeed perhaps because, it included very few tunes that were immediately recognizable as traditional Christmas carols, was a breakthrough hit for the Consort, and quickly established them as a Toronto-based early music group that deserved to be taken seriously. It will certainly be a special treat to revisit this seminal album again after 15 years. The Toronto Consort performs The Little Barley-Corne December 12 to 14 at Trinity-St. Paul's Centre.
Caprice: Another early music group that deserves our attention is Montreal's Ensemble Caprice, a recorder-based baroque ensemble that quickly gained recognition on the Montreal scene for their free, and at times bizarre, interpretations of Telemann and Vivaldi. This group can typically be trusted to blow the roof off the concert hall. Caprice will be coming to Ontario to present their Christmas program "Baroque Christmas Around the World," which features Arcangelo Corelli's Christmas Concerto, some 17th-century South American songs, traditional carols and music by J. S. Bach and Handel. It also has the potential to be more subdued than a typical Caprice concert – a roof-raising Christmas concert being somewhat blasphemous in the eyes of the concertgoing public – but I can guarantee the group will perform with panache. This all takes place at the Port Hope United Church in Port Hope December 12 at 7:30pm and in Barrie December 14 at Grace United Church on December 14 at 2:30pm.
Poculi Ludique: If you're looking for something completely out there as an alternative to Christmas carols and the Messiah, or if you're just something of a medievalist, consider checking out this group of medieval-revival performers and musicians: the Poculi Ludique Societas (or the "Cup and Game Society"). This group will be performing selections from the York Mystery Plays on December 13 at 7:30pm at St. Thomas's Anglican Church. The York Mystery plays were a series of performances based on bible stories ranging from the Genesis creation to the Passion of Jesus that were performed in the city of York around the 14th century; some were centred around the biblical story of Christmas. Each guild in town was responsible for a specific performance (based around a Christian divine miracle or mystery, hence the name). The mystery plays seem like a particularly insightful view into what life was like in the Middle Ages, given that the typical medieval European was a devout Christian and a member of a guild of some kind, but couldn't read the bible (or even his own name) and depended on dramatizations like the York Mystery Plays to understand what he was supposed to be believing. In any case, the Poculi Ludique Societas are all medieval scholars from the University of Toronto and can probably explain all of this much better than I can. Plus, the music is under the supervision of Larry Beckwith of Toronto Masque Theatre, so the musical part of the production is in capable hands. As an unusual form of entertainment that nevertheless captures the original meaning of Christmas, this may be exactly what the Christmas season needs.
Tafel's Quest: But if you're looking for good live music, there's no need to limit yourself to holiday-themed entertainment in the coming weeks. For example, Tafelmusik's musical quest for a new artistic director, featuring the most outstanding violinists they can find, continues in the beginning of December. Amandine Beyer, a virtuoso violinist from France, will lead the ensemble in an all-French program at Trinity-St. Paul's Centre on December 4 to 7. It looks to be a killer program of French composers, including Rameau, Corrette, Campra and Rebel. Beyer herself will attempt to wow the crowd with a Leclair concerto, and we'll see once and for all if the orchestra can put on a sublime performance of French baroque repertoire. It's all very exciting, as you can probably guess.
Scaramella: Another Toronto group that's keeping busy over the holiday season is Scaramella, led by Joëlle Morton. They'll be playing a concert devoted to the English composer William Lawes on December 6 at Victoria College Chapel at 8pm. As a gamba-based ensemble, doing a concert devoted to Lawes just makes sense – he was great composer of music for everything viol, from duets to consorts of four, five and six gambas. As a figure from music history, he's even more compelling, living as he did during the period of the English Renaissance and taking the laws of composition (sorry, couldn't resist) to strange and unusual places. His music is both engaging and intelligent, but his approach to tonality is at times either extremely liberal or extremely strange. If you don't manage to catch their Lawes concert, Scaramella is also doing a program of 17th-century German composers in Victoria College Chapel on January 31 at 8pm. This time the group will be joined by countertenor Daniel Cabena – this concert could be worth a look as well.
Out of the ordinary: If you're looking for something to do over New Year's Day, you might want to drop by Heliconian Hall at 2:30, where the Musicians in Ordinary will be playing their annual New Year's Day concert. They'll be joined by Christopher Verrette and Patricia Ahern of Tafelmusik as well as Boris Medicky on harpsichord for a mixed program including Scarlatti, Vivaldi and Corelli. The Musicians have put together a solid lineup of players to play some decent repertoire for this concert.
Finally, there are a couple of other concerts worth mentioning as we get into the coldest days of winter: Toronto Masque Theatre will be performing Handel's Acis and Galatea at the Enoch Turner Schoolhouse on January 15, 16 and 17 at 8pm. And a group of six young Toronto-based violinists are taking an encyclopedic approach to concert programming and tackling all six of Bach's unaccompanied solo violin partitas in one go. That concert will include Tafelmusik violinists Julia Wedman, Cristina Zacharias and Aisslinn Nosky, as well as Elyssa Lefurgey-Smith of Aradia. You can catch it all at Metropolitan United Church on January 9 at 7:30pm.
David Podgorski is a Toronto-based harpsichordist, music teacher and a founding member of Rezonance. He can be contacted at earlymusic@thewholenote.com.