Does anyone still remember when Italian music meant either Verdi opera or Vivaldi's Four Seasons? It turns out Italians have been making music for quite a few years before Vivaldi (and after Verdi), and much of it is still well worth listening to three or four centuries later. It's not often that we get to hear much Italian art music in concert, but in a rare coincidence, Torontonians have the unique opportunity to take in the complete history of music of the Italian baroque this month, as artists based in the GTA will be playing the complete span of Italian music in the 17th and 18th centuries from Monteverdi all the way to Vivaldi.
Monti at Tafelmusik: Who better to play Italian music than actual Italians? Tafelmusik will do just that, devoting an entire concert to Italian music of the 18th century while being led by the Italian violinist Davide Monti. Two concertos of Antonio Vivaldi headline a program that includes many of Vivaldi's lesser-known contemporaries such as Benedetto Marcello, Tomaso Albinoni, Baldassare Galuppi and Evaristo Felice Dall'Abaco. Albinoni is occasionally played today, while Marcello has been revived by early-music specialists as well as having been admired in his own time by J.S. Bach. You may well enjoy these other, capable lesser-knowns who lived in Vivaldi's shadow, but at the very least you'll come away with a new appreciation for what a great composer Vivaldi was. Catch this concert October 9 to 12 at Jeanne Lamon Hall in Trinity St-Paul's Centre and on October 14 at George Weston Recital Hall. (Oh, and it's very likely that Monti is a contender for the position of artistic director of Tafelmusik, so I'm willing to bet he'll try to burn the house down at every performance. Just thought you should know.)
Roach takes on Sances: Later this month, Bud Roach, himself a great lover of Italian music of the 17th century, will be presenting the music of Giovanni Felice Sances, an Italian tenor and composer from the generation after Monteverdi. Sances was well known in his own time as a composer of opera in Venice; later he moved to Vienna and eventually became Kapellmeister under Ferdinand III. Unfortunately for Sances' legacy, his operas were all lost, so we have no chance of performing any of his larger-scale works. Roach will perform a selection of Sances' surviving material, a collection of solo songs and duets, on Saturday, October 18 at St. John the Evangelist Church in Hamilton. He'll also accompany himself on guitar and sing along with baritone David Roth in several duet performances. The pair will also bring out some other hidden gems from the Italian 17th century, including songs by Alessandro Grandi and Carlo Milanuzzi. This should be a fantastic concert for anyone who enjoys renaissance music or Monteverdi. If you can't make it, keep in mind Roach's Sances CD will be released later in the month. There's also a Toronto concert in the works, but no word yet on when that's going to happen.
Alcina at Atelier: If an extravagant Italian opera is more your style, then you'll be pleased to make it out to Opera Atelier's debut performance of Handel's Alcina, later this month at the Elgin Theatre October 23 to November 1. Handel was already a mature composer when he penned Alcina in 1735 for his inaugural year at the Covent Garden Theatre in London, but sadly, it wasn't particularly successful, and has only recently been revived by the early music movement. Whatever 18th-century Londoners may have thought of Alcina, it's still perfectly fine by the standards of opera seria (i.e. the arias are all catchy). The music is great, and it's hard to go wrong with Handel when Tafelmusik is your pit orchestra. Of course the plot is ludicrous. But as long as you don't bother paying attention to the storyline of what's actually happening on stage, Alcina done by Opera Atelier will be the perfect night at the opera.
Monteverdi in Ordinary? You can't think of Italian opera without thinking of Monteverdi, of course. Arguably the greatest composer of the 17th century, Monteverdi's operas are smash hits even to this day. Besides his dramatic works, his spectacular Vespro della Beata Virgine, written for orchestra and choir, is undoubtedly a masterpiece, and his madrigals are incredibly innovative, intelligent compositions that are widely performed and enjoyed. This month, the Musicians in Ordinary present still another facet of Monteverdi's diverse body of work – namely his sacred chamber music written for the archbishops and cardinals of Venice. Monteverdi was kept busy writing music for three concerts a week, so the Musicians in Ordinary had a vast body of work from which to choose their program. The MIO will be joined once again by Chris Verrette on violin for the Master's Selva Morale e Spirituale, motets by Monteverdi's assistant Grandi, and some canzonas and sonatas for strings by Biagio Marini. This concert promises to be an in-depth look at sacred music by Monteverdi and his circle in Venice in the early 17th century. Catch it at Father Madden Auditorium in Carr Hall at St. Michael's College on October 24.
Mallon's Rameau: Of course, not all concerts this month will be dedicated to Italian music. Inveterate nonconformist Kevin Mallon will be dedicating a concert to Jean-Philippe Rameau along with his band Aradia, and given that the 250th anniversary of the composer's death just passed last month, one hopes for more concerts by Toronto musicians in honour of the great French harpsichordist, opera composer and father of modern music theory coming up this year. For this performance, Aradia will feature two of Rameau's wonderful Pièces de clavecin en concert, lovingly arranged for string ensemble, and the young Canadian soprano Hélène Brunet will also sing two of the composer's best-known cantatas, Orphée and Le Berger Fidèle, with the band. Two compositions by Rameau's contemporary Jean-Marie Leclair, Overture Op.13 No.3 and the Deuxième Recréation de Musique, will round out the concert. All of this takes place at the Music Gallery on October 26. Definitely a must-see if you enjoy French music.
Cardinal Consort: If you're at all interested in English music or viol consort, consider checking out the Cardinal Consort of Viols. Their next concert will feature consort music from the English renaissance, including music by Byrd, Gibbons, Holborne and Tomkins. The Conrad Grebel Chamber Choir will join the Consort for some choral works, and you can catch them at the Church of the Redeemer on October 5 or at Conrad Grebel University Chapel in Waterloo on October 1.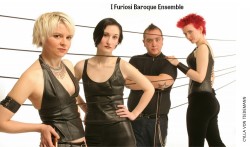 I Furiosi: Finally, the always-entertaining I Furiosi ensemble will be performing at the Calvin Presbyterian Church on October 24 in a mixed program of music on the theme of work, including compositions by J.S. Bach and Christophe Graupner. I Furiosi has a devoted following, and you can count on them putting on a virtuosic, fun show with a few pop tunes thrown in.
David Podgorski is a Toronto-based harpsichordist, music teacher and a founding member of Rezonance. He can be contacted at earlymusic@thewholenote.com.