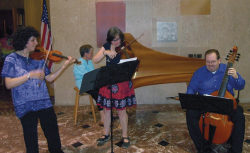 While summer is not over, it's time to start thinking more about getting back to the office and less about fishing on the lake. I'm happy to say that anyone returning to or remaining in town for the month of September will be amply rewarded musically. Judging from the sheer number of performances between now and October, I think it's safe to say that Toronto musicians are excited to get back to work and begin a new concert season.
One Toronto-based group eager to make an early start this year is Harmonie, a string-based baroque group that includes harpsichordist Janet Scott, violinists Sheila Smyth and Valerie Sylvester and viol player Philip Serna. Their first concert this season features a very unusual program, comprised solely of Dutch music from the 17th and 18th centuries; it's extremely unlikely that anyone who attends will have heard any of this music before.
"It's a really unknown area of music that's different, exciting and quirky," explains Sylvester when I ask her what inspired the group to program an entire concert of Dutch music. "The Dutch composers of the 17th century wrote unusual and beautiful music, and you won't hear music like this anywhere else." Why Dutch baroque music has been deemed unworthy of performance in the past is also something of a mystery – the country had a virtual monopoly on composers in the renaissance, and as the vast number of paintings from the period indicates, the 17th century was the Netherlands' golden age. Seventeenth-century Holland saw levels of wealth and culture unmatched in the country's history. International trade flourished, and the Dutch had money to spend on culture, be it in the form of tulip gardens, art collections or public architecture. So why not music? Sylvester speculates it had to do with Dutch politics and religion in the period. "Holland in the 17th century was newly Calvinist, so there was less church music than in previous centuries," she explains. "It was also a republic, so there was no king to play for and no court to play at."
A republic of rich Calvinist merchants meant no grand patrons in either church or palace shelling out for spectacular, expensive orchestras and operas – Holland doesn't have a St. Mark's or a Versailles to this day – but that also meant that chamber music, played by small groups of professionals or amateurs, could flourish. For Sylvester, it's what makes Dutch music so interesting. Composers could experiment, writing quirky music to fit their fancy without worrying about displeasing a despotic boss. And Dutch chamber music from the period, Sylvester argues, is written out of a simple love of musical creativity. Composers like Hacquard and Schenck might not be household names today, but their music, more so than their contemporaries, was written in a spirit of intelligence and fun. Check out this concert September 27 at 8pm at St. David's Anglican Church. The same program will performed September 28 at 8pm at the KWCMS music room, Waterloo.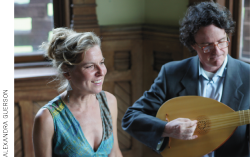 Off to the fair: If you're looking to discover more musical groups in Toronto, or if you're curious about early music in general, make a point of going to this year's Toronto Early Music Fair. It's actually been around for 30 years! An afternoon devoted to the early music scene in Toronto, it's a great opportunity for anyone curious to get very familiar with early music very fast. This year, the Toronto Early Music Centre (TEMC) will present several mini-concerts by Toronto-based artists, including Bud Roach and Harmonie. It offers Torontonians the opportunity to hear a wide variety of historic instruments played by some of the finest musicians in the city. Recordings, early music books and publications are also on sale. The Toronto Early Music Fair takes place at the historic Montgomery's Inn on Saturday, September 27 and Sunday, September 28. Given the number of concerts and presentations you can see over the course of a day, Fair tickets are a bargain at $10.
Extraordinary Ordinary: Another hard-working Toronto ensemble that's starting up their season this month is the Musicians in Ordinary, the ensemble-in-residence of St. Michael's College led by soprano Hallie Fishel and lutenist John Edwards. Their first concert this season is a program based around the covert Catholicism in England in the 16th and 17th centuries. Elizabethan England was a dangerous time to practise Catholicism openly, and this concert explores the music performed and sponsored by clandestine Catholics in a climate of religious persecution. The musicians will be playing pieces typical of late-Renaissance England, especially songs for solo voice and lute, and lute instrumental solos based on sung works. Violinist Chris Verrette will also be on hand to lead a consort of violins, and the Musicians will play works by Byrd (Catholic, employed), Dowland (Catholic, unemployed) and Wilbye (not Catholic, employed by Catholics). This concert takes place on Friday, September 26 at Father Madden Hall in the Carr building at the University of Toronto, 100 St. Joseph Street. The concert starts at 8pm, but come at 7:30 for the pre-concert talk, for insights into a time when doing so might have had you burned at the stake!
Eybler Quartet: For those more inclined towards slightly more conventional repertoire, unconventionally played, consider checking out the Eybler Quartet. They're a Toronto-based string quartet comprised of Tafelmusik players (Julia Wedman and Aisslinn Nosky on violin, Patrick Jordan on viola, and Margaret Gay on cello) who will be getting together at Heliconian Hall to perform Beethoven's String Quartet Op.18, No.2. It's a solid choice for a string quartet concert on period instruments, but Eybler will also be throwing a couple of unusual pieces on the program. Cellist Guy Fishman will be joining the quartet for two double cello quintets by Boccherini and Dittersdorf. If you love Beethoven string quartets, you won't want to miss this – Eybler is an ensemble of top-level string players that performs exceptionally well. Catch this concert on October 2 at 7:30pm.
SweetWater: Finally, if you're looking for one more excuse to get to cottage country before winter hits, or if you happen to live in the Owen Sound area, try to get out and catch some of the SweetWater Music Festival. An all-star lineup of Canadian musicians, Mark Fewer (violin), Hank Knox (harpsichord) and Lucas Harris (theorbo), will team up with baroque violinist Elizabeth Wallfisch in a mixed program that will include Vivaldi, Bach, Biber and Schmelzer at Leith Historic Church (419134 Tom Thomson Ln.) on September 19 at 7:30pm. These are some of the best musicians in the country playing a program that will have something for everyone. If you're in this part of Ontario, definitely consider going to this festival and this concert specifically.
David Podgorski is a Toronto-based harpsichordist, music teacher and a founding member of Rezonance. He can be contacted at earlymusic@thewholenote.com.