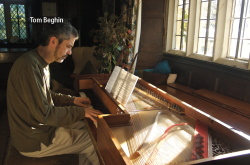 The Canadian summer is without a doubt one of the worst seasons anywhere in the world. Leaving aside the fact that it's far too short, and was preceded this year by one of the longest, coldest winters in living memory, it's still kind of hard to find things to do. I appreciate that Canadians (at least the ones in the Canadian cities where I've lived) take it a bit easier over the summer months and let things like having a social life or spending more time with family take precedence over work, but the same rule also applies to most arts organizations in the GTA. They all wound down their seasons in May, and while I know there are some exceptions to this rule, and I respect someone's right to take vacations and take a couple months to prepare their next season, I'd like to suggest that a musical ensemble or theatre group could get a lot more subscribers if they let their artistic season stretch until June or start up again in August.
Finding things to do over the summer may be a little less obvious than in other months, but if you're looking to catch some exceptional concerts to see, I have two words for you. Get out. Seriously. The very best concerts this summer are happening outside the city, and if you can escape Toronto for even a few days, you'll be rewarded by some fabulous summer festivals and a chance to absorb some culture, as well as hear some great and unique music. Check out the lineup for the Montreal Baroque Festival, taking place in downtown Montreal for the weekend of June 19 to 22. Since its inaugural year in 2003, Montreal Baroque has featured some of the finest musicians in the world performing great works of music in interesting, challenging concert programs. The festival used to have pride of place as the first festival of the summer (it starts every St. Jean Baptiste weekend) taking place in Montreal's most notorious tourist trap, the historic Old Port. It has since moved over to McGill's main campus on Sherbrooke St., but I expect it will be no less crowded this year. Montreal has a thriving early music scene, and Montrealers come to this festival in droves. If you can make it up to Montreal for the weekend, this festival is a must-see. Check out Tom Beghin's performance of Beethoven's monstrous Hammerklavier sonata on fortepiano (in the MMR Studio on Friday June 20 at 5pm and Sunday at 11am) and let me know when you can hear that in concert again. Catch David Monti and Gili Loftus playing Beethoven's "Spring" and "Kreutzer" sonatas (in Pollack Hall Sunday June 22 at 2pm): rare enough as a concert program, but almost never heard on period instruments in North America. If you're not into Beethoven, consider two medieval concerts: Ensemble Alkenia performing the music of the 14th-century composer Johannes Ciconia (McGill main campus on Saturday June 21 at 11am) and Ensemble Eya's concert of troubadour song (McGill main campus on Saturday June 21 at 9am). Add to that the always-solid Les Voix Humaines concert of music for three, four, five and six viols (Redpath Hall on Saturday June 21 at 4pm) and you can easily spend the whole weekend in the concert hall. This is an exceptional festival with some top-tier artists playing music that you rarely get a chance to hear in concert. I strongly advise anyone reading this column to consider clearing their calendar and vacationing in Montreal for that weekend.
Stratford Summer Music: If you prefer a day trip to Stratford over a road trip to Montreal, Stratford Summer Music has several concert weekends. If you find yourself there on either July 23 or 24, consider a couple of concerts by the Folger Shakespearean Consort at 7pm that will provide you with the soundtrack to Renaissance England. Songs by the Bard of Avon's contemporaries, namely John Dowland, Tobias Hume and Thomas Morley, were hits very likely enjoyed by Shakespeare himself. If Shakespeare was enough of an advocate for the arts that he couldn't trust a man who didn't enjoy music, it would be well worth the trouble to find what sort of music the playwright liked to listen to.
If you're no fan of Renaissance music (or just don't trust Shakespeare as an arbiter of musical taste) Stratford Summer Music is also bringing out Tafelmusik for some very fine chamber music on August 22 and 23. Highlights from these programs include the Bach "Wedding" and "Coffee" cantatas, a Vivaldi bassoon concerto, a Telemann sonata for winds and a Bach violin sonata. These both look to be solid concerts and between Tafelmusik and the Folger Shakespearean Consort, proof that going to Stratford doesn't need to mean just going to see a play anymore.
Music in the Garden and more: Being stuck in Toronto all summer doesn't mean you miss out on everything. If you're unable to get out of the city, consider visiting the Toronto Music Garden, 479 Queen's Quay W., a unique concert space by the waterfront that functions as its own mini-escape from the tumult of the city. This summer, the Toronto Music Garden is presenting a program of early music by some young up-and-coming musicians. On Sunday July 13 at 4pm, members of the New York-based period chamber ensemble Gretchen's Muse will present Haydn's String Quartet in E-Flat Major, Op.33 No.2 ("The Joke"), and Beethoven's Quartet in C Major, Op.59 No.3. Abigail Karr is the leader of this ensemble and she will be joined by Vita Wallace on violin, Kyle Miller on viola and guest cellist Beiliang Zhu. Zhu also holds the singular honour of being the first person ever to win the Leipzig Bach Competition on a period instrument, so it will be very interesting to hear her perform in a quartet. They will also be appearing the next day at Music Mondays' free noon-hour concert at the Church of the Holy Trinity. The Music Garden will also be showcasing another fine young baroque cellist later this summer – Kate Bennett Haynes. Haynes is performing Bach's six suites for unaccompanied cello in installments at the Music Garden; Thursday August 28 at 7pm will see her performing Bach's Suite No. 4 in E-Flat Major in a mixed program that includes Britten and Oesterle. Haynes also happens to be an exceptional artist, and this concert promises to be an intimate and passionate experience.
Finally, a great local group that I'm proud to be playing with will kick off the summer with a concert in Parkdale. Rezonance's next concert, "Birds, Beasts, and Rustic Revelry," taking place at Artscape Youngplace, 180 Shaw St. #202, on June 14 at 8pm, is a program that explores Baroque composers' depictions of nature, and will feature all manner of musical foolishness from the 17th century, including music by Veracini, Schmelzer, Biber and Couperin. Rezonance is led by the young virtuoso violinist Rezan Onen-Lapointe and will be joined by lutenist Ben Stein and cellist Kerri McGonigle. A chance to hear some brilliant performances at this concert, and the music on the program defies anyone to take classical music too seriously.
David Podgorski is a Toronto-based harpsichordist, music teacher and a founding member of Rezonance. He can be contacted at earlymusic@thewholenote.com.