Shortly after I finished university in Montreal, I got a job in the classical department of a record store. Occasionally customers would come in and ask me for the Toronto Symphony Orchestra's recordings of Beethoven conducted by Bruno Weil and I would direct them to an album that Weil had made with Tafelmusik earlier that year.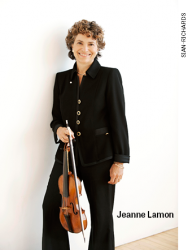 Bruno Weil has never made an album with the Toronto Symphony, but to my customers at the record store, Tafelmusik and the TSO were one and the same, and I never saw the point in correcting them. Throughout its 35-year history, Tafelmusik has gone from a group of competent musicians representing early music in Canada to the biggest and best-selling early music group in the country, as well as an internationally renowned orchestra. If Montrealers think Tafelmusik is the TSO, I can't blame them, and I'm sure Weil and everyone else who has ever appeared on a Tafelmusik album should consider the confusion a compliment.
Tafelmusik's success is due in a large part to the leadership of Jeanne Lamon and the direction she charted for the group when she took it over in 1981. Tafelmusik's guest artists are deeply impressed by the band's near-military precision in following Lamon; in contrast to some early-music orchestras who function as oversize chamber groups, Lamon's band is a disciplined unit with a clear sense of hierarchy. If you're listening to Tafelmusik in concert or recorded, you're listening to a sound Jeanne Lamon created.
This month marks the end of an era for early music in Canada, as Lamon will be performing her last concert series with Tafelmusik as concertmaster and artistic director. It's still anyone's guess as to which direction the orchestra will go after Lamon departs, but this is Toronto's last chance to hear (officially, as I'm sure Lamon will return to play) the work of an artist who has left a profound influence on classical music in this country. The orchestra will be doing a mixed program of Lamon's favourites, including Vivaldi, Handel, Rameau, and Bach, and members of Tafelmusik have composed a set of variations on Purcell dedicated to their boss, so I'm willing to bet the final concert will be an emotional evening. It all happens at Trinity St-Paul's Centre on May 8 to 11 and 14 (with an additional concert at George Weston Recital Hall, May 13). I defy anyone looking forward to retiring this year to throw a better retirement party.
Elixir: Given how often musicians improvise in jazz and rock music, it's kind of disappointing that classical musicians don't make anything up very much. Obviously, when the music is written down for you, improvisation becomes superfluous, but making up a great solo remains one of the best ways for musicians to show off. This wasn't always the case in classical music. Composers and musicians in the Renaissance used to jam over ground bass lines in much the same way that rock musicians do today, and famous composers from Bach through to Liszt were raised in a tradition of improvisation that was a foundation for their fame as composers. In Bach's case, his admirers pointed to the fact that he could improvise any counterpoint right up to a six-part fugue and Liszt's claim to fame was the ability to instantly compose endless and technically brilliant piano variations on any theme selected at random by members of the audience at his concerts.
One Toronto musician who is trying to revive the practice is lutenist (and fellow WholeNote columnist) Benjamin Stein. Stein has made Renaissance "standard" tunes a special project of his for some time now, and he's finally trying out his experiment on the concertgoing public this month. Stein will be joined by the Elixir Baroque Ensemble in a concert of improvised and composed music featuring tunes by Uccellini, Vivaldi, Byrd, Castaldi and Collard. Stein and Elixir will add to the mix by improvising their own solos in the style of each composer on every tune they play. This is a very ambitious project and it will be exciting to see what happens – it may even revive the lost art of improvisation among classical musicians if Stein's project gains a following in the Toronto music scene (although that may be a few years away). You can catch Ben Stein and Elixir Baroque at Metropolitan United Church on May 10 at 7:30pm.
The Toronto Continuo Collective is back and their latest concert, "Psyche: The Immortal Soul," is a musical exploration of the myth of Psyche and Cupid, told through the music of French composer Jean-Baptiste Lully and his English contemporary Matthew Locke. The myth of Psyche is a story of love, duty and betrayal, and was adapted by Molière from the Roman story by Apuleius. Lully in turn adapted Molière's play into an opera, after which Locke adapted Lully's opera into his own opera/ballet. The point being that by the time Locke's version rolled out, audiences would be fortunate to recognize anything from the original myth. The TCC is avoiding any confusion by playing only excerpts from Lully and Locke, and they will be joined by Montreal sopranos Andréanne Brisson-Paquin and Ghislaine Deschambault, as well as local singers Luke Arnason (countertenor), Bud Roach (tenor) and David Roth (bass). They will be presenting it at York University on May 8 at the McLean Performance Studio in York's Accolade Building at 7pm. It's also a rare chance to hear any opera originally intended to be performed in English (English opera was basically a canonical no-man's land from the beginning of the 18th century until Britten) so that reason alone should make this concert a must-see for opera buffs.
Toronto Masque Theatre And speaking of Restoration-era English operas, another Toronto group based on the English tradition of music in the 17th century, the Toronto Masque Theatre, is venturing outside the GTA to perform a classic English opera (thus depleting the entire repertoire of English opera in the space of two concerts). TMT will be performing Henry Purcell's Dido and Aeneas as part of the Westben Arts Festival in Campbellford.Dido and Aeneas is based on the founding myth of Britain in Roman mythology, Virgil's Aeneid. It's a short but tragic tale that remains, even after 300 years, a classic opera, and I sincerely hope it's a hit in Campbellford. The performances aren't until July 5 and 6, but on May 23 at 7pm you can catch TMT artistic director Larry Beckwith in a discussion at Westben about the operatic classic, featuring excerpts from their upcoming production. Campbellford is just up Highway 30 off the 401, before Quinte – if you're interested in a weekend outside of the city (or if you live in the Peterborough area and feel like a night out), be sure to check out the talk, and to mark July 5 and 6 on your calendar.
Finally, there's one more Tafelmusik concert early next month that's worth checking out. The orchestra and choir will be performing a special noon-hour program on June 1 that features members of the Tafelmusik Baroque Summer Institute faculty. It happens at 12:30 in Walter Hall in the Edward Johnson building on the U of T campus. No word on the program yet, but it's a chance to hear Tafelmusik for free. Skip off work or take a long lunch and check it out.
David Podgorski is a Toronto-based harpsichordist, music teacher and a founding member of Rezonance. He can be contacted at earlymusic@thewholenote.com.