It's good to get out of the city once in a while. The Toronto early music scene is now big enough that rather than simply staying home and welcoming guest artists from elsewhere, our own artists are starting to migrate and perform on the outskirts of the GTA and occasionally further out – really as far as one could reasonably expect to drive in the course of one day. I really hope this is a positive development for both the musicians and the cities they visit. If you live in say, Stratford or Hamilton, you can get a little more variety in entertainment and nightlife, and if you're a Toronto-based artist, you can tour not too far from home and get a chance to make some more money with a program you would otherwise only get to perform in town.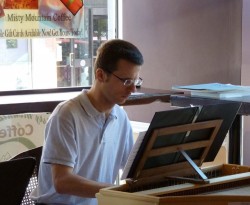 Vesuvius: If you live in St. Catharines, you might want to catch an outstanding Toronto group playing early this month. The Vesuvius Ensemble, founded by singer and guitarist Francesco Pellegrino, is devoted to playing traditional music from Italy, and they are performing at St. Barnabas Anglican Church at 2pm April 6 in a program of renaissance and baroque music. Painting a vivid picture of 17th-century Naples, the Vesuvius Ensemble will show the life of an exotic city and its surrounding countryside heavily influenced by Arabic and Spanish culture but with its own distinct culture that set it apart from the rest of Italy and Europe. This group also plays on a wide variety of traditional Italian instruments and guitars as well as more conventional baroque instruments, so you'll definitely enjoy this program if you're an Italianophile or just a gearhead.
Medicky: Another Toronto artist who has expanded outside the GTA is harpsichordist Borys Medicky. A co-founder of the Toronto Continuo Collective, Medicky has found something of a home away from home in Kitchener-Waterloo, where he leads the Nota Bene Baroque Players. April 12 Nota Bene will be putting on a fundraising concert at First United Church in Waterloo, performing Handel's Messiah (which, I note as a musicological aside, is traditionally a concert celebrating Easter, not Christmas). Nota Bene is going all-out with this concert, which features soloists Daniel Taylor and Michael Schade, with John Thiessen on trumpet and Jan Overduin as a guest harpsichordist. And if that isn't enough to draw a crowd, it's also a sing-along and should be a blast. (There is a regular performance April 13.)
Lully: Closer to home, a must-see event is Opera Atelier's run of Jean-Baptiste Lully's Persée, which they'll be performing at the Elgin Theatre on April 26, 27, 29, and 30 as well as May 2 and 3. Opera Atelier has the singular honour of being the early music group responsible for reviving the classic Lully opera, which had its last performance in Versailles in the 1770s and had never been heard since until the group dug up the work in the 1990s. While it isn't the first time Opera Atelier has done Persée, they will be taking the show back to Versailles after this run in Toronto, so this is a great chance to experience the work of a local group that is among the top ranks of performing artists worldwide.
Toronto Consort: Italian opera in the 17th century wasn't nearly as glamorous as the operas playing at Versailles (it's hard to match the budget available to the king of France) but Cavalli's opera Giasone is still a great piece of music that opera fans should find to be an essential part of the opera canon. Based on the story of Jason and the Golden Fleece, it was the most popular opera of the century. This month, the Toronto Consort is putting on its own production of Giasone. Laura Pudwell will join the Toronto Consort to sing the role of Jason (no castrati being available any more) and the Consort will supply the backup band of strings, continuo and winds. It all happens on April 4, 5, and 6 at Trinity-St Paul's Centre.
Suzie Leblanc: Anyone in Toronto still looking to get their fix of opera this month should consider checking out the Toronto Masque Theatre – they'll be presenting an opera of sorts at the Trinity-St Paul's Centre on April 25 and 26. The opera in question is Michel Pignolet de Montéclair's L'Europe, a cantata for soprano based on the myth of Europa. There's only one vocal part, along with a backup band, in this cantata, so you could think of it as opera on the cheap, or alternately as really souped-up vocal chamber music. Suzie Leblanc will be singing with TMT and the concert will be further fortified by the choreography of Marie-Nathalie Lacoursière, the dancing of Stéphanie Brochard and the acting talents of Martin Julien, so it will be a fine multimedia experience that will delight aficionados of French Baroque music. Also on the program is a newly-commissioned contemporary work: Toronto-based composer James Rolfe's Europa and the White Bull, so if you don't want to hear something old, stick around and listen for something new.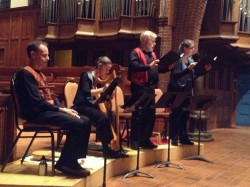 Sine Nomine: If you're completely against the idea of new music, indulge your inner arch-conservative and consider checking out the Sine Nomine Ensemble in a program devoted to the music of Guillaume de Machaut. Machaut was the leading composer of 14th-century France and an early writer of polyphonic masses and motets. If you have any interest in medieval music at all or are looking for a good place to start, Machaut is an excellent introduction to the Middle Ages. Sine Nomine will perform at St. Thomas Anglican Church at 8pm on April 25.
Scaramella: a chamber group with a reputation for bringing together informative and well-thought-out programs, this month Scaramella will play a concert devoted to the invention of the cello in Italy in the latter half of the 17th century and the gradual musical Darwinism that ensued as it sought to take the place in the musical world previously held by the viola da gamba. The cello ultimately won that contest, but it was a hard-won fight that lasted nearly a hundred years. Cellist Elinor Frey and gambaist Joëlle Morton will square off in an epic battle of bowed bass instruments, assisted by Daniel Zuluaga on chitarrone and guitar. Who will win? Find out at 8pm April 12 at Innis Town Hall.
Musical rivalry: it's a great way to sell tickets, and it's especially fun to watch in opera. Tafelmusik will commemorate one of the most famous rivalries in opera history, the battle between Faustina Bordoni and Francesca Cuzzoni. Soprano Isabel Bayrakdarian will join the orchestra at Koerner Hall on April 9, 10, 12, and 13 for a program featuring arias written for the two divas by Handel, Hasse, and Bononcini; it also includes concertos by Handel, Vivaldi, and Telemann, and a sinfonia by Zelenka. I should stress that Ms. Bayrakdarian is singing all the arias composed for the two divas herself, so it is the historical rivaly that will be on display in what should be a comparatively civilized affair.
David Podgorski is a Toronto-based harpsichordist, music teacher and a founding member of Rezonance. He can be contacted at
earlymusic@thewholenote.com.