When fans of early music walk into a concert in November, they may be impressed by the diversity of the repertoire and the performers. Concerts coming up this month feature both wide-ranging programs from under-appreciated composers and top-level performers who are just starting to emerge as soloists on the Toronto music scene.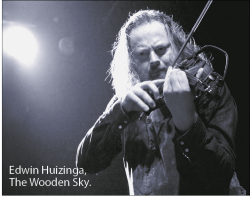 Huizinga: One such relatively new face is Edwin Huizinga, a violinist originally from California who now calls Toronto home. Huizinga is already somewhat familiar to Toronto audiences, as he's played as a section violinist in both Tafelmusik and Aradia, but having recently returned from a tour with his indie rock band The Wooden Sky, Huizinga is ready to come into his own as a soloist on the Toronto music scene. To accomplish this, Huizinga picked some of the hardest violin sonatas in the classical canon — having already performed the first three of Bach's six sonatas for harpsichord and violin, he's teaming up with harpsichordist Philip Fournier to complete the cycle by playing Bach's B minor, A major, and E major Sonatas at the Oratory, Holy Family Church, November 8.
"I have a great love for the music of Bach," Huizinga says when I ask him about his upcoming concert with Fournier. "As a musician, I can appreciate the well-crafted nature of his music on a purely intellectual level, but to also be the vehicle creating the notes — to be able to put a smile on someone's face using just the music that Bach wrote — that's amazing." Bach composed these violin sonatas for a concert series at a local coffeehouse in Leipzig — the same place where his Coffee Cantata was performed. In a similar spirit of informality, Huizinga and Fournier are giving an additional performance at a café. The Common, located at College and Gladstone, will host the duo on November 4, and Huizinga hopes giving listeners a casual — and historically correct! — musical experience will attract new listeners to the music of Bach.
"I've been playing in a lot of classical revolution concerts [in bars and clubs] and I really believe it's a great way of bringing the music to people other than regular concertgoers," Huizinga says. "As an artist, I believe I have a responsibility to find new ways of sharing the art I'm passionate about." While a café concert would certainly do that, the coffeehouse concert starts at 9pm, so perhaps you should consider having a beer instead of a coffee while you listen to them play. Bach would certainly have enjoyed either beverage.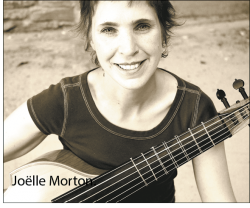 Scaramella: Concertgoers looking to hear an interesting and varied repertoire steeped in a rich history should be sure to check out Scaramella's concert on November 30 at the Victoria College Chapel. The program features composers based in England from the period of the English Civil War and Restoration, a dangerous time in English history when Catholics, Protestants, Republicans and Monarchists all fought for control of the country and supporting the wrong side at the wrong time could cost a man his head. Scaramella will play music by Henry Purcell and Matthew Locke as well as some by lesser-known musicians such as William Lawes, John Jenkins, Orlando Gibbons, Davis Mell and Simon Ives.
I caught up with Scaramella's gambist Joëlle Morton and asked her what inspired her program. "The history of the times really had a huge influence on the music," Morton explained. "Because there was no court for most of this period, the closest thing to court music was the private music people had in their homes. Composers who didn't want to lose their jobs or their lives had to be very ambiguous about what religious denomination they belonged to."
The result was a huge variety of secular chamber music for small ensembles that was performed in the homes of England's wealthiest citizens. Perhaps because even a rich household couldn't afford a full orchestra (or have enough space in the house for one) the instrumental combinations were incredibly diverse, and Scaramella has found a wide array of these unusual orchestrations for their concert. In addition to a duet for violin and viola da gamba plus continuo, the program features compositions for lyra viol, which has become a speciality of Morton's in recent years. Lyra viol involves playing chords on the habitually melodic viola da gamba as well as retuning the instrument in one of over 40 different ways; this style of gamba playing will be represented by a fantasia by Jenkins for a lyra viol playing continuo and a piece for solo lyra viol by Ives. Combined with Purcell's most famous sonata for strings (the "Golden"), a Locke suite and a virtuosic organ fantasia by Gibbons, chamber music lovers should get quite a kick out of this concert.
Daniels and LeBlanc: Music fans looking for a more conventional concert experience (or who just like their music sung rather than played) won't want to miss Tafelmusik's November concert series, titled "Purcell and Carissimi: Music from London and Rome," presented at Trinity St. Paul's Centre from November 6 to 10. "Purcell and Carissimi" features tenor Charles Daniels and soprano Suzie LeBlanc, both of whom are world-renowned singers who have made a lasting impression on audiences across Canada. LeBlanc is probably best-known for her collaboration with countertenor Daniel Taylor and the Theatre of Early Music, and is herself the artistic director of her own opera company, Le Nouvel Opéra, based in Montreal. Englishman Daniels, best known for his interpretations of Bach, Purcell and Monteverdi, astonished audiences at the Montreal Baroque Festival in 2009 with his completion of Purcell's ode Arise My Muse. Both Daniels and LeBlanc have sung with Tafelmusik before, most notably together in a performance of Purcell's King Arthur during Tafelmusik's 2009/10 season. Listening to them sing, it's easy to tell why the orchestra wants them to keep coming back.
Others to watch: Some other early-music concerts to watch out for in November: the Community Baroque Orchestra of Toronto, performing Brandenburg Concerti 4 and 5, as well as a reconstructed "Brandenburg 9" (by the late musicologist and oboist Bruce Haynes) at the 519 Community Centre, November 9; the evening will feature violinists Valerie Gordon and Elyssa Lefurgy-Smith and harpsichordist Sarah-Anne Churchill. Soprano Hallie Fishel and lutenist John Edwards from Musicians in Ordinary will be playing an all-Dowland tribute concert for his 450th birthday at Heliconian Hall on November 16. Finally, lutenist and choir conductor Lucas Harris will present a mixed program for his master's recital in choral conducting at the Church of the Redeemer, November 2 at 4:30. While the program will include choral works by Arvo Pärt, Clara Schumann, and Lili Boulanger, the concert will also feature Austrian sacred music from the 17th century with some help from the "Jeanne Lamon Baroque String Ensemble," so this concert might be an opportunity to hear some Tafelmusik players free of charge 
David Podgorski is a Toronto-based harpsichordist, music teacher and a founding member of Rezonance. He can be contacted at earlymusic@thewholenote.com.