Before I launch into April's offerings, a few bits of follow-up from last month's column are in order: Nathan Brock, the conductor who made his "homecoming" debut with the TSO on March 24 — and what a splendid evening it was! — was presented from the stage that same evening with the Heinz Unger Award, an $8,000 prize established to encourage and highlight the career of a "young to mid-career Canadian conductor." It was a big night for Brock as it was also announced that he has been promoted from assistant conductor to resident conductor of the Orchestre symphonique de Montréal, and will begin that post in September 2012. Bravo Maestro Brock!
Also last month, my online search failed to come up with the Juilliard String Quartet's last Toronto performance. Music Toronto's Jennifer Taylor has since informed me that the JSQ played for Music Toronto 11 times between 1973 and 2000, and that 2000 may well have been the JSQ's last year here. Thank you, Jennifer, for filling in the blanks.
Connect the Dots: And now to the month at hand. In preparing the column, I found myself connecting some "musical dots" among those performers on whom I was focussing. One is a violin prodigy, Mercedes Cheung, making her orchestral debut — she played for (and was praised by) Itzhak Perlman who was on her Juilliard School entry jury. Perlman, of course, is in town this month for an extended visit with the TSO — he'll be performing with his former Juilliard student, the TSO's Peter Oundjian.
And then there's pianist Ishay Shaer, making his Toronto debut in early April. Shaer, like Perlman, was born in Israel and studied music at Tel Aviv University. In 2009, Shaer performed with acclaimed cellist Mischa Maisky. Guess what? Maisky (who also happens to hold Israeli citizenship) makes his first appearance in Toronto in 34 years, in early May.
And now, from the dots to the details.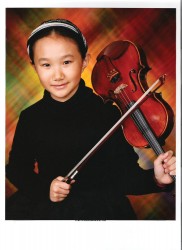 The Prodigy: Something rather special is happening in Richmond Hill on April 8. That's the night violinist Mercedes Cheung performs "Winter" from Vivaldi's The Four Seasons, in her debut with the Markham Symphony Orchestra under the baton of her father, Ephraim Cheung, MSO's music director. Father and daughter will share the stage at the Richmond Hill Centre for the Performing Arts. Did I mention that Mercedes is ten years old?
I asked the young guest soloist (and Markham resident) to share some of her thoughts on the upcoming debut with her father. Was she excited? Nervous? Here's what she wrote:
"It's so exciting to perform with my Daddy. Nervous? Never! Excited? Ye….s! It will be another kind of feeling … Fresh!!!! He has been teaching me violin since I was a baby, and he continues to teach me together with Mr. Weilerstein at the Juilliard School. I'm so happy that I will have a chance to watch him rehearse with me & the orchestra … I have been waiting & looking forward to this chance … He is my violin teacher, father and best friend and … my conductor!"
Cheung is no stranger to the stage, having given her recital debut at age six and performed numerous times since. The dizzying list of her achievements, awards, performances and media spots takes up almost two letter-sized pieces of paper (single-spaced and small print). Mercedes' mother, Nancy Tye, (herself a pianist, pedagogue and Royal Conservatory examiner) informed me that Mercedes is currently enrolled in Juilliard's Pre-College Division – Young Talented Program and travels to New York every weekend to take classes. She sees her teacher, noted violinist Donald Weilerstein every other weekend in Boston, en route to Juilliard. (Weilerstein is on faculty at both Juilliard, where he holds the Dorothy Richard Starling Chair, previously held by Perlman — yet more dots — and the New England Conservatory of Music.)
From that aforementioned mind-boggling list, I gleaned that Mercedes was seven years old when she passed the Royal Conservatory's Grade 10 violin exam, eight when she passed the Grade 9 piano exam — uh huh, piano, too — and nine when she completed her ARCT in violin performance — all with distinction. And I would be remiss if I didn't mention that the Grade 5 Sir Wilfrid Laurier Public School student (French immersion, of course) will make her Carnegie Hall debut at Weill Hall on November 3, 2012, in a performance of Paganini's 24 Caprices for Solo Violin. (Phew!)
Clearly, this is a little girl with big plans who appears to have the necessary drive, discipline and diligence to succeed; that, and an extraordinary musical gift.
The Pianist: Tel Aviv-based Ishay Shaer is considered one of the leading young Israeli pianists, "young" being a relative term at this point: after all, he's almost three times Cheung's age! When he arrives in Toronto to perform two sets of Beethoven bagatelles (Op.126 and Op.119), Chopin's Twelve Études Op. 25 and Harry Somers' Piano Sonata No.1, it will be, he tells me, his "first performance in Canada, and moreover my first visit to the country." Syrinx Sunday Salons is presenting Shaer at the Heliconian Hall on April 8 at 3pm (giving you time to head over to Richmond Hill that evening to catch the Cheungs).
One of Syrinx' main objectives is to promote the music of Canadian classical composers, hence the Somers on the program. Shaer provides these comments about his choice to perform the esteemed, late Canadian composer's sonata:
"I was given a number of suggestions for a Canadian work by Ms. Dorothy Sandler-Glick from the Syrinx Sunday Salons. It was an opportunity for me to do some research, as I had never played any Canadian music before. As soon as I heard Somers' first piano sonata it became quite clear to me that I wanted to study and perform it. I usually find it fascinating to examine different approaches to composition of 20th century music, and especially of those innovators embedded in more conservative environments. To me Somers' particular case seems a very interesting one."
Shaer has won numerous prizes and has performed in the UK, Poland, Puerto Rico, the USA, all over South America and, of course, Israel, to name but a few countries. And he keeps some serious musical company. As alluded to earlier, Shaer, for his prize-winning efforts at the 2009 International Beethoven Competition in Bonn, also won the privilege of playing Beethoven's Cello Sonata No.1 in F Major with Maisky; he consults, when the opportunity arises, with Daniel Barenboim; he attended a masterclass with Murray Perahia; and was recently invited by Shlomo Mintz to perform at the prestigious Sion Festival in Switzerland this coming September. I was very curious about (and envious of) the masterclass with Perahia (a favourite pianist I have long-admired). So I asked Shaer about it:
"That master class with Murray Perahia took place in 2007 in the Jerusalem Music Centre … I recall having performed Chopin's third piano sonata there for the first time … He shed light on [its] structure … and his demonstrations on the piano were a true revelation for me …"
I wonder if we'll detect traces of Perahia's "revelations" when Shaer tackles the Chopin études. He strikes me as a sensitive, intelligent artist who deeply absorbs the wisdom of his musical elders.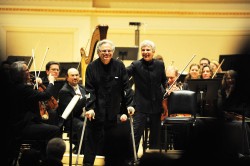 The Masters: So much has been written about Mischa Maisky that his story is storied. Many of you probably know that he has the distinction of being the only cellist in the world to have studied with both Rostropovich and Piatigorsky; that despite being a prizewinner at the Tchaikovsky Competition (1966) he was later imprisoned in a labour camp near Gorky for 18 months (1970); and that throughout his celebrated career he has collaborated often with the likes of pianists Martha Argerich and Radu Lupu. But did you know that he started to play the cello the same year that he quit smoking … at age eight? In 2007, Maisky gave a wonderfully candid and colourful interview to the Internet Cello Society's Tim Janof. It's a fascinating read, during which you'll learn, among other things, about his short-lived smoking habit. www.cello.org/Newsletter/Articles/maisky/maisky.htm.
As for his long-overdue return to Toronto, Maisky will be guest soloist with the Moscow Soloists Chamber Orchestra, which, with founder, conductor and violist Yuri Bashmet, performs at Roy Thomson Hall on May 3, as part of its 20th anniversary tour. Schubert's Quartet in D Minor "Death and the Maiden" (arranged by Mahler) and Brahms' Quintet in B Minor for Viola and Strings (arranged for small orchestra) are on the program. Maisky performs the Cello Concerto No.1 in C Major by Haydn and Tchaikovsky's Nocturne in D Minor for Cello and Orchestra.
Once Itzhak Perlman arrives for his April 25 to 28 residency with the TSO, you'll have several opportunities to catch this master violinist.
"In April, my dear friend and former teacher Itzhak Perlman joins the TSO for two very special programmes, which highlight his versatility as both conductor and soloist," wrote Peter Oundjian to me. "He will perform Beethoven's Violin Concerto and, in a very special concert which he also conducts, he and I will join forces to perform J.S. Bach's Concerto for Two Violins and String Orchestra. I'm sure it will be a deeply meaningful experience [for me]. Itzhak will also be working with the Toronto Symphony Youth Orchestra and other young Toronto musicians during his residency."
Perlman plays the Beethoven on April 25 and 26 at Roy Thomson Hall in a program that also includes two Khachaturian suites and Tchaikovsky's symphonic poem Francesca da Rimini. Following their performance of the sublime Bach double violin concerto (April 28), Oundjian and Perlman will engage in a conversation from the stage. That same night, Perlman will also conduct Mozart's Overture to Don Giovanni and Tchaikovsky's Symphony No.5.
In addition to his visit with the TSO, Perlman will be joined by students of the Perlman Music Program for an afternoon concert of chamber music at Koerner Hall on April 29. On the program are works by Mozart, Shostakovich and Mendelssohn's remarkable Octet in E-Flat Major Op.20.
Lucky are they who get to partake of (and take part in) any aspect of Perlman's extended visit to Toronto.
And lucky are we to have such an abundance of auspicious musical fare in April. There's much more to be found in this month's listings. Peruse, pick a few, step out into spring and enjoy!
Sharna Searle trained as a musician and lawyer, practised a lot more piano than law and is listings editor at The WholeNote. She can be contacted at classicalbeyond@thewholenote.com.