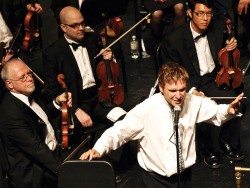 If you're looking for something in the realm of classical music in December — and I mean "classical" as in not baroque or renaissance music — you're in luck … sort of. I say "sort of" because while there are indeed December offerings that don't involve one adaptation or another of Handel's baroque masterpiece, Messiah, or lovely renaissance-themed Christmas concerts, the pickings are slimmer than usual. However, the "luck" part lies in the fact that, at least for December, you will not be completely overwhelmed by the sheer number of "Classical & Beyond" (C&B) concerts from which to have to choose. (Let's face it, that is usually the case with this beat, covering as it must everything from Haydn to Bartók, from solo recitals to orchestras.) So, amid the hustle and bustle of the season, hop on and enjoy the "less is more" C&B sleigh ride for December while you rest up for January!
TAKING STOCK: Any readers inclined to contest my thesis of December's "less is more" vs. January's "abundance," should work their way through the listings as I did, taking stock. They will find 27 concerts in December that fall within C&B's purview, 42 in January, and 11 in the first seven days of February. They will also doubtless find other interesting patterns emerging. They may notice as I did that of the 27 December concerts, seven offer Mozart, as do 12 in January and one in February. That translates into over 25% of December/January/first-week-of February C&B concerts that have some Mozart in their programmes. Not an insignificant number.
I also noticed six concerts specifically geared to the "younger set"; while not a huge number, the concerts are, nonetheless, pleasing and varied. And I spotted four concerts featuring a Viennese theme, two each in the GTA and beyond the GTA, with one very interesting connection surfacing: two concerts — one GTA, one beyond — actually have "Vienna" in the concert title and both are holding matinees on New Year's Day. So, armed with all of the above info and analysis, let's dive into the details.
DECEMBER'S DELIGHTS: Toronto's Counterpoint Community Orchestra, the "first lesbian/gay/gay-positive orchestra in the world," celebrates the opening of its 28th season in grand fashion, with a performance of Mozart's Symphony No.41, the "Jupiter," on December 3. Directed by Terry Kowalczuk, the CCO's programme also includes works by Khachaturian, Shostakovich, Schubert, Sousa and von Suppé's Light Cavalry Overture. St. Luke's United Church on Sherbourne is the venue. (And if you're itching for a second dose of the "Jupiter," you'll have your chance when the Toronto Symphony Orchestra performs it (twice) in January — details below.)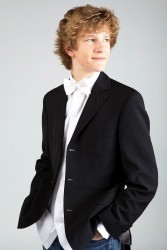 On December 4, both the Kawartha Youth Orchestra and Orchestra Toronto have matinee performances that are "youth/family friendly." An even more striking coincidence: each is performing Wieniawski's Violin Concerto No.2, with 16-year old soloists! The KYO features Claire Motyer on violin; Clarisse Schneider does the honours with OT. (Schneider is the winner of OT's first Concerto Competition: Marta Hidy prize). The KYO also performs works by Sibelius and — you guessed it — Mozart. You'll find them at Market Hall Theatre in Peterborough at 3pm. Also starting at 3pm, OT's concert, titled "The Musician Storyteller," includes Berlioz's March to the Scaffold and Humperdinck's Hansel and Gretel overture, as well as works by Khachaturian and Villa-Lobos. All OT's concerts are at the George Weston Recital Hall, Toronto Centre for the Arts.
Staying with youth-oriented fare for a moment, Mooredale Concerts, which operates a youth orchestras programme (in addition to its two other established series), presents three levels of orchestras comprising 100 players (ages 6 to 18) on December 11, 3pm, at Rosedale Heights School of the Arts. The Junior Orchestra, under William Rowson, performs Handel's Gavotte in A, Pichl's Pastorella and Menuett in G by ("Mr. 25%") Mozart. Rowson also conducts the Senior Orchestra and it performs Elgar's Serenade for Strings Op.20 and — yes, indeed — Mozart's Divertimento in D Major K136. The Intermediate Orchestra will play Handel's Concerto Grosso Op.6 No.4, Clare Carberry conducting.
Kudos to Mooredale Concerts for exposing so many youth to the riches of the orchestral repertoire. In its "Music and Truffles" series, an adjunct to its regular concert series, Mooredale shares the wealth of chamber music with young people, ages 5 to 15. At 1:15pm, on January 15, for example, you can take the munchkins in your life to hear music by Mendelssohn, Tchaikovsky and Piazzolla; the "adult" concert starts at 3:15pm the same day, featuring the same repertoire played in full.
Returning to our "less is more" December theme, in a concert titled "Holiday Charms," December 9 at Glenn Gould Studio, Sinfonia Toronto performs Mozart's Violin Concerto No.1 under guest conductor Robert Bokor and violinist Sanghee Cheong. The programme also includes Wolf-Ferrari's String Serenade, Corelli's Concerto Grosso Op.6 No.8 "Christmas Concerto," and Ricercare by Buhr. (ST offers more Mozart on January 20, in its concert titled "Black and White": Clarinet Quintet K581, orchestral version, with James Campbell, clarinet; and Divertimento K137; this January concert also features the orchestral version of Shostakovich's Piano Quintet, with Dmitriy Gordin, piano.)
Mozart is also on offer when the Junction Trio presents its "Celebrating the Season with Sound" concert on December 15, 7pm, at the North York Central Library auditorium. The trio also performs works by Bach and Handel. The concert is free, but we are asked to give them a call to register.
Continuing our fine-combing of the listings, it's not often we get the chance to attend a "Doctoral Recital in Orchestral Conducting," for free, no less. At 1:15pm at Walter Hall (University of Toronto Faculty of Music) Kerim S. Anwar will conduct Debussy's Prélude à l'après-midi d'un faune and works by Stravinsky and Schoenberg. Good luck Mr. soon-to-be-Dr. Anwar! And since we're at the U of T, the Faculty of Music's free, three-day "PianoFest" happens December 12, 14 and 16, at 7:30pm each night, featuring the advanced students of the piano department.
Just two more December concerts and then I'll move on to January. Amici Chamber Ensemble presents "Critics Choice: What do they really want to hear?" on December 16 at 8pm. Sounds like fun, especially since they've invited critics John Vandriel, Colin Eatock and John Terauds as their guests, along with Yehonatan Berick and Min-Jeong Koh, violin and Barry Shiffman, viola. Hopefully, everyone attending will enjoy hearing the programme of works by Beethoven, Poulenc and Elgar. (What? No Mozart?)
Syrinx Sunday Salons presents a splendid afternoon of works by Chopin, Liszt, Rachmaninoff, Gershwin, Alexander Levkovich, Dmitri Levkovich and others. Pianist/composer Dmitri Levkovich and pianist Anzhelika Fuks will also perform a piece dear to my heart, Schubert's Fantasie for Four Hands in F Minor Op.103 D940, a copy of which sits atop my piano, at the ready, should someone drop by who can handle the secondo part; I always play the primo. A young friend of mine in Vancouver and I have valiantly attempted to make our way through it many times, over many years; she is my primo secondo! I'm excited to hear these two young and dynamic players do it justice on December 11, 3pm, at Heliconian Hall!
JANUARY'S JEWELS: With over 40 concerts, there's much from which to choose, making the decision of who and what to include (and exclude) that much more challenging, As a solution, I'm simply going to "rattle off" as many as I can, allowing for as many concerts — and presenters — as possible to get some print:
Let's start with the New Year's Day "double-header in Vienna," I alluded to earlier. Attila Glatz Concert Productions' "Salute to Vienna" features the Strauss Symphony of Canada, András Deák, conductor, with Renee Schüttengruber, soprano, Wolfgang Gratschmaier, tenor and dancers from the Kiev-Aniko Ballet of Ukraine, at Roy Thomson Hall, 2pm. An hour later, the Guelph Symphony Orchestra presents its "Tour the World Series: Dreams of Vienna" with arias, duets, waltzes, polkas and marches. Judith Yan conducts, with Mark Dubois, tenor and Corinne Lynch, soprano, at the River Run Centre in Guelph.
Music Toronto has two fine and wonderfully varied offerings: on January 12, 8pm, at the Jane Mallett Theatre, flutist Leslie Newman and harpist Erica Goodman perform traditional South American folk songs and music by Ravi Shankar, alongside works by Bach, Saint-Saëns, Doppler/Zamara and others, for MT's "Discovery Series." And a week later, on January 19, (same time/same place), we are treated to a concert by the divine Lafayette Quartet performing Wolf's Italian Serenade, Shostakovich's String Quartet No.2 in A Major Op.68 and the String Quartet in C Minor Op.51 No.1 by Brahms.
The Toronto Symphony Orchestra prevails, hands down, however, in the "Much Mozart" department. Mozart@256 Festival, the TSO's eighth annual celebration of the composer's birthday, offers no fewer than eight concerts in which to immerse yourself, including two for kids; all but one is at Roy Thomson Hall. Mozart@256 runs January 11 to January 22. Some of the highlights include: the Concerto for Three Pianos and Orchestra K242 (with Stewart Goodyear, Katherine Jacobson Fleisher and Leon Fleisher doing the honours); the aforementioned Symphony No.41 K551 "Jupiter"; a "Young People's Concerts: Mozart's Magnificent Voyage," featuring 23 excerpts from Mozart's works; astonishing young Canadian pianist Jan Lisiecki in the Piano Concerto No.20 K466; and the Requiem K626 with a luminous cast. Phew! For all the details, see the listings.
And if after all that you still crave more Mozart, you're in luck. In my October column I referred to a certain all-Mozart programme, adding that you'd have to wait for it. Well, it's here! On January 25, Toronto Philharmonia Orchestra, in its first concert with Uri Mayer as artistic director and principal conductor, presents "Celebrating Mozart" at its home in the George Weston Recital Hall. The programme? Mozart's Serenade No.6 in D Major K239 "Serenata notturna," Piano Concerto in C Major K467 "Elvira Madigan" and Symphony No.40 in G Minor K550. The pianist is André Laplante.
In winding up, I want to mention Trio Bravo's February 5 recital at All Saints Kingsway Anglican Church at 2pm. The trio's November 6 concert was cancelled due to the ill-health of one of its members. It's nice to see that they're back on track with a robust programme of works by Bach, Beethoven, Bruch and Schubert. Bravo, Bravo!
Wishing you all sustained good health, a festive, music-infused holiday season and a soul-nourishing New Year and beyond!
Sharna Searle trained as a musician and lawyer, practised a lot more piano than law and is listings editor at The WholeNote. She can be contacted at classicalbeyond@thewholenote.com.