Finally, you say, the fall concert season has arrived! No more lovely, warm, breezy … windblown, rain-drenched, too-hot/too-cold, outdoor venues, right? Time to put away your festival folding chairs, straw hats and sunscreen and head for the comfort of the concert hall. Not so fast. There remain a few summer series and festivals "in the game," reminding us, in the words of Yogi Berra that, "It ain't over 'til it's over." However, for those of you itching to put away your daypack of festival gear, do not despair; there's a handful of presenters off to a flying start with their 2011/12 concert seasons, ready to lure you inside.
Fall Flyers
Mooredale Concerts' September 25 season opener at Walter Hall will be a milestone moment in Canadian music history. It will mark the return of celebrated cellist Ofra Harnoy to the concert stage after a 10-year hiatus. For The WholeNote's "On the Road" project, Mooredale's artistic director, Anton Kuerti, himself an eminent pianist, told us this when asked about his plans beyond the summer: "I will perform at the opening Mooredale Concert … with the extraordinary cellist Ofra Harnoy, who has not performed in Canada for about 10 years, and whom I have long admired but never played with." Now is his chance. At 3:15pm, Harnoy will begin the programme with Bach's Unaccompanied Cello Suite No.3 in C Major. Kuerti will then join her in a performance of Beethoven's Cello Sonata in A Major Op.69 and César Franck's Cello Sonata. Earlier, at 1:15pm, Harnoy and Kuerti will offer an hour-long, interactive "Music and Truffles" concert geared toward 5 to 15 year olds. Welcome back Ofra!
In contrast to Harnoy's 10-year sabbatical, distinguished actor Christopher Plummer has continued to grace the stage, non-stop, for close to 60 years. He will grace Roy Thomson Hall, as narrator, when the Toronto Symphony Orchestra opens its season with a performance of William Walton's music for the film Henry V, on September 22.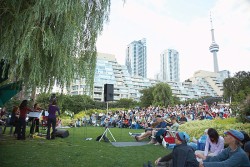 Music Toronto marks the beginning of its 40th season on September 15 with the Tokyo String Quartet and pianist Markus Groh performing works by Brahms, Debussy and a world premiere by MT composer advisor Jeffrey Ryan; (and then, cannily, invites Groh back for a solo recital on September 20).
Over the Labour Day long weekend, you might want to consider the Kitchener-Waterloo Chamber Music Society's opening concert on September 4. KWCMS begins its jam-packed season with pianist Anne Louise Turgeon and flutist Ron Korb in works by Prokofiev, Rachmaninoff, Liszt, Korb and others. Did I say "jam-packed?" Not only does KWCMS produce eight concerts in September, alone; it presents over 70 a year! And they're held in the KWCMS Music Room — a large room in a private home in Waterloo, with an 1887 Steinway. Is there a nicer way to hear chamber music?
And here's one final lovely fall season opener. For the first event of the Canadian Opera Company's 2011/12 Free Concert Series, on September 27, artists of the COC Orchestra will perform music by Debussy, Mozart and Puccini, in a tribute to their late, great and beloved music director, Richard Bradshaw — in the magnificent amphitheatre that bears his name.
Summer Refrain
And now back to summer. The one series that braves the elements in September is Summer Music in the Garden, hosting its 12th season in the enchanting Toronto Music Garden. The series winds up with three concerts in September; there's one on the 8th, followed by two Sunday afternoons. Interestingly, the first concert features baroque cellist, Kate Bennett Haynes, performing Bach's Unaccompanied Cello Suite No.1 in G Major, the piece that was the inspiration for the design of the Toronto Music Garden! (www.harbourfrontcentre.com/thewaterfront/parks/musicgarden.cfm)
Music Mondays has four concerts on offer this month, in downtown Toronto's acoustically superb Church of the Holy Trinity, bringing their extended 20th anniversary season to a close on September 26. Jerome Summers, clarinet, Sharon Kahan, flute, and Angela Park, piano, perform works by Debussy, Shostakovich and Bizet.
The following summer festivals serve up an impressive array of chamber music and all three take place beyond the GTA, where the churches of Barrie, Leith, Owen Sound and Picton are alive with the sound of music festivals in September!
For its 10-day event (September 23 to October 2), Barrie's Colours of Music has assembled outstanding recitalists and chamber musicians in ensembles ranging from duos to orchestras. A few highlights: the Ames Piano Quartet plays works by Saint-Saëns, Fauré and Hahn on the 24th; violinist Brian Lewis and pianist Valerie Tryon will tackle Milhaud, Brahms and Schumann on September 28; and the finale, a "Concerto Celebration," features Tryon and Sinfonia Toronto in works by Turina, Vaughan Williams, Dvořák and Mendelssohn. See www.coloursofmusic.ca/schedule.html for more.
With the "dream team" of artistic director/violinist Mark Fewer and guest directors, cellist Roman Borys and clarinetist James Campbell, programming this year's SweetWater Music Festival, you know it's going to be a stellar event. Over three days (September 16 to 18, in Leith and Owen Sound), they will be joined by violinist Annalee Patipatanakoon and pianist John Novacek, and others, to perform works by Dohnanyi, Schulhoff, Messiaen, Bach, Mozart, Tchaikovsky, Turina and Cam Wilson's A Tribute to 20th Century Jazz Violin.
Over in Picton, the Prince Edward County Music Festival presents seven concerts between September 16 and 24, with Ana Sokolovic as composer-in residence. On September 23, at the Oeno Gallery in Bloomfield — the only non-Picton concert — you'll be able to catch SweetWater's Fewer, again, this time with the SuperNova String Quartet, playing Ravel's String Quartet and Beethoven's String Quartet Op. 59 No.3; another SuperNova member, recently named TSO concertmaster, Jonathan Crow, will also be in Bloomfield. And on September 24, Marie Bérard, concertmaster of the COC orchestra, will join the ubiquitous Fewer and his other two SuperNova mates, violist Douglas McNabney and cellist Denise Djokic, along with PECMF's artistic director Stéphane Lemelin on piano, for Dvořák's Piano Quintet in A Major.
Clearly, there is much from which to choose in these latter days of summer and early days of autumn. Can't decide? Here's a suggestion: Drop everything, right now, hang a "GONE FISHIN'" sign on your office door, then head up to Barrie to catch the Colours of Music's concert of the same name. It includes works by Gershwin. With any luck, maybe they'll play Summertime.
Sharna Searle trained as a musician and lawyer, practised a lot more piano than law and is Listings Editor on The WholeNote team. She can be contacted at classicalbeyond@thewholenote.com.