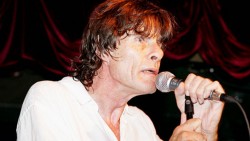 The sad news that Billy Bryans, musician and champion of world music in Toronto, has died too early at 63 reached me as I was writing this month's column. Suddenly, his passing at the Kensington Hospice in Toronto seems to mark the end of a chapter in the evolution of the Canadian "world music scene." This ever-expanding, ever-evolving basket of often vague and variously labeled commercial categories comprises mostly previously unconnected music genres. By those who like genres with capital letters, they have been diversely dubbed Folk, Ethnic, Traditional, Worldbeat, World Music, Global, Roots, Alternative World, Local, and Diaspora.
Billy Bryans' four-decade career successfully connected with many facets of the Canadian popular and world music business. But it also reflects the evolution of musical diversity in Toronto and the hybrid processes at work in our nation's multicultural musical landscape. The health of the current world music scene in turn owes much to the dedication of gifted artists such as Bryans, widely known to local musicians as Billy.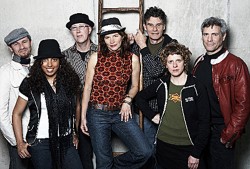 Billy first came to my attention in the 1970s as a drummer active on Toronto's Queen Street scene with groups such as the new wave punk, the Government. A few years later he co-founded, with Lorraine Segato, the four-time JUNO winning pop group the Parachute Club. He also made his mark as producer, working for a time at Daniel Lanois' Grant Avenue Studios in Hamilton. His production credits include the Downchild Blues Band, the rockabilly Bop Cats, jazz revivalists the Original Sloth Band, and Raffi.
But it's Billy's career as a world music drummer, producer and promoter, to which he segued over the last two decades, that most touch us here at World View. The Globe and Mail was not alone in calling him a "world music pioneer." What is clear is that he brought to bear his considerable musical passion, driving drumming grooves, and production and promotional savvy to Toronto's emerging global music scene. Many acts including the South African jive group Siyakha used him as their drummer.
Billy produced several significant albums in the genre including the prescient 1992 CD The Gathering, a song compilation of Toronto-based musicians from a variety of cultures that won the first JUNO Award in the "Worldbeat" category. (The category was renamed "Global" and changed yet again in 2002 to "World Music"). His CDs for the Shego Band, Diego Marulanda, AfroNubians, and Punjabi by Nature helped set the bar for the genre. Both of his productions for reggae dub poet Lillian Allen won JUNOs. In 1994, Billy saw a chance to connect directly with international artists and the emerging industry. He traveled to Berlin to be among the few North Americans to attend the first world music expo, WOMEX, which has since become "the principal market for world music" (Le Monde). He also established Mundial Music, Canada's first world music record "pool" for journalists and radio DJs.
Long a fan of African-American and African musics, Billy grew to love Latin music in its many incarnations. In the last decade he took to the dance floor to polish his salsa moves (especially Cuban rueda de casino) as well as spinning Cuban dance tracks for club goers as a popular Toronto DJ. When the Lula Lounge opened its doors at Dufferin and Dundas as a live music dancehall showcasing Toronto's growing Latin music scene, Billy was there, directly engaged. And the feeling was mutual. When his health faltered, his musician friends and fans rallied. Lula held a recent benefit "Rumbon Para Billy Bryans" to raise funds for his palliative care on April 19, 2012, featuring an all-star cast including Jane Bunnett, Alex Cuba, Son Ache and Samba Squad.
The use of the term "world" when referring to a kind of music or a musician has a contested history. It often seems a strained, an incorrectly placed, or even a derogatory tag. When used to describe the whole of Billy's career however, embracing as many musical genres as he did, "World Musician," in capitals, feels right.
LULAWORLD 2012 concerts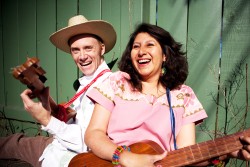 Another Canadian pioneer, Alexander Graham Bell, is reputed to have written, "When one door closes another opens; but we so often look so long and so regretfully upon the closed door, that we do not see the ones which open for us." It seems hardly possible that the Lula Lounge is a decade old, yet here it is celebrating this remarkable anniversary during May with a series of concerts, looking forward all the way.
Originally a Latin dance club, in the ten years it has been open this venue has broadened its mandate, distinguishing itself as a home for world music of many persuasions. Now called the Lula Music and Arts Centre, it is programming a series of collaborative concerts called LULAWORLD 2012, bringing together artists from around the globe. Here are just a few highlights.
The series kicks off May 9, in collaboration with Small World Music, with the celebrated local Autorickshaw shaking up contemporary jazz, funk and the classical and popular music of India into a bubbly brew. In keeping with LULAWORLD's theme Autorickshaw (Suba Sankaran, voice; Justin Abedin, guitars; Collin Barrett, bass; Dylan Bell, keys; Ed Hanley, table; Ben Riley, drum kit) has invited illustrious local guests including jazz specialists pianist Gordon Sheard, bassist George Koller and mallet percussion maestro Mark Duggan.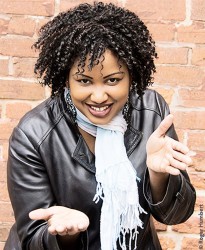 On May 11, Café Con Pan, Toronto's exponents of son jarocho, the traditional music of Veracruz, Mexico, mix it up with guests La Marisoul (LA) plus musicians from Canada, Mexico, Chile and Iran. The concert will also launch Nuevos Caminos a Santiago (New Roads to Santiago) their "genre defying" second CD. In the second set this evening Lady Son y Articulo Viente hosts Montreal's tropical urban scenester Boogat in what is billed as a "hip hop son cubano mashup!" Canadian born and raised Yeti Ajasin, aka Lady Son, is the lead vocalist/director of the Latin fusion band Artículo Veinte. It sounds like dancing is required.
Two outstanding, award-winning local ensembles join forces May 16: the classical Gryphon Trio and the Afro-Cuban and Latin jazz specialists, Hilario Durán Trio. They will perform "Cuban, Brazilian, Sicilian and Argentine charts" celebrating music that has resounded at Lula.
You can find more LULAWORLD 2012 concerts listed in The WholeNote's "In the Clubs" section.
World Music Picks
This is one of those months where no amount of space seems enough to cover the myriad concerts of interest in the GTA. I have selected a few to highlight and apologize for having to leave out so many others.
Yoga and music have long been intimately linked. On Friday, May 4, 8pm at the Casa Loma campus of the George Brown University, the Institute of Classical Yoga and Therapy presents "Music in harmony with Yoga," a free Hindustani classical vocal concert featuring Ramneek Singh. Ms Singh will be accompanied by an esraj player and by Yashodhan Navathe on tabla.
May 5 the Aradia Ensemble hosts Toronto's leading Georgian choir Darbazi in a fascinating concert contrasting the two groups' choral approaches at the Glenn Gould Studio. Titled "The Grain of the Voice," the concert features two new works by Andrew Agar and Kevin Mallon which will unite these two very different vocal "grains." Aradia's Kevin Mallon, conducts.
Another concert that marries Western and Eastern (here specifically Southeast Asian) classical music forms will be presented at the Glenn Gould Studio on May 22. The Evergreen Club Contemporary Gamelan an eight-member pioneering world music ensemble, of which I've been a member for some 29 years, is playing host to the Bozzini String Quartet, Montreal's contemporary and experimental music specialists. The two groups will present five commissioned works by leading Canadian composers for their joint forces, repertoire they performed recently at a well-received Montreal concert.
Back firmly on our musical native land, on May 10 the Métis Fiddler Quartet launches its debut CD, North West Voyage Nord Ouest at the Lakeside Terrace, Harbourfront Centre. Currently based in Toronto, the four youthful sibling members of the quartet, Alyssa (viola), Conlin (guitar), Nicholas (violin) and Danton (cello) Delbaere-Sawchuk were born into a Métis family in Winnipeg. Their program highlights arrangements of originally rural Canadian Métis and Native fiddle music that they learned directly from the greatest living masters, and that the Métis Fiddler Quartet is eager to share with urban Canadians.
Finally, on June 1 at Koerner Hall, the Royal Conservatory presents Simon Shaheen on oud and violin in a concert fusing Arabic, jazz and Western classical music. Shaheen has been hailed as one of the most significant Arab musicians and composers of his generation. Based in New York, his two bands Qantara and the Near Eastern Music Ensemble tour internationally. Moreover, he has received numerous awards for his performing and educational contributions, including the National Heritage Award he received at the White House. His album Blue Flame has been nominated for an impressive 11 Grammy Awards.
Andrew Timar is a Toronto musician and music writer. He can be contacted at worldmusic@thewholenote.com.