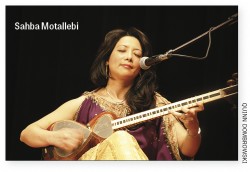 The 2015 Canadian census estimated that Iranian Canadians number over 200,000. They have settled in significant numbers in the greater Montreal and Vancouver regions but the largest group – some estimates put the number at around 65,000 – lives in the northern Toronto outliers of Richmond Hill, Vaughan, Markham and Thornhill.
Over the past few decades, increasing numbers of singers, musicians, composers, conductors and music teachers specializing in many genres have joined their ranks, greatly enriching the musical life of the GTA. They and musicians from many other lands, including those native to Canada, are truly "making Toronto into a real music city," a politicized phrase I'm cheekily lifting from The WholeNote's Publisher/Editor In Chief David Perlman's insightful Op-Ed last issue.
I have highlighted numerous concerts with a Persian theme in my column over the years, however this March several presenters are combining forces to highlight Persian culture alive and well right here in the diaspora. Under the rubric of Nowruz, the Persian annual New Year's celebration welcoming the advent of spring, a museum exhibition, epic shadow theatre, storytelling, educational workshops, culinary experiences, children's programs, cinema, dance and music performances – even a Nowruz DJ party – will warm our burg residents' late-winter blahs.
Mystic Persian Music and Poetry: March 4, the Aga Khan Museum in partnership with Rumi Canada presents "Mystic Persian Music and Poetry" with the Soley Ensemble at the museum's auditorium. The concert animates the current museum exhibition "Rebel, Jester, Mystic, Poet: Contemporary Persians," highlighting "cultural rebellion and lyrical reflection" in the works of 23 artists who have chosen self-expression over silence.
The Soley Ensemble is led by the veteran singer-songwriter Soleyman Vaseghi. Born in Tehran in 1946 into a multi-generational Sufi-centric family, he was already popularly known as "Soley" throughout Iran by the age of 20, singing his own songs on National Iranian Radio and Television. After the Iranian revolution in 1979, however, Soley was prohibited from performing in public. He turned intensive research into Persian literature, poetry and music. This work eventually resulted in a series of new age-style albums aimed at international audiences, inspired by the lessons of Sufism.
Soley left Iran in 1986 and by the early 2000s had joined forces with the Lian Ensemble, a Los Angeles-based group of expat Iranian virtuoso musicians and composers. Their common goal was to fuse their classical Persian music heritage with contemporary jazz sensibilities, aiming for a "synthesis of mystical world music."
Soley now makes Toronto his home and his Soley Ensemble is comprised primarily of several younger generation Toronto-area musicians of Iranian origin playing traditional Persian instruments. In Mystic Persian Music and Poetry, the Soley Ensemble performs devotional Sufi music honouring Nowruz. They are joined by "sacred whirling dancer" Farzad AttarJafari and Toronto-based spoken-word artist Sheniz Janmohamad reciting her English-language poetry.
Nowruzgan Festival: Tirgan, a "non-profit, non-religious and non-partisan cultural organization committed to promoting a cross-cultural dialogue between the Iranian-Canadians and the larger Canadian community," is at the centre of Toronto's Nowruz cultural festivities this year. Intending to honour both Nowruz as well as Canada's sesquicentennial, Tirgan is producing the three-day Nowruzgan Festival.
The festival posits a twin purpose, one that looks culturally to the Persian homeland, but one which also embraces the community's presence within Canada's multiple socio-cultural and political geography. In addition, Tirgan's Nowruzgan Festival mission statement emphasizes not only the entertainment value of its programming but also a didactic purpose.
"Daytime activities are geared toward youth and families and combine Persian art/craft technique with Canadian content.Using workshops and performances, children, teens and young adults have an opportunity to gain a clearer perception of their roles in society's development as a cultural mosaic. Evening activities are designed for family and adult audiences." It appears that the Nowruzgan Festival also aims to encourage younger Canadians of Iranian origin to better understand Canadian society.
Running over the March 10 to March 12 weekend, in partnership with Toronto Centre for the Arts, North York Arts and Aga Khan Museum, the Nowruzgan Festival events take place at the Toronto Centre for the Arts. It's strategically located in the lower end of the heart of contemporary Toronto's Iranian neighbourhood centred on Yonge Street. Of the nearly 60 scheduled events let's take a closer look at a few with music as a key ingredient.
Feathers of Fire: A Persian Epic: The festival kicks off Friday March 10 with the multidisciplinary shadow theatre production Feathers of Fire: A Persian Epic which is repeated three more times during the weekend. Billed as a "cinematic shadow play for all ages," the production is rooted in stories from the Shahnameh (The Book of Kings), an epic literary milestone written by the great Persian poet Ferdowsi roughly between 977 and 1010 CE.
Conceived, designed and directed by New York-based Iranian filmmaker, playwright and graphic artist Hamid Rahmanian in collaboration with the American shadow-theatre trailblazer Larry Reed, Feathers of Fire features original music by composer/musician Loga Ramin Torkian and vocalist Azam Ali, an Iranian American husband-and-wife team. Torkian co-founded the groups Niyaz and Axiom of Choice, both incorporating Persian and Middle Eastern music and lyrics. Torkian performs on the Azerbaijani tar, the Turkish saz and, a recent invention, the guitarviol, a new bowed hybrid of guitar and viola da gamba. He has scored a number of films, a skill which comes in handy supporting this epic production which employs eight actors, 160 puppets, 15 masks and many costumes. Its 158 animated backgrounds are rear-projected onto a vast 15- by 30-foot screen.
Sahba Motallebi with Special Guest Maneli Jamal: Saturday, March 11, at 5pm, the Aga Khan Museum and Tigran co-present Sahba Motallebi with special guest Maneli Jamal at the Toronto Centre for the Arts. Motallebi is that rare musician, a female soloist on the tar and setar. Recognized internationally for her virtuosity for four years running (1995-1998), she was named the Best Tar Player at the Iranian Music Festival while still enrolled at the Teheran Conservatory of Music. In 1997 she co-founded the groundbreaking women's music ensemble Chakaveh and was subsequently invited to join the Iranian National Orchestra.
Motallebi currently lives in Southern California where she completed a degree in world music performance at CalArts. She performs worldwide and has released a series of albums, the latest of which is A Tear at the Crossroad of Time. She has also pioneered Internet tar instruction. Her online teaching has inspired a renewed interest in the transmission of this venerable art form.
Joining Motallebi on stage is the hot Iranian Canadian guitarist Maneli Jamal. He won first place in the 2014 Harbourfront Centre's Soundclash Music Awards wowing audiences with his signature approachable style of playing acoustic guitar with connections to his Iranian roots. A Minor 7th review raved about his "mastery of phrasing, a sumptuous tone and an ability to wrest emotion from every note, even from the pauses between the notes." I, for one, look forward to the plucked-string heat generated by Motallebi and Jamal. It will certainly put me in a proper celebratory Nowruz frame of mind.
Other Picks
Mar 4: The Church of St. Mary Magdalene provides an earthly setting for the meeting of two musical choral worlds – the church's Schola Magdalena and their guest choir Darbazi, the latter singing the polyphonic music from the Republic of Georgia. Schola Magdalena supplies its trademark medieval-to-Renaissance liturgical repertoire of Gregorian chant, Hildegard, Dufay, Dunstable, as well as Appalachian folk song. Toronto's first Georgian choir Darbazi, on the other hand, performs selections from its extensive sacred and profane Georgian repertoire. The listing also mentions the performance of the intriguing but as yet undesignated "new music." Will the two choirs jointly sing a new Canadian work or two? My advice is to go and find out.
Mar 16 and 17: Rounding out the month York University Music Department's World Music Festival runs over two days, March 16 and 17, at the Tribute Communities Recital Hall, Martin Family Lounge and Sterling Beckwith Studio, all in the Accolade East Building. The genres on offer are wide-ranging: Chinese Classical Orchestra, Cuban and Klezmer Ensembles, West African Ghanaian Drumming, Escola de Samba, West African Mande and Caribbean Music. The Korean Drum, the Celtic as well as the Balkan Music Ensembles, will also show what they have learned this year. I'm willing to bet you'll be impressed.
Andrew Timar is a Toronto musician and music writer. He can be contacted at worldmusic@thewholenote.com.