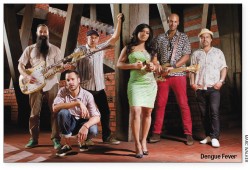 Arguably one of the most exciting features of Toronto's musical geography today is how our metropolis has emerged as a kind of globally flavoured creative seedbed. Over the past few decades potentially viable music hybrids of myriad kinds have been created and encouraged to flourish. I've touched on many in this column over the years.
This inclusive scene is abetted by the presence of many of the world's musics actively performed by musicians of the first rank. In this column last month, for example, I focused on music-making within the Persian community, which is thriving in the greater Toronto area.
In addition to performers, the GTA music scene is also supported by numerous audiences which have developed an appetite for tasting, mixing and merging of sonic genres from disparate worlds. Yet another essential element supporting this development includes a social-political infrastructure comprising community organizations, governments, venues and media which generally view hybrids favourably.
Inclusivity and diversity were adopted as part of the core philosophical platform of the current Canadian government. Recognizing that this approach is not necessarily the norm in other societies, Prime Minister Justin Trudeau has repeatedly articulated its outlines, particularly in his foreign speeches. "Diversity is Canada's strength," he said in London, UK, in 2015. "Canada has learned how to be strong not in spite of our differences, but because of them…that capacity will be at the heart of both our success and of what we offer the world."
Let's examine how Canada's appreciation of the value of diversity –reflected and transformed by (both immigrant and Canadian-born) musicians through the process of artistic hybridization – is reflected in and shaped by several April concerts in Toronto.
Small World Music: Asian Music Series
Small World Music's 15th Annual Asian Music Series, running April 1 to May 20, is a case in point. About half of the events are staged at SWM's own intimate Centre at the Artscape Youngplace. The 14-concert series came about through networking with partner presenters such as the Aga Khan Museum, Batuki Music Society and Raag-Mala, in addition to support by various arts councils and levels of government. Its private sector sponsor is TD Bank.
The program brings together "emerging artists with internationally renowned figures, engaging communities around the GTA…embracing the scope of music from across the Asian cultural landscape – from India to Japan, via China, Pakistan and Iran…."
In order to assist audiences in navigating the two-month series, SWM groups concerts into what it calls Explorer Bundles. They are cannily shaping audience experiences thematically, as well as across genre and culture of origin. Allowing audiences to "take advantage of Small World's place at the heart of the city's global music scene," the bundling of "Asian Music Experiences" is presented through discounted three-concert packages with the following evocative and user-friendly titles: Rhythm, Soul, Heritage and Motion.
The Asian Music Series Rhythm Explorer Bundle commences with the Haniya Aslam Trio on April 1. Aslam is a star in her native Pakistan, having co-led the country's first all-female band Zeb and Haniya. Their groundbreaking 2008 hit album Chup! (Silence!) topped the charts for months. Now a Toronto resident, singer-guitarist Aslam fluidly combines pop, folk-rock, alt, blues and jazz with vernacular songs she learned in her native Khyber Pakhtunkhwa province. Lyrics in Urdu, Pashto, Dari and Turkish, and thematically bold subject matter, thicken the regional-transnational tensions in her songs, yet at the same time give them unusual potency. Continuing her advocacy of transnational culture in her music, she's joined by leading Toronto world musicians Naghmeh Farahmand (percussion), Peter Lutek (winds) and Waleed Abdulhamid (bass).
The Rhythm Explorer Bundle continues April 16 with Upanishads, Toronto musician Debashis Sinha's new solo project which explores ancient sacred text while remaining firmly rooted in the thoroughly contemporary sound world of electronic and beat-based music. Steeped in his experience as a second generation South Asian Canadian, Sinha's music is "committed to expand[ing] the notions of what it means to express and be influenced by a life in/between cultures."
May 6 at 10pm, the Rhythm Explorer Bundle wraps with a lighthearted "throwback dance party, Globetrotter's Retro Bollywood Edition." Local and international DJs will mix a live "cross-cultural concoction on the dance floor, in celebration of diversity and inspired community…with spicy blends of funk, sitar, tabla, soaring vocals and lush orchestras, all mashed up with modern beats." Vintage Bollywood film clips, South Asian-themed decor and a chai bar round out this multisensory, playful party at Round, 152a Augusta Ave.
Tinariwen and Dengue Fever
Those are only three out of 12 concerts in SWM's Asian Music Series which fall into the framework of this issue of The WholeNote so I can't possibly highlight them all here, even though I'm itching to. Well – maybe just one more.
Tinariwen, presented at Massey Hall by Small World Music, Batuki Music Society and Massey Hall on April 12, is a Grammy Award-winning Malian sextet with an impressive international fan following. Formed in 1979 in Algerian exile by Malian Tuareg musicians, Tinariwen is among the pioneers of the desert blues genre. Digging heavily into traditional Tuareg music, but also influenced by Bob Marley, Carlos Santana, American blues and Bob Dylan, Tinariwen's powerful driving music and controversial lyrics address the pain of exile and the struggle against political repression. Slate called the group "rock 'n' roll rebels whose rebellion, for once, wasn't just metaphorical."
The opening act Dengue Fever is fronted by award-winning Cambodian native vocalist Chhom Nimol. She sings in both Khmer and more recently in English. California based, the five-piece band with standard pop instrumentation takes 1960s Khmer pop music as its primary source of inspiration. It then liberally adds rock of the garage and psychedelic persuasion. Rock icon and veteran world music champion Peter Gabriel said of their music: "It's done with a lot of style. It's spirited, impassioned stuff."
Tabla and Taiko: April 15 two of Toronto's veteran world music groups join forces. Toronto Tabla Ensemble and Nagata Shachu present "Tabla and Taiko: Two Ancient Traditions Meet" at the Toronto Centre for the Arts. The promotional material states the concert is to serve as a "cross-cultural music collaboration of Indian and Japanese percussive traditions with the goal of bringing communities together." It promises to be a textbook demonstration of how the evolutionary processes of artistic hybridization can be developed over years and successfully presented.
I've written before about how both Toronto-based ensembles have significantly contributed to the Canadian world music scene since the 1990s. In pursuing their groups' artistic vision they have both succeeded in raising the profiles of received Indian and Japanese musics. In this concert they join hands and drums, featuring compositions by the two ensembles' artistic directors, Ritesh Das and Kiyoshi Nagata. Each is creating works that maintain their home traditions' integrity while also searching to integrate the other group's inherent strengths. I spoke to each AD to better understand their collaborative approach.
"I wrote Sare Panch, in a rhythmic cycle of five and a half beats," said Das. "I then modified and fine-tuned it in rehearsal so it would work with the extreme dynamic range of the taiko ensemble. I'm also looking forward to performing a piece by Aki Takahashi in 14 beats, as well as a work where I play solo tabla and Kiyoshi plays the chappa, a Japanese cymbal."
How would he characterize the common denominators between the two quite different groups? "We both share values of respect, discipline and knowledge," Das replied without pause.
Kiyoshi Nagata added: "I agree we share those values. [On the other hand] I always tell Ritesh it's not our similarities but our differences that complement one another! For example taiko is loud, tabla is quiet; taiko is primal, tabla intricate and technical. It's those kinds of juxtapositions which offer rich new sonic and artistic possibilities.
"In addition, both our ensembles work within the oral tradition," continued Nagata. "Not being bound by notation makes it easier to communicate, I find. As we like to recite to one another: 'Once you say it, you can play it!' It's quite liberating to be able to internalize music in order to express yourself. You could reduce the process to memorization, internalization and finally expression. After all, the goal of taiko practice is that the body becomes the extension of the rhythm."
Finally Nagata added "Collaborations like this are pretty hard to come by. Toronto is one of the few places where this could happen. There's a certain convenience in having both groups in the same town. They're 20 minutes from us, so we can get together any day of the week!"
Aga Khan Museum's "Entrancement"
As for presenters, they are continually evolving ways to reinterpret aspects of musical inclusivity, diversity and cultural framing to their audiences. The Aga Khan Museum is one such presenter and venue which has actively welcomed the music of the world right from its beginnings in 2014. I spoke to Umair Jaffar, performing arts manager at the AKM about its latest efforts to retag its concert series in order to keep it relevant to its patrons.
"We've had series called 'classical' and 'world music' in the past. Now we're considering using the word 'entranced' however," said Jaffar. "Trance is a word that aptly describes and connects several of our upcoming performing arts programs."
It is an idea clearly reflected in the "mesmerizing and mood-altering grooves of Vishwa Mohan Bhatt's slide guitar" that will be showcased in his April 22 concert presented in partnership with Raag-Mala Toronto and Small World Music's Asian Music Series. The Grammy Award-winning Bhatt performs exclusively on his bespoke 19-stringed mohan veena. While his instrument borrows as much from the Hawaiian and blues slide lap guitars as from the indigenous Indian veena, the music Bhatt plays on it is strictly Hindustani classical, relying on the performance of raga. Raga itself is a complex concept in classical Indian music akin to melodic mode, possessing the power to "colour the mind" of the performer, as well as to affect the emotions of the listener.
The April crop from the Toronto global seed bed is promising indeed!
Andrew Timar is a Toronto musician and music writer. He can be contacted at worldmusic@thewholenote.com.