In both my lead stories this month, World Fiddle Day Toronto and the "folk opera" Zemlya (Earth), an ethnomusicologist is the driving force; Anne Lederman in the former and Marichka Marczyk in the latter.
Pioneering American ethnomusicologist Mantle Hood in 1969 broadly described his discipline as "a holistic investigation of music in its cultural contexts." He also notably advocated for direct participation, requiring that his students learn to play the music they were studying, calling his approach "bi-musicality" in a 1960 paper. As these two stories clearly demonstrate, however, the role of the ethnomusicologist can extend even further than Hood proposes: beyond the role of investigator, participant and reporter, to that of interpreter for the audience and as presenter of received musical traditions. At times it can even encompass roles of musical and dramatic creator, as demonstrated in Lederman's intercultural co-composed fiddle tunes and scored Around-the-World Jam, and in Marczyk's dramatic, staged performative reframing of the transformation of Ukraine village women's lives.
Presentational ethnomusicology (which some in the field might contrast with the participatory kind) may not yet be a well-defined sub-discipline. There are however increasing numbers of musicians in our midst who are curating, producing, composing, performing and in other ways presenting music to the public combining aspects of folklore, comparative musicology, psychology, cultural anthropology, linguistics, music theory and history – in other words covering the gamut of ethnomusicology. I'll be tracking this way of presenting music from time to time here in this column.
Zemlya: A Ukrainian folk opera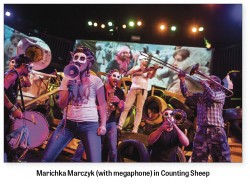 May 18 the Toronto (mostly) women's Kalendar Folk Ensemble premieres a new work Zemlya (Earth), which it describes as a "Ukrainian folk opera," at the St. Vladimir Institute, 620 Spadina Ave. A few years ago Kalendar itself grew out of the Kosa Kolektiv urban folk movement, a subject I explored in this column in 2013. (For backstory completists, it is accessible on thewholenote.com by searching "Kosa Kolektiv".)
When Kalendar came to commissioning Zemlya, they looked to the Ukrainian village music specialist and ethnomusicologist Marichka Marczyk, a Toronto resident. Marczyk completed her studies at the National Academy of Music in Kyiv in 2002 and while still a student became a founding member of, and a soloist with, the important Bozhychi folklore ensemble.
For over 17 years Bozhychi members have conducted research into village performance traditions, emphasizing what they call an inclusive "authentic" approach to folklore reenactments. This is in contrast to the older 20th century paradigm of academic folk singing and dancing, state-sponsored during the Soviet era, which intended to turn "unsophisticated" folk traditions into "true art." "We are not just after faithful reproduction. We want to present the treasures of folk music in their living, authentic form," declared Bozhychi member Illya Fetisov. One of the group's slogans illustrates their holistic approach: "Everything is authentic – from food to feelings."
Marczyk counts her repertoire at over 1,000 songs, most personally collected in Ukrainian villages. She has performed them regularly with numerous groups, in Canada the best-known of which is the Lemon Bucket Orkestra, Canada's popular self-styled "guerilla-folk party-punk band." For over a year in the wake of the 2014 Maidan Revolution, which overtook the streets of her native city, Marichka Marczyk travelled widely across Ukraine with LBO violinist Mark Marczyk, writing articles, short stories and a play aiming to represent the revolutionary gestalt. Their award-winning guerrilla folk opera Counting Sheep (2015), enlivened by the music of the Lemon Bucket Orkestra, sold out at the 2016 Edinburgh Festival Fringe.
For Zemlya (Earth), Marichka Marczyk has chosen other themes to explore: urbanization and the mechanization of the lives of Ukrainian village women. Each scene is thematically connected to the earth in some way, from babies made on the earth to bodies buried deep within it. Zemlya takes received village-style solo and polyphonic songs and dances and weaves them together with a narrative tracing the radically changing roles of Ukrainian village women and their essential connection to the cycles of the earth.
Will Marczyk's approach to the narrative present a nuanced view of the complex issues of the urbanization and mechanization of the roles of agrarian women? How will village songs, dances and instrumental music be integrated into the play and employed to illuminate the story? Will the power of these songs and the play's drama transcend its possible thematic limitations? I'll be eager to find answers to those questions at the sole performance of the work on May 18.
May 20: World Fiddle Day Toronto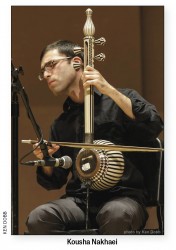 World Fiddle Day falls on the third Saturday of May. Its aim: to celebrate the "playing of bowed string instruments throughout the world through participation, sharing and outreach, with respect to all world musical traditions." Originating in Ireland as recently as 2011, this fiddle-centric festival is growing into a significant annual world music event. It has swiftly been embraced by string music aficionados worldwide and is now celebrated in over 45 countries, in thousands of events. Here in Canada, in 2015, Parliament declared the third Saturday of May National Fiddling Day.
On May 20 it will be recognized for the fifth year in a row by a collective of professional and amateur Toronto musicians, beginning in 2013 as a humble gathering on the lawn of Howard Park Emmanuel Church in the visibly multicultural Toronto Roncesvalles neighbourhood. At Fort York last May World Fiddle Day Toronto had grown to the point that 96 players participated in WFDT's epic signature Around-the-World Jam.
Award-winning Canadian fiddler, singer, composer, ethnomusicologist and music educator Anne Lederman of the groups Muddy York, Flying Bulgar Klezmer Band and several other ensembles is WFDT's artistic director and "teacher-in-chief." I spoke to Lederman about her vision for the day-long event.
"Having outgrown our lovely space at Fort York, we accepted the invitation of the Aga Khan Museum to bring World Fiddle Day Toronto there this May," began Lederman. "We aim to be a world music presenter so it's a perfect fit for us to partner with the museum since its inclusive mission includes serving as a catalyst for mutual understanding and tolerance.
"There is also particular resonance with regards to the thousands of Syrian refugees Canada accepted last year in partnering with that institution." The AGM's own mandate echoes that sentiment, offering a space for "unique insights and new perspectives into Islamic civilizations and the cultural threads that weave through history binding us all together."
Lederman further noted that "while celebration is an important part of World Fiddle Day Toronto, through our work with diverse cultural expressions we also strive to raise awareness of world issues, strengthen cultural diversity and encourage dignity, respect and basic human rights for all cultures."
When I pressed her for her overarching vison for WFDT, she said simply, "I just want to get people excited about the many possible different approaches to music and art there are."
WFDT's Around-the-World Jam
This year for example, the WFDT's theme tune for the Around-the-World Jam evolved from a collaboration between Lederman and prominent Toronto-based Persian violin and kamancheh player Kousha Nakhaei. "Called Persionada, it pays tribute to our partners at the Aga Khan and also honours Canada's 150th," says Lederman. "Kousha chose the traditional Persian song Dost Khan Amiri, and I created a second melody that works with it so it can be performed by the up to 100 bowed string players, expected that day at the Museum." The rest of the Around-the-World Jam participants will include "violin, viola, cello and some bass players, all accompanied by our stellar back-up house band. But the occasional accordionist has also sometimes snuck in!" quipped Lederman.
This year Jam fiddlers will play 35 tunes from 25 different cultural traditions. And Canadian songs take pride of place among those drawn from most of the world's continents. Leonard Cohen's Bird on a Wire features in as a tribute to the celebrated late Montreal-born songwriter, as will Jerry Holland's nostalgic waltz My Cape Breton Home and Pascal Gemme's Valse Beaulieu.
As an example of the cultural diversity on show, the WFDT hosts five accomplished guest artists in workshops and at the long evening concert. Featured are Kousha Nakhaei playing Persian violin and kamancheh, Anne Lindsay on Finnish jouhikko, Swedish nyckelharpa and jazz violin, and, as mentioned earlier in this issue's cover story, Chinese erhu virtuoso Amely Zhou. Representing French-Canadian fiddling are Pascal Gemme and Yann Falquet, while the award-winning youthful brother and sister duo DnA – Diana and Andrew Dawydchak – perform in the best old-time Ontario fiddle and step-dance tradition. These two duos, representing Quebec and Ontario fiddling styles and repertoires, are a particularly apt fit for WFDT's Canada 150 theme this year.
Lederman is quick to add that WFDT "is not only a celebration of Toronto's multi-cultural musical traditions, but the culmination of our organization's full year of activity. These include holding community practice and workshop sessions exploring world traditions, as well as collaborating with Tafelmusik on an outreach program with young string players at the Etobicoke School for the Arts and the MNjcc Suzuki Program."
At 5:30pm visitors can enjoy a buffet supper of Mid-East cuisine, continuing the exploration of world cultural traditions, all the while listening to WFDT's Youth Showcase performances.
With its institutional, government, corporate and all-important community support, and driven by Lederman's vison, World Fiddle Day Toronto's future as a "cross-cultural ambassador" looks bright.
QUICK PICKS
"Sounds of Spring": Georgian romantic songs
May 13: Members of Toronto's extended Georgian musical community present "Sounds of Spring" at Heliconian Hall at 6:30pm. The concert features Georgian romances, as well as city and a cappella rural polyphonic songs, showcasing the classically trained singer Ucha Abuladze and the vocal duo of Diana and Madona Iremashvili. Singer Bachi Makharashvili, also a superb guitar and chonguri player in this repertoire, plus his vocalist wife Andrea Kuzmich and children will perform, making it a warm Georgian family affair. I recommend you make the effort to attend.
Evergreen Club Contemporary Gamelan goes vocal
May 17: At 8pm at Array Space, the Toronto pioneering world music ensemble Evergreen Club Contemporary Gamelan presents "Celebrating the Voice," with music from its two new CD releases. (As usual, when writing about the group, I need to state that I have been a career-long membership of Evergreen, one of many very satisfying, though seldom particularly remunerative, ways I have been engaged in music long before I was a music journalist.)
The eight-musician group typically adheres to an all-instrumental program but here performs a wide range of songs from its hot-off-the-press genre-defying CD Bridge. The fine Toronto vocalists Jennifer Moore and Maryem Tollar are in the spotlight, along with violinist Parmela Attariwala.
Then from its new CD release Grace, ECCG will perform Bill Parsons' large-scale Translating Grace, scored for the very probably unique instrumentation of soprano (Jennifer Moore), ECCG's degung, cello (Andrew Downing), bass clarinet (Bob Stevenson) and keyboard (Erik Ross). A bespoke video by Chuck Samuels provides added visual enhancement of the song cycle's textual themes. As a trumpet virtuoso and University of Victoria music professor very recently put it, "The reckless abandon [ECCG] shows for borders, genres, and easy classification remains an inspiration."
Autorickshaw celebrates 15 years
May 18: Toronto's twice JUNO-nominated, Indo-fusion ensemble Autorickshaw presents "Under the Hood" live in concert. Autorickshaw celebrates 15 years, kicking off its 2017 concert season at Lula Lounge. Vocalist Suba Sankaran is joined by elite Toronto musicians Justin Abedin (guitars), Dylan Bell (voice, bass, beatboxing), Ed Hanley (tabla) and Ben Riley (drumkit).
Autorickshaw's post-fusion repertoire spans Indian classical, folk and Bollywood as well as original compositions. Rooted in both North and South Indian classical music repertoire, its music is further framed by its members' experiences growing up and studying music in culturally diverse Toronto. Autorickshaw is working on a new album featuring the core trio, to be released later this year. Perhaps we'll be treated to some of their new work in progress in addition to its greatest hits.
Andrew Timar is a Toronto musician and music writer. He can be contacted at worldmusic@thewholenote.com.