Would you like to swing on a star,
carry moonbeams home in a jar,
and be better off than you are....
"Embracing" is a word that can be used two ways. Interesting how either way it applies to making music, and particularly to choral singing.
Choral music is "embracing": like a hug that is big enough for as many as many need one. Simple folk melodies and great majestic scores all invite us to be "in the music" as choristers or as audience. This embrace can transcend all kinds potential barriers: age, gender, race, and other diverse but less visible socio-economic walls in our complicated lives.
We are "embracing music", when we sing with others. With our breathing unified, and often our hearts on our sleeves, we wrap a collective voice around a piece of music and hold it tight, and by extension, around one another. It's an act of love.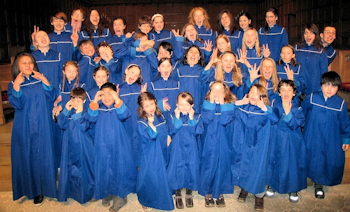 The Timothy Eaton Memorial Church Choir School "Sing Out!" (May 8)
Despite some obvious differences the little choristers from Timothy Eaton Memorial Church Choir School in the photo above remind me of the ragamuffins who sing "Swingin' on a Star" with Bing Crosby in the 1944 hit movie Going my Way (in which joining the choir provides some underprivileged boys with a way to stay out of trouble).
When I first saw Going My Way at about the age of ten, I wanted to be one of those rag-tag little boys so badly, singing with them. As it happens that year our school started a choir. I remember being amazed that all sorts of girls and boys who ordinarily avoided one another for various reasons, or treated each other badly, were somehow charmed into leaving their differences at the door.
I have subsequently seen and fallen in love with many other music-related films. They are newer, less sentimental, perhaps politically and musically more sophisticated, but that one was part of a transformational time when choral singing taught me about belonging, and the balance of irrepressible but engaged energy we want to see in children who sing. Look a little deeper into the old movie, and you find children who "belong". Who understand that among those who are held by the shared music, there can be no "outsiders".
There's another more recent film, Les Choristes, (2004) set in post-wartime France that tackles a similar theme, with some beautiful original music by Bruno Coulais.
Belonging to a choir can begin or resume at any age.
Feast your eyes and mind on the contents of this year's Canary Pages, and notice that there are choirs for every imaginable kind of person. For those "baby canaries" out there, like the cute blue ones in our photo, there are auditioned and non-auditioned choirs, choirs for just girls, just boys, choirs that combine music and drama, choirs that sing sacred music, and choirs that do not. And for all the rest of us "grown up" canaries, from experienced professional singers with solo careers through to people who have secretly always wanted to sing but never tried, there are choirs waiting to embrace new people.
This is the best possible month to go and hear some of these choirs provided you are not already too busy singing! A rough count of our daily listings for May reveals that there are no fewer than 80 concerts that include a choir (or choirs). There is one day in the month upon which you will find no less than 12 choral performances in our Toronto and our Beyond the GTA southern Ontario listings.
Some of these 80 are free. And virtually all of them offer discounts for children, youth, and seniors. There are staged works involving choirs. There are choirs performing with orchestras, choirs that sing unaccompanied. The music offered ranges from the sacred to the profane, and from the middle ages to the 21st century. Such a lot of singing!

CIRCLE the Date! June 24, 2009
Movies Embracing Music - A Choral Double Feature
Buy your tickets now at ToTix.Com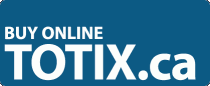 TWO choral-themed movies, some fun live entertainment and audience participation.
WholeNote wants your suggestions!
We'll be choosing two suggestions which have a choral theme to show at our first ever movie night. Send the name of your favourite and a few details, to canary@thewholenote.com, or mail us.
In June we'll be announcing the titles, and we'll be telling you how to get tickets for yourself, or your group. Stay tuned!
Here's a little more about what we mean.
A little while ago we began asking ourselves and other people about their favourite "movies embracing music". The idea was that some films actually address what music is, or does, in some way. A film might have a wonderful soundtrack, or be about a famous musician, and not accomplish this.
Suggestions to date: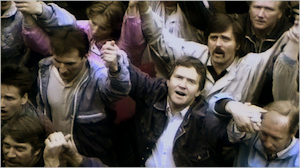 Allan Pulker: The Singing Revolution. This film tells the story of how 20,000 Estonians' voices united in song to affirm their countryits independence and free it from five decades of Soviet oppression. What a wonderful story and testimonial to the power of ordinary people and the power of music. This film has a very important message to Canadians, who feel so powerless in the face of the challenges of globalization and environmental degradation caused by forces much greater than any of us individually. Interestingly the majority of us also see music as an activity marginal to the demands of "real life." Perhaps it's time we begin to reassess the place of music in life and begin to look for ways to emulate the Estonian example.
Peter and Verity Hobbs: Les Choristes.
We saw "Les Choristes" at the 2004 Toronto International Film Festival and still look back on the film with pleasure. But, admittedly we are both "choral junkies".
This charming, funny and thought-provoking film takes place in post-war France. A new supervisor arrives at a boarding school for orphaned and difficult boys. He is full of enthusiasm and a love of singing. His participative and outreaching approach immediately comes into conflict with the stern disciplinary practices of the head- master. The new teacher uses choral music to give the boys respect for themselves and others, and the results are outstanding and long-lasting. (Choral discipline wins again!)
The film has many remarkable musical moments, especially when an outstanding young boy soprano is on screen. If you like choral music, you'll love this film.