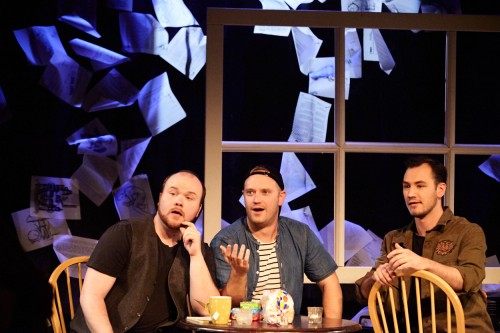 Quick now. What do Bob's Burger Bar in Kenora, the Red Lion Smokehouse in Thunder Bay and the SRO Nightclub in Sudbury have in common? Answer: they are the last three stops, October 5, 6 and 8 on an 11-city cross-Western Canada tenth anniversary tour of Against the Grain Theatre's groundbreaking production of La Bohème, before, fittingly, settling in for a further 11 performances at the Tranzac Club in Toronto. The Tranzac was where, in 2011, Against the Grain burst onto the Toronto opera scene with their interpretation of the classic Puccini love story updated from 19th-century Paris to the uncompromisingly unglamorous environs of this iconic Brunswick Ave watering hole. If you've missed the show so far (or just missed it while it was gone) you get 11 opportunities to make amends, between October 11 and 25, and they've put together an anniversary season that reflects both the company's past and ongoing creative flair. Take a look. They are at againstthegraintheatre.com
Turning 40 in style
Take the streetcar almost as far south as you can down Bathurst Street from the Tranzac, and you come to Stackt Market, at 28 Bathurst, built entirely of shipping containers and home to more than 30 retailers, service providers, event spaces and, yes, a brewery. As unlike the Tranzac as one might imagine, if you make it down there October 10 at 6pm (and have $225 to spare) you can join a select group of opera aficionados in raising at least one glass to Tapestry Opera, celebrating 40 groundbreaking years on the Toronto and North American new opera scene. Originally the brainchild of artistic director Wayne Strongman and Claire Hopkinson, now heading the Toronto Arts Council, Tapestry has successfully weathered the proverbial succession storm, and in the capable hands of artistic director Michael Hidetoshi Mori, continues to break new ground, carrying the essential storytelling power of the operatic art form into territories and media that were unimagined when the company was formed, intersecting in the past with punk rock, film, Persian classical music, physical theatre, turntablism and hip-hop. Next month, November 20 to 23, the ongoing program/project/series they call TAP:EX will take their operatic explorations into Sidewalk Labs experimental workspace at 307 Lakeshore E. for a night of "experiential opera." (They will also be reviving Chan Ka Nin and Mark Brownell's monumental 2001 mainstage opera, Iron Road, in an opera-in-concert remount next July 15 at Koerner Hall. But that will definitely be another story!) Go to tapestry.com for details of everything they have in store.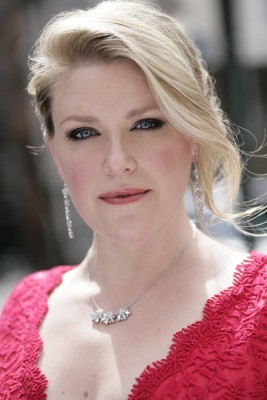 Opera in Concert
Tapestry's Iron Road next July would be a very long time to wait for fans of opera in concert as an art form. But there's never a dearth of the art form here. At one end of the spectrum, Opera by Request hits the ground running, October 4 and 5, at their intimate College St. United home base, with an OperOttawa presentation of Bizet's Pearl Fishers, with Cristina Pisani, soprano (Leila); Robert Martin, tenor (Nadir); Norman Brown, baritone (Zurga); and John Holland, bass (Nourabad). And at the opposite end of the spectrum in terms of size of undertaking – November 7 and November 9 – the Toronto Symphony Orchestra presents an opera-in-concert rendition of Jules Massenet's Thaïs, with Erin Wall, soprano; Joshua Hopkins, baritone; Andrew Staples, tenor; Nathan Berg, bass-baritone; Liv Redpath, soprano; and others; along with the Toronto Mendelssohn Choir, and the inimitable Sir Andrew Davis conducting.
Opera Atelier
Back in 1996, as a fledgling opera company, Opera Atelier took a Mozartian sacred cow by the horns, mounting what was not only the first period production of Don Giovanni in North America, but one which stood the Bergmanesque gloom of standard treatments of the opera on its head, by exploring with savage glee the darkness of the comedy inherent in the plot. Remounted in 2004 and again in 2011, this year's iteration boasts a cast that as always, is a blend of familiar faces – performers for whom Atelier's commedia-based, stylized gestural vocabulary is comfortable second nature – and newcomers who more often than not, once they get past the learning curve, understand and revel in the freedom of not having to worry about what their bodies are doing while their voices soar. This production features Colin Ainsworth, Gustav Andreassen, Mireille Asselin, Stephen Hegedus, Carla Huhtanen, Olivier Laquerre, Meghan Lindsay and Douglas Williams in the singing cast; Marshall Pynkoski, stage director; Jeannette Lajeunesse Zingg, choreographer; Artists of Atelier Ballet; Tafelmusik Baroque Orchestra; and David Fallis, conductor. It opens October 31 and continues November 2, 3, 8 and 9. operaatelier.com
Canadian Opera Company
I talked a bit about the COC's Turandot in the previous column, but the run, about to open as we go to press, continues to October 27, by which time, I predict, lovers and haters of Robert Wilson's uncompromising staging will have lined up on opposite sides of the Four Seasons lobby to do battle. As I said then, having seen Wilson's Einstein on the Beach, it's a production I would not miss.
At risk of getting lost in the fog of operatic audience wars is the second of the two fall COC productions, opening Oct 12 and running till October 26, Dvořák's Rusalka with Sondra Radvanovsky, soprano (Rusalka); Pavel Černoch, tenor (The Prince); Ŝtefan Kocán, bass (Vodnik); Elena Manistina, mezzo (Jezibaba); Keri Alkema, soprano (The Foreign Princess); Johannes Debus, conductor; and Sir David McVicar, stage director. MacVicar's new production, for the Lyric Opera of Chicago has been getting rave reviews, and if the chemistry that Kerri Alkema (as Giovanna Seymour) and Radvanovsky generated in Anna Bolena here in May 2018 is anything to go by, we are in for a treat. coc.ca
And there's always more
Check out the Music Theatre listings in this issue of the magazine (or go to "Just Ask" under the listings tab on our website) for details on all the following:
OCT 8, 12 noon: Canadian Opera Company/U of T Opera. Vocal Series: Parlami d'Amore - Speak to Me of Love. Richard Bradshaw Amphitheatre, Four Seasons Centre for the Performing Arts.
OCT 19, 2:00: University of Toronto Faculty of Music. Early Music Concerts: Acis and Galatea. Handel: Acis and Galatea. Heliconian Hall.
OCT 31, 12:10: University of Toronto Faculty of Music. Thursdays at Noon: Opera Spotlight - The Marriage of Figaro Preview. Walter Hall, Edward Johnson Building, University of Toronto.
NOV 1, 7:30: Royal Conservatory of Music. The Glenn Gould School Fall Opera: Siren Song. Music by Jonathan Dove, libretto by Nick Dear. Mazzoleni Concert Hall, Telus Centre.
NOV 1 and 3, 7:30: Opera York. La Traviata. Music by Giuseppe Verdi, libretto by Francesco Maria Piave. Richmond Hill Centre for the Performing Arts.
David Perlman can be reached at publisher@thewholenote.com. Opera-related leads and news should be directed to opera@thewholenote.com.