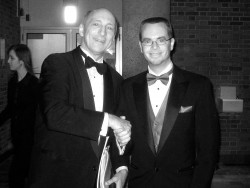 In last month's issue I mentioned an upcoming concert by the University of Toronto Wind Symphony. I had the pleasure of attending that concert, and can report on a superb performance of all works on the programme. My principal reason for attending was to hear the solo performance of the Gregson Tuba Concerto by a young man whose development I have been following over the past few years. Now in his final year in the Faculty of Music at the University of Toronto, Eric Probst was this year's recipient of the U of T Wind Ensemble Concerto Competition. In 2008 Eric was the winner of  the Hannaford Youth Band Solo Competition.
I have heard this concerto a number of times in the past, and this performance ranks with the best that I have heard. At some performances, I have had the impression that I was hearing a sort of fight to the finish, with the performer attacking the concerto as an adversary to be subdued. That was not the case in this performance. Throughout the performance Eric gave the impression that he was embracing the work as his friend. They were cooperating with each other to share their mutual admiration with the audience. Even in the technically demanding cadenzas there was no hint of a struggle; by his body language and facial expressions the performer told us that he was enjoying himself at all times.
The only really well known work on the program was the Symphonic Dance Music from Leonard Bernstein's West Side Story. Here the large woodwind section displayed a combination of precision, blend and depth of tone not often heard in a concert band.
The other student highlighted in the programme was Meaghan Danielson a graduate student conductor. She displayed her considerable conducting talent and stage presence in Contre Qui, Rose by American composer Morten Lauridsen, best known for his choral compositions. Originally written as a choral work, under Miss Danielson's sensitive baton this transcription for wind ensemble by H. Robert Reynolds retained the feeling of a choir of wind instruments expressing the poetry which inspired the work.
The second half of the evening was devoted to Testament: Music for a Time of Trial and Give Us This Day: Short Symphony for Wind Ensemble, two contrasting works by contemporary American composer David Maslanka. Dr. Maslanka left active teaching some years ago and retired to a small town in Montana to devote most of his time to composition. He was spending several days in Toronto as the Wilma and Clifford Smith Visitor in Music at the Faculty of Music. During an interval in the programme he spoke of his inspirations for the two works featured and on his philosophy of composition. It was an inspiring talk, but too fleeting to summarize here.
This "Visitorship" was established in 1986 by the Steven and Jane Smith family to honour their parents. Since renowned singer John Vickers was named as first visitor, the students have benefited from the counsel of many distinguished musicians. During his stay Dr. Maslanka conducted master classes, sat in on rehearsals and conducted a forum with composition students.
My visit to this concert introduced me to a series of concerts at Faculty of Music that are well worth more attention than they usually receive. They provide top quality performances by talented young musicians at very affordable prices and are at an excellent venue just a few steps from two subway stations. They are worth investigating.
Now, back to the tuba. Since the tuba is generally not looked upon as a solo instrument, there is very little solo repertoire written specifically for that instrument. Personally, I knew of only two concertos for tuba; the one heard in this concert written by British composer Edward Gregson in 1976 and a somewhat earlier one by Ralph Vaughan Williams. I had a question. Since the tuba usually remains well hidden in all but small ensembles and is not generally considered a solo instrument, what prompted these composers and few lesser known ones to write concertos? So, like any good modern researcher, after consulting the Oxford Companion to Music and Grove's Dictionary of Music and Musicians, I turned to the internet. Lo and behold, what did I find? I found a forum on the Gramophone Magazine website with the title "Why write a Tuba concerto"? (This was apparently specifically targeting the Vaughan Williams work.)Various submissions to this forum over a few months last year provide both entertainment and insight. I encourage you to read them!
(On a personal note, one of my all time favourite records is a set of duets for tuba and guitar by renowned tubist Sam Pilafian and guitarist Frank Vignola. In particular, their renditions of works by renowned French guitarist Django Reinhart show those works in a whole new melodic light.)
On the subject of compositions: Late in 2010, as a way to thank the city for all its support over the years, the members of the Pickering Community Concert Band were looking for a project to help the City of Pickering commemorate its bicentennial year. By happy coincidence 2010 also happened to be the 20th anniversary of the band. The decision was made to sponsor a competition open to amateur composers across Ontario. Entries were solicited for two distinct types of composition to be performed at ceremonies marking the two anniversaries.
After rigorous judging in accordance with well defined criteria, the winners for each of the two categories have been selected. "Elliott Overture," by young Markham composer Sean Breen, will be performed by the Pickering Community Concert Band at the City of Pickering's March 4 celebratory event in the Pickering Recreation Complex. "Inchworm/Lazy Afternoon," by veteran trumpeter and singer Vern Kennedy, will be featured at the band's 20th anniversary celebration to take place April 16. The winning composers will be introduced and awarded their prizes at each event.
And finally, a clarification: In last month's Bandstand column we talked about the new Artist in Residence Program offered by Silverthorn Symphonic Winds. Subsequent to publication of that issue we have received some clarification on the status of this program. Raymond James Ltd., the Canadian subsidiary of Raymond James Financial, Inc. will be the official corporate sponsor of the inaugural Artist in Residence Program offered by Silverthorn Symphonic Winds during the 2010/2011 season, rather than, as we thought the Ontario Trillium Foundation. While the band is in receipt of a Trillium grant these funds will be allocated for other community activities, not the Artist in Residence Program. (The Artist in Residence Program brings an established, professional musician as a collaborator with the band for a one-year term. The artist provides coaching to ensemble members, performs at two public concerts, and offers a free public master class.
Please write to us: bandstand@thewholenote.com.
Definition Department
This month's lesser known musical term is flute flies: "those tiny mosquitoes that bother musicians on outdoor gigs."
We invite submissions from readers.