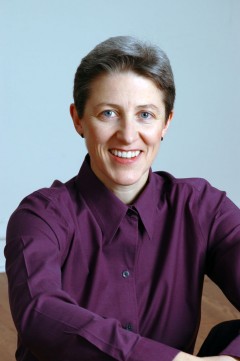 Brass week is coming to Toronto. As mentioned in last month's column the International Women's Brass Conference will be held June 16-20 in Toronto at the Humber College Lakeshore Campus. All of the performances during the week are at the auditorium of that campus. While the conference itself is restricted to those four days, organizers have planned a smorgasbord of musical events from serious academic sessions to whimsical anyone-can-join romps in the park. Space considerations limit how much detail I can include here, so I'll try to highlight events of general interest. For registrations, ticket prices for performances, directions to venues and other information visit the IWBC website, www.iwbctoronto2010.com.
The first of the public participation affairs has been billed as "The World's Biggest Brass Event!" The plan is to make an attempt at the world's largest brass assembly ever. This will take place on Sunday, June 13, on the grounds of the Assembly Hall at Kipling Avenue and Lakeshore Boulevard, adjacent to the Humber campus. Rehearsal will begin at 11am with the grand performance at 12 noon. This will be open to men, women and children of all ages and abilities, and music will be available ahead of time online at www.iwbctoronto2010.com.
Anyone with an instrument that's made of brass and is capable of producing a musical scale will be eligible to participate. (Having said that, yes, most saxophones are made of brass, but you won't be eligible to play along if that's your chosen instrument.) Join the headliner groups, True North Brass, Canadian Brass and Hannaford Street Silver Band for this once-in-a-lifetime chance to perform in such a musical aggregation. Whether it be a French horn, Wagner tuba, mellophone, bass trumpet, contrabass trombone, helicon, saxhorn, flicorno or keyed bugle, get out your brass instrument and perform under the baton of distinguished Canadian conductor and composer, Howard Cable. (Personally, I haven't decided yet whether to take my bass trumpet or my Soviet Army rotary valve baritone horn.) They need every able-bodied brass player in the Toronto area, as the record to beat is 596 players. Let's all try to help set a new Brass Event record. Remember, you too could be on Youtube! A minimum donation of $2 is requested, and proceeds will go to the establishment of a music programme for underprivileged youth in the Lakeshore area, sponsored by Lakeshore Arts.
June 14 and 15 are reserved for the 2010 Susan Slaughter International Brass Competitions. Named for the founder of the IWBC, these competitions are for performers (both women and men) of all brass instruments. It's my understanding that these are now fully booked, and that there are no further openings for competitors.
While there are a wide variety of clinics, workshops and other sessions for conference delegates, there is a plethora of concerts open to the public as long as tickets are available. Peforming ensembles hail from near and far. Local groups include the Weston Silver Band, the True North Brass, and the Hannaford Street Silver Band. From further afield we'll have the Monarch Brass and the Viceroy Brass from the USA, the Japanese Ladies Brass Band, Bella Tromba from the UK, and more. You'll find details on all these concerts in Section A of The WholeNote's listings.
Another fun-for-all happening will be the "Brass Olympics," Saturday, June 19 from 5 to 7:45pm on the east side of the Humber College grounds. If you're frustrated with your brass playing abilities, then perhaps you should test your athletic prowess with one of these. For the muscular macho types there is the Tuba Toss to see who can throw a tuba the greatest distance out into Lake Ontario. There will be a line attached to retrieve the instrument after each competitor's toss. For those wanting a challenge requiring more finesse, there will be the Horn Bell Frisbee Throw, the Trumpet Pin Game or the Trombone Balance competition. There will be prizes and fanfares, lots of fun, and a dinner at a nearby church.
The conference wraps up with a concert appropriately named "Brass Belles," presented in conjunction with the Hannaford Street Silver Band at the St. Lawrence Centre. An array of brass band showpieces by international composers will be performed by an all-female cast of soloists and led by guest conductor Gillian MacKay. Soloists include Carol Jantsch, principal tubist of the Philadelphia Orchestra; Susan Rider, lead cornet soloist with the US Marine Band; Bonnie Denton, euphonium soloist with the US Coast Guard Band; Gail Robertson, euphonium soloist performing J. Scott Irvine's Concertino; and Joan Watson, principal horn of the Canadian Opera Company Orchestra.
To provide a taste of the talent level expected at these events, I was sent a CD of tuba solos by Jantsch. She's the young lady who startled the orchestral world by winning the prestigious tuba position in Philadelphia, thereby beating out some of the finest players in the world in a normally male-dominated position. After her first performance with the orchestra in New York's Carnegie Hall, Carol had to rush back to write her final examinations at the University of Michigan.
In her CD, entitled Cascades, she displays a virtuosity rarely heard on a tuba. From the intricacies of a tango by Piazzolla, the allegro from a Khachaturian violin concerto and the ever popular Clarinet Polka she displays a technique normally only expected of much smaller instruments. She then shifts gears to a lyrical Adagio by Shostakovich where she showcases her tone and range. She will be one of the soloists at the Brass Belles concert.
On another front, we have news from Resa Kochberg. From time to time we have mentioned Resa's Pieces Concert Band, established a number of years ago by Kochberg. The stated philosophy of that group from the beginning has been "to provide an opportunity for people to return to playing instruments that they had not touched for years." Now Kochberg is launching a new venture: the Resa's Pieces Strings. The RPS will be launched in September and will be under the directorship of Ric Giorgi, who will be welcomed into the Resa's Pieces "family." Look for more information in a later issue of this magazine, or contact them at: strings@resaspieces.org.
In the meantime CBC Radio is producing a documentary on Resa's Pieces Concert Band. This is scheduled to be aired as part of "Sunday Edition," which airs on CBC Radio One (99.1 FM) on June 6 – just before the band's concert that evening.

Please write to us: bandstand@thewholenote.com

Definition Department
This month's lesser known musical term is: "CORAL SYMPHONY": a large multi-movement work from Beethoven's Caribbean Period. We invite submissions from readers.

Coming Events Please see the listings section for full details.

• Wednesday, June 16, 7:00: The Etobicoke Community Concert Band present the first of their Twilight Concerts in the Park. There will be a community BBQ, 5:00 to 7:00. Admission is free.

Down the Road
• Between July 18 and August 21: The National Band of the Naval Reserve will be performing a series of concerts in various locations throughout Southern Ontario to commemorate the 100th anniversary of the establishment of the Royal Canadian Navy.

Jack MacQuarrie plays several brass instruments, and has performed in many community ensembles. He can be contacted at: bandstand@thewholenote.com.