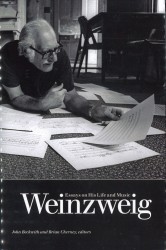 Weinzweig: Essays on His Life and Music
John Beckwith and Brian Cherney, editors
Wilfred Laurier University Press
416 pages plus CD, photos; $50.00
• The many facets of Canadian composer John Weinzweig's life and work revealed in this collection of essays reflects the breadth of his impact on Canadian music. He created a lasting body of adventurous works, promoted Canadian music with untiring ferocity and taught many generations of composers.
Sixty years ago, as co-editor Brian Cherney points out in a discussion of Weinzweig's irrepressible activism, Weinzweig declared that Canada's composers "have a special distinction. We are the most unpublished, unheard, unperformed and unpaid composers in the Western world." He devoted his life to changing that situation.
Weinzweig, who died in 2006 at the age of 93, was a rebel. But even though his pioneering use of serial techniques pushed Canadian music into the modernist ethos, he didn't impose his own style on his students. His strongest influence was in the way he approached composing as a process of creative thinking. Throughout this book we read how he would tell his students "We don't do it this way anymore," when he felt the music they were writing was not daring enough. Especially in his later years, he would complain about how conservative the younger generation of composers was. Nonetheless, as John Rea observes, even when Weinzweig didn't accept the ideas being put forward by his younger students, "he would teach others to be as eager and enthusiastic as him and, yes, teach them also to be and to become just as impatient."
Weinzweig referred to himself as a "radical romantic." In an essay about how to play his music, Robert Aitken writes about "his spry wit, intense irony, twinkling eyes yet steadfast seriousness of purpose." By the end of the final essay, co-editor John Beckwith's affectionate Weinzweig As I Knew Him, a vivid portrait has emerged from the various perspectives explored in this superb book.
This book has been produced with uncommon care, right from the cover art, through the documentation on Weinzweig's compositions and recordings, to the enclosed CD of his music. Throughout the text there are photos of items such as a page from his first piano teacher Gertrude Anderson's hand-written account of his early years, and a portrait by Harold Town, whose rejection of realism, as Robin Elliott shows, parallels Weinzweig's own unswerving rejection of tonality.