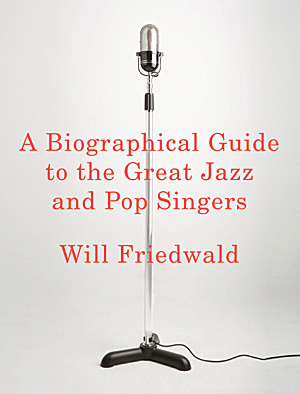 A Biographical Guide to the Great Jazz and Pop Singers
by Will Friedwald
Pantheon
829 pages; $53.00
• This hefty volume certainly lives up to its title, with detailed biographies of more than three hundred of the twentieth century's best jazz and popular singers. But it offers much more. In fact, this book contains some of the most astute, witty and stylish critical writing on singers since Whitney Balliett wrote for the New Yorker.
Instead of trying to define who is and who isn't a jazz singer, Will Friedwald , a jazz critic for the Wall Street Journal, has based his choices on those who sing the standards of the so-called Great American Songbook. Though most of the singers he profiles were active during the last century, he does cover a number of contemporary singers, including Canadians Diana Krall and Michael Bublé.
Friedwald comes up with some surprising – and interesting – historical connections. "If you take [Dean] Martin's usual singing," he suggests, "and apply a little more vibrato to it, you end up with something that sounds suspiciously like Elvis." For him, even an obscure singer like Rose Murphy is not just "one of the most distinctive, not to mention delightful, performers in popular music," but also an important influence on Ella Fitzgerald.
One of the many things that sets this encyclopedia apart is the generous length of the entries, long enough to do justice to what these singers accomplished, and detailed enough to include discussions of their recordings. He sheds fresh light on well-documented singers like Frank Sinatra (the subject of one of Friedwald's previous books), Ella Fitzgerald, Joe Williams, Alberta Hunter, Anita O'Day, and Mel Tormé. But he also re-evaluates lesser-known singers like Al Hibbler, Ernestine Anderson, Mose Allison, and Helen Humes. He admits to failing to be moved by Cleo Laine, yet still manages an appreciative portrait. And some of his most interesting comments are about those who are well-known, but not so much as singers, like Dean Martin, Doris Day, Fred Astaire, and Jimmy Durante.
Though there is a detailed list of contents, there is, unfortunately, no index. So unless you read this book from cover to cover, you are bound to miss some terrific writing, like the extra comments on Louis Armstrong which are found in Friedwald's discussion of Durante. It's especially frustrating because Friedwalds's writing is so good that I wouldn't want to have missed anything he had to say about a singer I was interested in.
Address inquiries to bookshelf@thewholenote.com.