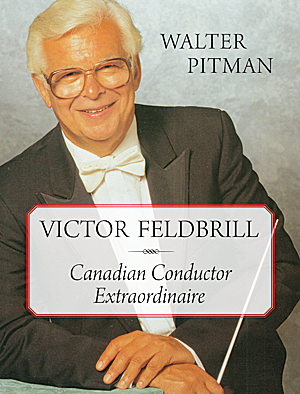 Victor Feldbrill: Canadian Conductor Extraordinaire
by Walter Pitman
Dundurn Press
432 pages, photos; $40.00
Canadian conductor Victor Feldbrill has lead so many premieres of Canadian compositions and promoted so many Canadian works around the world that his impact on music in Canadian has been immeasurable, as Walter Pitman shows in this thorough biography. Pitman, who has chronicled the lives of Canadian musicians, takes a close look at what motivated Feldbrill to support Canadian composers and performers so unreservedly, even when it created difficulties for him. "His position", writes Pitman, "was that if the music itself had integrity and was skilfully written, it must be played."
By all accounts, Feldbrill was an accomplished conductor in all kinds of repertoire. "Why then", asks Pitman, "weren't orchestras from around the world clamouring for his services?" Placing value on "competence, reliability and collegiality", Feldbrill avoided the "wildly entertaining, shocking and melodramatic" styles of conductors who stamp their personalities on their interpretations. But because he was reluctant to impose a personal vision, he didn't generate the kind of charisma that makes a conductor get noticed.
What's more, Feldbrill stayed in Canada. There's a crop of younger Canadian conductors today, like Yves Abel, Kwame Ryan, Yannick Nézet-Séguin and Julian Kuerti, who have achieved remarkable success. But they are all pursuing their careers outside Canada.
Pitman has done extensive interviews with Feldbrill, who was born in Toronto in 1924, as well as with musicians who worked with him. He has also made full use of letters and archival documents. He is, however,  more concerned with how Feldbrill was able to accomplish what he did than with matters of musical interpretation. A discography and a list of his premieres would have been useful  to document the "incredible history of composition" that Feldbrill's performances and recordings of Canadian music represent, especially since many of the recordings are unavailable today. Even what Pitman calls  Feldbrill's "crowning achievement", his recording of Harry Somers' seminal opera, Louis Riel, is difficult to come by. But Pitman's engaging, detailed biography goes a long way to illuminate the history of Canadian composition that they represent. And it has a particularly lovely back cover – a lovely portrait of Feldbrill, baton in hand, painted by his grandson, Benjamin Koffman.