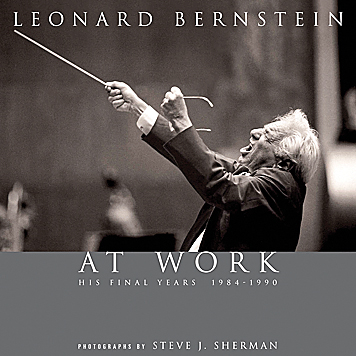 Leonard Bernstein At Work: His Final Years, 1984 – 1990
photographs by Steve J. Sherman
Amadeus Press
192 pages, photos; $34.99 US
• Leonard Bernstein was a trail-blazing conductor, a superb pianist, a composer of both Broadway hits and classical masterworks, a communicative writer, and an innovative educator. As his assistant Craig Urqhart says in this splendid book, "He was living five lives at a time." Bernstein's life and work have been well-documented. But Steve Sherman's ability to capture Bernstein's remarkable charisma, both on and off stage, makes this collection of photos taken during the six years before his death in 1990 especially powerful.
Bernstein was strikingly photogenic. The toll that his years of intense living took on him is evident here, especially in the casual shots. But the photos of him conducting reveal the spontaneity, intelligence, joyfulness, wit and intensity that made his performances so thrilling. They show how Bernstein became a conduit for the music, with his balletic body language and expressive facial gestures. "I'm not interested in having an orchestra sound like itself," he is quoted as saying. "I want it to sound like the composer."
Sherman's photos tell stories that words can't. In the stunning wide-angle two-page shot of Bernstein conducting the Chicago Symphony at Carnegie Hall in 1988, almost every member of the orchestra is watching the conductor intently. There's a poignant shot of Bernstein with violinist Isaac Stern, taken backstage after a concert with the Israel Philharmonic in Carnegie Hall in 1985, each with his arm around the other's shoulder. There's an amusing photo of Bernstein showing up for a rehearsal for Irving Berlin's 100th birthday gala at Carnegie Hall in 1988 wearing a purple feather boa and sunglasses. The most dramatic photo here is of Bernstein conducting the Vienna Philharmonic at Carnegie Hall in 1988, arms reaching out to the camera.
The texts include an eloquent remembrance from Bernstein's daughter Jamie which makes clear just what his energetic commitment to whatever he was doing cost him. Comments from a number of associates of Bernstein, culled from interviews done over the years by the photographer's father, writer and broadcaster Robert Sherman, complement this beautifully produced and well-priced volume.