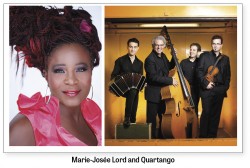 On March 3, a concert, with the title "Tangopéra" will be given jointly by Marie-Josée Lord and the quartet Quartango at Partridge Hall in the brand new FirstOntario Performing Arts Centre in St. Catharines. Going by the tracks on the their 2014 Tangopera CD, the concert will feature music ranging from Puccini and Bizet to Gershwin and Weill, alongside pioneers of tango such as Ángel Villoldo, Carlos Gardel and, of course, Astor Piazzolla. Half the tracks on the CD feature the tango and milonga-based, hard-driving instrumental rhythms of Quartango. Lord, backed by the quartet, sings in the others, putting a remarkable spin on repertoire much of which the audience will have heard many times, but, safe to say, not like this!
Something similar happened to Lord herself when she first encountered the Montreal-based group: "When I first heard Quartango's version of the aria 'Quando men vo,' from Puccini's La Bohème," she says in the liner notes to the record, "I was startled, because I couldn't quite place it, even though I'd sung the original version countless times."
Lord is a distinguished soprano, who was born in Haiti, adopted at the age of six by two Canadians working in Haiti at the time, and grew up in Lévis, Quebec. She made her operatic debut in 2003 with the Opéra de Québec in the role of Liù in Puccini's Turandot, and has performed several important roles with the Opéra de Montréal (Mimì in Puccini's La Bohème, the title role in his Suor Angelica and Nedda in Leoncavallo's I Pagliacci). At the time of a memorable Koerner Hall recital in Toronto in October 2012, she talked to Trish Crawford of the Toronto Star (October 25, 2012) about her childhood years in a nutrition centre in Haiti ("I was in bad shape. Most of the children were orphans. There we could have a meal and education."); about how overhearing a conservatory singing lesson changed her musical direction after years of piano and violin study ("I heard a lyric class and was fascinated by the production, how to build opera and all the rehearsals"); and about her return to Haiti in 2011. ("I wanted to close the circle. I had questions about my background. … I am proud of my people.")
As for Quartango itself, the quartet was formed an astonishing 30 years ago. The group consists of four musicians: René Gosselin, double bass, Stéphane Aubin, piano, Antoine Bareil, violin, and Jonathan Goldman, bandoneon (an instrument operated by a bellows, akin to the accordion).
In the aforementioned interview with The Star's Crawford about her hopes for that October 28, 2012, Koerner recital, Lord talks about wanting to "invite the audience into my lyric world." There's no doubt that her collaboration with Quartango over the past five years has significantly expanded the boundaries of that "lyric world." In the CD liner notes Lord talks about the group's "love of risk-taking and the unexpected" and their ability to take "well-known melodies and blend them into … unique hybrids of tango, opera, popular song, jazz, classical and many other genres. Today, when I sing the original version of the 'Habanera' from Carmen," says Lord, "I almost feel as if it's missing something."
Far from "missing something," the audience at "Tangopéra" on March 3, hearing these unique treatments of familiar repertoire, will likely feel just the opposite – that something has been quite unexpectedly gained.
Dmitri Hvorostovsky at Koerner Hall on February 21. The Russian baritone first became known in the West in 1989, the year in which he won the Cardiff Singer of the World Competition, beating out Bryn Terfel, who had to make do with the Lieder Prize. At the time there was a great deal of grumbling and there were many suggestions that the jurors had made a mistake, but in recent years the merits of Hvorostovsky have been increasingly recognized. In any case, a discussion of who makes the better singer seems pointless as they represent such different voice types. Terfel made a name for himself in baritone or bass-baritone roles in Mozart such as Figaro and (later) Don Giovanni; he sang Schubert and Welsh songs. More recently he has become famous for his renditions of the heavier Wagnerian roles (the Dutchman, Wotan, Hans Sachs). In contrast, Hvorostovsky is essentially a high lyrical baritone, especially known for his interpretations of Russian song, of Tchaikovsky's Eugene Onegin and of the baritone parts in many of Verdi's operas (La Traviata, Simon Boccanegra, Don Carlo, Un ballo in maschera). Since Terfel will be singing at Koerner Hall on April 24, audiences will have a good chance to compare the two singers. Last summer Hvorostovsky announced that he was suffering from brain cancer and would have to take the summer off to receive medical treatment. He added, however, that he would be back in the fall to sing the role of the Count di Luna in Verdi's Il Trovatore at the Met, and that he would fulfill all subsequent engagements. So far he has been as good as his word. On February 21, he will perform songs by Glinka, Rimsky-Korsakov, Tchaikovsky and Strauss.
Tapestry Opera, as its name suggests, specializes in contemporary opera. Many will remember the production of M'dea Undone by John Harris and Marjorie Chan in April 2015. On February 5 and 6, their sixth annual "Songbook" event showcases 36 years of Tapestry's original repertoire, in the hands of emerging singers and pianists in Tapestry's New Opera 101 program. Rising Canadian mezzo, Wallis Giunta, and conductor/pianist, Jordan de Souza, will anchor "Songbook VI" at the Ernest Balmer Studio.
Benjamin Butterfield sings Schubert. On February 29, Butterfield and pianist, Stephen Philcox will perform Schubert's Die schöne Müllerin at Walter Hall. I have heard Butterfield in the past (with Tafelmusik and with the TSO) but never in this repertoire, so I am very much looking forward to the recital.
Lunchtime concerts at the Four Seasons Centre: Bass Robert Pomakov joins the Gryphon Trio in "Classics Reimagined" on Feb 2; Christopher Purves, baritone, and Liz Upchurch, piano, perform in "The Art of Song" on Feb 9; COC Ensemble Studio singers perform highlights from Mozart's The Marriage of Figaro on Feb 10; Josef Wagner, bass-baritone with Rachel Andrist, piano, performs Schubert's Winterreise on Feb 11; Doug MacNaughton, baritone and guitar, performs in "Light and Shadow" on Feb 16.
Vocal Quick Picks: Theatre Passe Muraille presents "Chelsea Hotel: The Songs of Leonard Cohen" from Feb 3 to 21; Faye Kellerstein and Noreen Horowitz's "The Ladies of Broadway" offers selections from Oklahoma!, The King and I, Fiddler on the Roof, My Fair Lady and The Sound of Music at the Miles Nadal JCC, Feb 4; Alan Cumming sings "Sappy Songs" (by Billy Joel, Stephen Sondheim, Rufus Wainwright, Miley Cyrus and others) at the Winter Garden Theatre, Feb 6; "One Sunday" recreates a Sunday "from the Canadian Afrikan community of the 1960s" through song, script and piano, performed by Tiki Mercury-Clarke at the Neighbourhood Unitarian Universalist Congregation, Feb 7; mezzo Emily D'Angelo (who recently won first prize in the COC Centre Stage competition for a place in the COC Ensemble Studio) sings Messiaen's Poèmes pour Mi, along with works by Korngold, Mahler and others Feb 12, with pianist Rashaan Allwood and the Junction Trio, at St. Anne's Anglican Church. (D'Angelo and Allwood will then reprise the Messiaen at Heron Park Baptist Church on Feb 20.) Also on Feb 12, at Heliconian Hall, the Gallery Players of Niagara/Eybler Quartet concert includes a transcription of Schumann's Liederkreis, Op.39, sung by the baritone Brett Polegato; to be repeated in the FirstOntario Performing Arts Centre, St. Catharines, on Feb 14; rarely performed English art songs will be performed by Marina Yakhontova and Brian Stevens Feb 13 at Bloor Street United Church; on Feb 18 at the Canadian Music Centre, composer Michael Purves-Smith and the soprano Caroline Déry explore the connection between poetry and music in "Cabaret Lyrique: Contrasts in Love"; on the jazz front, Feb 19 Laila Biali is at the Living Arts Centre in Mississauga, while René Marie pays tribute to Eartha Kitt at Koerner Hall; and Elizabeth Shepherd is at the COC's Richard Bradshaw Amphitheatre, Feb 24.
Hans de Groot is a concertgoer and active listener who also sings and plays the recorder. He can be contacted at artofsong@thewholenote.com.