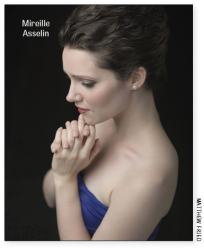 Rachel Andrist and Monica Whicher jointly direct the Mazzoleni Songmasters Series which consists of three vocal concerts each season. Andrist is a member of the music staff at the Canadian Opera Company. Her first appointment as a vocal coach was at the La Monnaie in Brussels. Since then she has held similar positions with the Salzburg Festival, with Glyndebourne, with the English National Opera, with the Bavarian State Opera, with Netherlands Opera and with Scottish Opera. She is also a collaborative pianist and she finds both kinds of work support each other. As she points out, one meets a singer as a vocal coach and that opens up the possibility of a joint recital. Whicher is a soprano well known for her work in recitals (including a number of appearances with the Aldeburgh Connection) and her part in opera productions by the Canadian Opera Company and Opera Atelier. Both Andrist and Whicher also teach in the Glenn Gould School at the Royal Conservatory.
When Andrist and the pianist-composer John Greer began the Recitals at Rosedale series two seasons ago, the time seemed just right for such an undertaking. The Aldeburgh Connection had ceased to exist and a real vacuum developed. Yet the concerts were a mixed success. Although Rosedale Presbyterian is not all that difficult to get to, it would seem off the mental map of many, so that audiences were disappointing. Another problem was that the space at Rosedale was small and the acoustics very live. Not all singers were able to scale their voices down to an appropriate level. The move this season to Mazzoleni Hall at the Royal Conservatory seems a wise one. The hall is familiar, the acoustics are good and the series, now retitled Songmasters (with a punning reference to the already existing Mazzoleni Masters) now has the backing of the Conservatory with its good publicity.
Their next concert takes place March 6. The singers are the soprano, Mireille Asselin, and the baritone, Brett Polegato. The pianists are Andrist and Peter Tiefenbach. Andrist believes strongly that for a recital to make sense it must be structured round a central theme. The theme chosen for this concert is the way in which composers have been inspired by paintings. The major work in the program is Poulenc's Le travail du peintre. These are settings of poems by Paul Éluard and evoke the work of seven contemporary painters: Picasso, Chagall, Braque, Gris, Klee, Miró and Villon. The program also includes Debussy's Fêtes galantes. These are based on the Commedia dell' arte but mediated by Watteau's painting. Two Schumann songs from the collection Aus dem Liederbuch eines Malers follow. The next group contains settings of four poems from William Blake's Songs of Innocence: two of them by British composers (Walton, Britten); and two by Walter MacNutt (1910-96), a composer now chiefly remembered as the music director at St. Thomas's Anglican Church in Toronto.
Asselin was a student at the Glenn Gould School (where Monica Whicher was one of her teachers) and subsequently was a member of the Canadian Opera Company's Ensemble Studio. She has performed with the Metropolitan Opera, with the Toronto Symphony Orchestra and (many times) with Opera Atelier. Along with the tenor Lawrence Wiliford, she sings in Ash Roses, the CD of music by Derek Holman issued by the Canadian Art Song Project. You will also be able to hear her in Opera Atelier's production of Mozart's Lucio Silla, starting on April 7.
I first heard Polegato in the wonderful CD, To a Poet, settings by several composers of poems by Flecker, de la Mare, Housman and Hardy (CBC; not currently available). The first time I heard him live was in a Tafelmusik performance of Handel's Messiah. I thought then that I had never heard the bass solos better sung and I have not changed my mind since. Polegato is now much in demand. One of the roles that he has made very much his own is that of Kurwenal in Wagner's Tristan und Isolde. This spring he will again be singing it in Paris.
Bach and Brahms at Metropolitan United: In the Christian calendar Good Friday is the holiest day of the year. This year it falls on March 25. In the evening I intend to go to Metropolitan United Church for a performance of three works: the Brahms Requiem (with the soprano Gisele Kulak and the baritone Jordan Scholl as soloists), Brahms's Alto Rhapsody (with Laura Pudwell, mezzo) and Bach's Cantata No.78 (with soloists Alison Campbell, Claudia Lemcke, Charles Davidson and Jordan Scholl).
Lunchtime at the Richard Bradshaw Auditorium: The free lunchtime recitals at the Richard Bradshaw Auditorium in the Four Seasons Centre resume on Mar 15 when Kyra Millan, soprano and opera educator, presents a concert of arias and sing-along choruses, with artists from the COC Ensemble Studio. On Mar 17 Bob Anderson will conduct "Choral Journeys," from the Renaissance to contemporary Canadian works, with Charles Sy, tenor. On Mar 29 you can hear four tenors: Jean-Philippe Fortier-Lazure, Aaron Sheppard, Andrew Haji, Charles Sy.
University of Toronto (Walter Hall): Megan Quick, contralto, and Andrew Haji, tenor, will sing, on Mar 21, in Schoenberg's arrangement of Mahler's Das Lied von der Erde. Quick will also sing Die Waldtaube from Schoenberg's Gurre-Lieder. Mar 31 you can hear a free recital by the winners of the Jim and Charlotte Norcop Prize in Song and the Gwendolyn Williams Prize in Accompanying. "The Art of the Prima Donna" on Apr 1 is a staged and costumed program of romantic opera with works by Bellini, Donizetti, Verdi and others. The recital by the Cecilia Quartet on Apr 4 includes a new work by the composer and soprano Kati Agócs.
Quick Picks: Ilana Zarankin, soprano, and Laura McAlpine, mezzo, are the soloists in the Talisker Players presentation of "Spirit Dreaming: Creation Myths from Around the World" at Trinity-St.Paul's Centre, Mar 1 and 2. The program includes works by Somers, Kuyas, Beckwith, Tanu, Ravel, Villa-Lobos and Jaubert. Paula Arciniego, mezzo, will sing works by composers ranging from Grieg to Theodorakis in Heliconian Hall, Mar 4. Alliance Française de Toronto presents Guy Smagghe in a selection of songs from Félix Leclerc to Francis Cabrel, Mar 5. Evelina Soulis celebrates her 50th birthday with mezzos Maria Soulis and Katerina Utochkina in music by Monteverdi, de Falla and others in Heliconian Hall, Mar 13. Bruce Ubukata will give a vocal master class at York University's Tribute Communities Recital Hall, Mar 15. Xin Wang, soprano, and Derek Kwan, tenor, will sing an all-Canadian program with songs by Ho, Beckwith, Rickard and Tsuromoto on Mar 18 at the Canadian Music Centre. On Apr 7 the Women's Musical Club of Toronto presents a program by the violist Steven Dann and family, including soprano Ilana Zarankin.
And beyond the GTA: Bach's Mass in B Minor can be heard in the Centre in the Square in Kitchener on Mar 25. The soloists are Carla Huhtanen, soprano, Allyson McHardy, mezzo, Colin Ainsworth, tenor, and James Westman, baritone. Ainsworth will also give a free noon-hour recital at Conrad Grebel University College in Waterloo on Mar 23.
Hans de Groot is a concertgoer and active listener who also sings and plays the recorder. He can be contacted at artofsong@thewholenote.com.