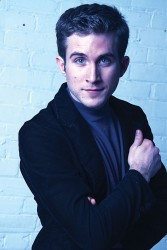 It's a funny thing how an event can suddenly explode onto the scene with little or no prior buzz, emerging fully formed and ready to rumble. A case in point: the first annual SING! a cappella vocal festival, set to debut April 13–15 at Harbourfront Centre, comes accoutred not just with the necessary headliners (like last summer's abortive BlackCreek faux summer festival), but also with a fine array of local talent, and a very healthy mix of workshops, singalongs and other opportunities for the public to feel part of it all. Needless to say, the illusion that SING! sprang up out of nowhere is just that — an illusion.
"Informally, the festival has been a going concern since March 2011," says Aaron Jensen, SING!'s artistic director. "The idea was first bounced around by myself and J-M Erlendson, the business manager of Countermeasure — a Toronto-based a cappella ensemble that I direct. We then approached entertainment agent, Pat Silver and artist manager, Paul Ryan. Shortly thereafter, the Harbourfront Centre came on as business partners, and bit by bit, we enlisted an all-star board of directors made up of some of Toronto's top arts agents, marketing experts, sponsorship co-ordinators and innovators, including Robert Missen, Patti Jannetta Baker, the Hon. Sarmite Bulte …" (Demonstrating at least one of the skill sets necessary for the helmsman of an enterprise like this, he goes on to name them all.)
Jensen has been an active member of the Toronto vocal community since moving to the city in 2001 (he was born in Prince Albert, Saskatchewan). "I've done so as a performer (Cadence, Retrocity, Countermeasure, The Amadeus Choir, WIBI, Dina Ledi), as a composer (I was the composer-in-residence for Univox Choir from 2007–2009, and have written commissioned choral works for The Swingle Singers, Vox Humana, Windago, Serenade! Washington DC Choral Festival, etc.), and as a music educator and clinician (U of T, CAMMAC, and various arts schools through Prologue to the Performing Arts.)"
Why a cappella? "Arguably a cappella vocal music is the foundation of all music," he says. "Every genre of music can be traced back to a vocal tradition. Also it doesn't hurt that television programs like Glee and The Sing Off have popularized a cappella music for a whole new demographic. In the midst of this vocal renaissance, we felt that the time is ripe to launch an a cappella festival, because despite this resurgence of interest in a cappella music, festivals are often slow to include vocal groups in their series. This initiative will be the first international a cappella vocal festival held in Toronto."
"Through my involvement in these circles, I have become acquainted with the abundance of vibrant and exciting singing groups that Toronto has to offer. With so much talent and variety, it seemed a shame that there was no platform that celebrated this wealth of talent. It is our goal with SING! to host a large-scale international a cappella festival that will act as a summit for singers, educators, and all lovers of vocal music,and in doing so, to cultivate a growing audience and body of patrons."
Beyond the headliners (Swingle Singers, Nylons, New York Voices) and outstanding supporting cast (Cadence, Darbazi, Cantores Celestes, Iselers, Toronto Chamber Choir), it is the festival's extensive outreach that fires Jensen's evident enthusiasm for the job.
"Educational Outreach is a cornerstone. In addition to the Friday school outreach event, we've also programmed eleven masterclasses geared toward singers of all ages and skill levels, led by top vocal educators such as the Swingle Singers, Heather Bambrick and Orville Heyn. We have launched a YouTube Contest that will give groups the opportunity to open for the Nylons, and whose prizing includes a guaranteed showcase opportunity in Canadian Music Week 2013. We've also planned a Mass Sing-Along which will be open to everyone attending the festival."
And again he emphasizes that the time is right. "The fact that the Toronto District School Board is opening two special interest vocal arts academies in the fall speaks to Toronto's growing appetite for vocal music."
For more detail on the festival's concert component see our GTA concert listings, and for more on the festival's extensive non-concert component, our "ETCeteras" (commencing page 60).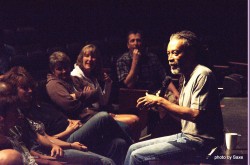 Serious Star Power: in terms of visiting star power on the vocal scene, April is turning out to be a stunner. Bobby McFerrin brings his incomparable and indescribable vocal act to Roy Thomson Hall, April 16. Dawn Upshaw, whose interpretive gifts have made modern repertoire not only accessible but beautiful to audiences worldwide, is at Koerner Hall, April 22, with the Australian Chamber Orchestra. Friday April 20, Renée Fleming comes to Roy Thomson Hall with pianist Harmut Höll, in a very fresh program including works by Zemlinsky, Schoenberg, Korngold, Duparc and others. And, in two concerts added very recently to the calendar, on April 19 at the Marham Theatre and April 20 at Trinity-St. Paul's, Measha Brueggergosman launches her I've Got A Crush On You CD.
Brueggergosman's new CD is not your standard opera diva repertoire. "I've looked for pieces that are an extension of myself," she explains. And the extensions in this case include a hefty dose of jazz standards (the Gershwins, Cole Porter, Errol Garner), some Lerner & Loewe, spirituals, some Feist, Joni Mitchell, Ron Sexsmith and more. Supporting cast (on the album at least) includes Holly Cole perennial sidemen, Aaron Davis (who co-produced) and Rob Piltch, as well as bassist George Koller and Davide Direnzo on drums (to name just a few). Expect Brueggergosman, to paraphrase the words of one of the songs on the album, to "spread her wings and do a thousand things (well, at least 14) she's never done before."
On the topic of jazz vocalists, Nikki Yanofsky comes to Massey April 21, Lauren Margison is at the Bradshaw amphitheatre in a "New York state of mind" April 24, and Kellylee Evans is at the Glenn Gould Studio April 27. And there will be two opportunities to catch Adi Braun, jazz "offshoot" of a famous operatic family, who just keeps getting better and better. Her main appearance is as part of the Kabaret at Koerner series April 15 with Jordan Klapman (piano), George Koller (bass) and Daniel Barnes (drums). Her other appearance will be two days earlier April 13 at a fundraiser for the Canadian Children's Opera Company (see our "ETCeteras" on page 60) where Braun and Klapman will share the billing with vocalist Sophia Perlman and pianist Adrean Farrugia (to whose indisputable collective talents our editorial rules on nepotism forbid me to sing praise).
And speaking of solo vocal turns at galas and benefits: April 11 the luminous Adrianne Pieczonka, with Stephen Ralls on piano, headlines a VIVA! Youth Singers gala evening at St. Lawrence Hall; and May 6 Shannon Mercer, soprano, Krisztina Szabó, mezzo, Keith Klassen, tenor, and Roderick Williams, baritone, frontline Pax Christi's 25th Anniversary Gala Concert presentation of Elgar's The Kingdom at Koerner Hall. Stephanie Martin conducts.
All this, and I have not even scratched the surface of the art song recital treasury that waits to be discovered in the month's listings.
Those quick off the mark will not want to miss Mooredale Concerts' April 1 Walter Hall presentation of Stéphane Lemelin, piano, and Donna Brown, soprano, performing works by Debussy, Fauré, Schubert, Mahler and Wolf. Ottawa-born Brown, better known on the concert stages of Europe than in her own home, is an all-too-infrequent visitor.
And those wanting to be quick off the mark in spotting an up-and-comer should circle soprano Layla Claire's May 3 Glenn Gould Studio appearance in the Massey/ RTH Art of Song series, performing works by Britten, Canteloube, Strauss and Golijov, with Stephen Philcox on the piano. Claire will make a splash, I predict, in early 2013, performing Mozart with the TSO, so grab some career-spotting bragging rights while the getting's good.
It's a good month too for Toronto's longest established practitioners of salon-style concertizing, Aldeburgh Connection and Off Centre Music.
April 29, at Walter Hall, Aldeburgh Connection presents the final concert of this, their 30th anniversary concert season. It's titled "A Country House Weekend: an English idyll," and features soprano Lucia Cesaroni, mezzo Krisztina Szabó and baritone Peter Barrett, with Stephen Ralls and Bruce Ubukata at the piano.
And May 6 Inna Purkis' and Boris Zarankin's long-running Off Centre Music Salon makes its usual Sunday afternoon Glenn Gould Studio touch-down with a salon titled "Spanish Ballade with a Russian Interlude." Soprano Joni Henson, baritone Peter McGillivray and mezzo Leigh-Anne Martin do the vocal honours.
Aaron Jensen had it right. "Vocal renaissance" is indeed a good way to describe the current state of things.
David Perlman can be reached at publisher@thewholenote.com