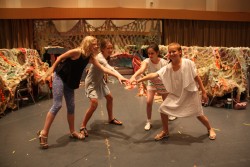 Four Seasons Centre for the Performing Arts, 145 Queen St. W., Toronto, Ontario
July 10 to 29, 2017 (Little Company: July 10 to 14; Junior Company: July 17 to 21; Senior Company: July 24 to 29)
Contact: Katherine Semcesen, associate director, education and outreach
416-363-8231 (COC Box Office)
education@coc.ca
www.coc.ca/camps
Deadline: Until full
Cost: $310 (Little and Junior companies) / $360 (Senior Company)
Camp Hours: 9am - 3:30pm (Little and Junior Companies)
9am - 4pm (Senior Company)
The Canadian Opera Company's Scotiabank Summer Opera Camps offer children and youth entering grades 1 to 12 an immersive operatic experience. Participants playfully explore opera as both creators and performers, while developing their skills in a fun yet intensive one-week camp. Weekly activities include story creation, singing, composing, acting, improvisation, and costume, props and set design. Each week ends in a special rehearsal open to family and friends.