Don Wright Faculty of Music at Western University, London, ON
July 6 to 17
Contact: Cathy Benedict
519-661-2043
cbenedi3@uwo.ca
https://music.uwo.ca/outreach/music-education/kodaly-certification-program.html
Deadline: June 1, 2020 (or until full)
Cost: $795
Day Program
Read Profile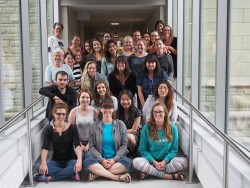 In this two-week intensive program, participants will strengthen their personal musicianship and pedagogical skills, with content grounded in a contemporary understanding of the philosophy inspired by Zoltán Kodály. Levels I, II and III are offered. Participants will engage in supportive, musically educative opportunities through singing, reading, writing, moving and creating to build personal skills and knowledge to assist in classroom music teaching and learning.
New for 2020! Primary Junior Vocal Music Part 1 Additional Qualification (AQ). Faculty of Education, Western University, and a special workshop, open to all, will be held during the Kodály program with a focus on
Indigenous music and ways of knowing.