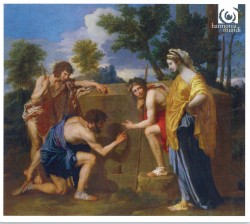 Handel – Il Pastor Fido
La Nuova Musica;
David Bates
Harmonia Mundi HMC 907585.86
Unlike many baroque composers, Handel thought in acts, not scenes, and was singular in his pursuit of dramatic balance and pace. He worked on three complete versions of Il Pastor Fido, the other two printed as "the second" and "the third edition." This welcome recording is of the first setting which premiered on St. Cecilia's Day, November 22, 1712. The plot derives from a famous pastoral play by Guarini, but the libretto (like many of Handel's early operas for London) probably was adapted by Rossi from a French source: there is a scene with a garland not in Guarini, but occurring in contemporary French pastorals. The chopped three-act version (from Guarini's five acts) needs some explanation. This was given in a page-long "Argument" only a third of which is given with this recording. Similarly the detailed stage directions are absent. Why? Add to this some bad translations. When the hunter Silvio cries out "Lancio il mio dardo" and wounds Dorinda, he is throwing his spear, not shooting an arrow. The boast is that this is a "world premiere recording." It is not. That was done by Cetra with il Quartetto di Milano directed by Ennio Gerelli long ago and amazingly with all the voices at the right pitch!
The cast is excellent. They have chosen stylish ornaments for the da capos with real trills not just extended vibrato. Lucy Crowe is especially clear and moving as the long-suffering Amarilli and Anna Dennis as the lovesick self-sacrificing Mirtillo, revealed as the faithful shepherd of the title. Lisandro Abadie, a resonant bass-baritone makes an all too brief third act appearance as the priest Tirenio pronouncing Diana's divine plan. Katherine Manley is lively and devious as the scheming Eurilla.
The tempi are uneven: surely the final chorus is not a dirge! Nonetheless, when he gets it right, David Bates can be magical. The box is worth having for an aria in Act 1 "Mi lasci, mi fuggi" for Dorinda (Madeleine Shaw) — a perfect example of Handel's musical drama and his ability to probe human frailties. One final comment on the number of orchestral players: this is one of the few recordings that gets it about right but is still light on the strings.