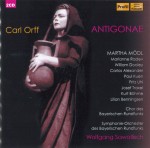 Carl Orff - Antigonae
Martha Mödl; Marianne Radev;
William Dooley; Carlos Alexander;
Bavarian Radio Chorus and Orchestra; Wolfgang Sawallisch
Profil PH09066
There's a lot more to the Bavarian composer Carl Orff than the Gothic chorus of 'O Fortuna' that launched this refractory composer's career in Nazi Germany in 1937 and has since reduced his reputation to a 15 second pop culture icon. The rowdy monks and easy virtues of Carmina Burana pale in comparison to Orff's later, more demanding works which find their voice in the pre-Christian era.
Following his compromised war years Orff began a trilogy of tragedies with this setting of Sophocles' Antigonae in the German translation by the Romantic poet Friederich Hölderlin. Much of the vocal writing is highly declamatory and unaccompanied, evoking the austere dramatic practice of ancient Greece. The drama is scored for a strikingly exotic ensemble of six each of trumpets, oboes, flutes and double basses, four harps, six pianos played by a dozen pianists and a panoply of percussion. Orff keeps these forces in reserve much of the time but when they weigh in the results are spectacular. In hindsight, the ritualistic character of this 1949 work presages the music theatre of contemporary minimalism.
The present recording features the commanding presence of contralto Martha Mödl as Antigonae and a stellar cast of male voices led by the great Wolfgang Sawallisch in a Bavarian Radio live broadcast from 1958. The early stereo tape, only recently obtained from the Mödl estate, is astoundingly well preserved and vivid and the performance, closely supervised by the composer, is consistently riveting. Sadly, no libretto is provided and the synopsis is quite useless.