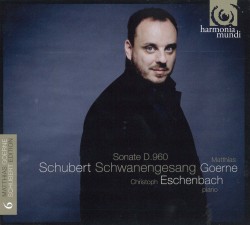 Schubert – Schwanengesang
Matthias Goerne; Christoph Eschenbach
Harmonia Mundi HMC 902139.40
This posthumous collection of Schubert lieder is a favourite for singers who want the expressive variety that a cycle of themed poetic texts from a single pen might not offer. The creative outpouring of Schubert's final year included numerous songs that his brother assembled for publication. Unlike Winterreise or Die schöne Müllerin whose texts by Müller are more focused around a specific story, Schwanengesang represents texts by three different poets on a richly diverse set of ideas.
The real surprise in this recording is not that baritone Matthias Goerne presents another flawless performance with pianist Christoph Eschenbach, or that he shows impeccable mastery over the emotive range of material, or that with his enormous voice he never over-sings the intimate requirements of the salon. The real surprise lies in the companion disc with Eschenbach's performance of the Sonata D960.
Serious Schubertians love this work for its tenderness, harmonic depth and melodic simplicity. This sonata is free of studied complexity or artifice. The writing is direct and aims at some target deep within the soul. Was Schubert conscious of his end? Is the sweet melancholy the lingering pain over Beethoven's death only months earlier? Eschenbach seems to know the answer, playing unashamedly with full conviction, drawing from these pages a unique statement unlike any you have heard before. He is interpretively wise to Schubert's phrasing needs, his clever switchbacks over only partial restatements of his principle themes. He is no less clever and wise than the composer himself. This powerful combination creates a rare masterpiece performance you simply must own.