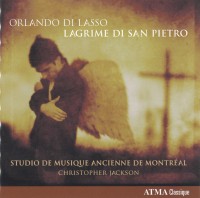 Orlando di Lasso - Lagrime de San Pietro
Studio de musique ancienne de Montréal; Christopher Jackson
ATMA ACD2 2509
Orlando di Lasso (c.1530–1594) was highly respected by the courts of Europe, not least by his main employer, Duke Albrecht V of Bavaria. William, Albrecht's successor, continued to employ him for fifteen years despite ongoing disagreements, a testimony to di Lasso's expertise.
Those last years saw di Lasso suffer what are now believed to be manic depression, a stroke and acute fear of death. They also saw him compose 20 Italian spiritual madrigals and one Latin motet, all for seven voices. The pieces constitute the Lagrime di San Pietro, poems that describe Peter's torment after he denied Christ.
Di Lasso identifies himself with Peter in the latter's grief. From the start there is a celestial quality to the singing, soothing as the painful sequence of Biblical events is played out. No detail of Peter's ordeal or Christ's reaction is spared. Perhaps most poignant of all is the last track, the one in Latin, where mankind is rebuked by Christ for its ingratitude towards him.
It would have been good to attribute each of the sung parts to the individual performers but there is no indication as to which of the eleven singers are performing on any given track. Which is a shame considering their passionate interpretation of this composition.