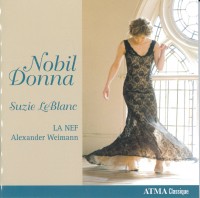 Nobil Donna
Suzie LeBlanc; La Nef; Alexander Weimann
ATMA ACD2 2605
Maffeo Barberini (1568-1644) is better known as Pope Urban VIII, who reigned from 1623-1644. His family crest was changed to incorporate bees, a symbol of industrious behaviour, and under his patronage composers flocked to him like bees to a honey-pot.
Seventeen of their compositions are collected here. This is not just the conventional baroque string ensemble; Giovanni Kapsberger's Corrente Quinta is embellished by Matthew Jennejohn's cornetto playing, while there is a virtuoso harpsichord solo as La Nef's conductor Alexander Weimann plays a ciaccona by Bernardo Storace.
As for Suzie LeBlanc, her soprano voice is thoroughly tested from the spirited Amarillide, deh! Vieni to the far more profound Nobil Donna in rozzo manto by Marco Marazzoli with its tragic classical narration, and then to the jocularity of Amanti, io vi so dire as it pokes fun at the tribulations of young lovers.
The legend of Orpheus features often on the CD and one must mention Suzie LeBlanc's rendition of Lasciate Averno with its account of tragic events, this time perhaps reflecting in its intensity Luigi Rossi's then-still-recent loss of his wife.
With nine instrumental and eight vocal pieces, it is difficult to say which is the more moving or inspiring genre but then it is difficult to imagine a finer introduction to seventeenth-century Italian courtly music.