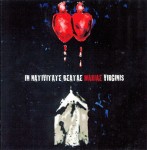 In Nativitate Beatae Mariae Virginis
Schola Sanctae Sunnivae; Anne Kleivset
Lindberg Lyd AS 2L-069

Norway's Reformation of 1537 was harsh on liturgical codices; very few survived. Ten folios from a choir book from Nidaros Cathedral in Trondheim did survive (having been cut into strips for ledger covers!) and they are the basis of this celebration of the Nativity.

In fact, thirteen sung antiphona are interlaced with five interludia for melodic percussion by the Norwegian composer Henning Sommerro. Under the title Maria, the work as a whole was performed for the 800th anniversary of Our Lady Church, Trondheim. A transcription for melodic percussion was then made especially for this recording.

Twelve female voices and their conductor explore the nativity in the greatest detail on this CD. As no individual singers are singled out, the entire ensemble may claim collective success in an uplifting rendition of this collection of simply-written but richly spiritual pieces.

There is, it must be said, a contrast, perhaps a void, between the chanted antiphonae and the instrumental interludia, which are modern in their style. This can not distract from the purity of the voices of Schola Sanctae Sunnivae.

One criticism. The final interludium unfortunately does not blend in with the remaining pieces - its own style is out of place, not least as in the preceding track, the last sung piece, singers and percussionists join in a celestial plea to observe the birthday of Mary.