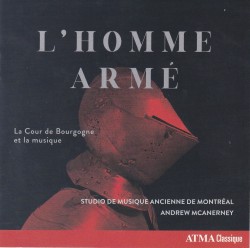 L'homme armé – La Cour de Bourgogne et la musique
Studio de musique ancienne de Montréal; Andrew McAnerney
ATMA ACD2 2807 (atmaclassique.com/en)
The Court of Burgundy's powers extended well beyond the borders of the modern French region. Its musical brilliance obviously affected the Studio de musique ancienne de Montréal: with eight composers on one CD, it is difficult to think of a major Burgundian composer not included here.
At the heart of the CD is the Missa L'homme armé, itself set 40 times from roughly 1460 to 1560. Track one is the Anonymous/Morton interpretation, featuring not only the original words to L'homme armé but also a contemporary twist willing on a crushing defeat (in three passionate and imploring voices) for those fearsome Ottoman Turks on their way to destroy Christendom.
Not everything, though, is so belligerent. Listen to the ethereal Kyrie Eleison from Antoine Busnois' own Missa L'homme armé, uplifted by the sackbut playing of the Studio. Then be inspired by the delicate performance of Gilles Binchois' Motet Asperges me. It may have been Binchois who taught and inspired Johannes Ockeghem, who in turn did teach Josquin des Prés. This comes out in this CD: in addition to the pieces by Binchois, the Studio performs Ockeghem's Sanctus, a full-blooded performance combining sometimes stark singing with the Studio's sackbuts.
As for Josquin, he is remembered by two compositions. First, Agnus Dei is performed admirably, notably in its soprano part. Then there are the five parts of Ave verum corpus. Josquin relished the more complex structure: the Studio rises to the challenge with its appropriately celestial singing.
Josquin was a contemporary of the revolution in music printing. His sheer musical genius and the printing press ensured his influence on composers for at least a century.