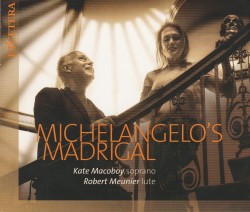 Michelangelo's Madrigal
Kate Macoboy; Robert Meunier
Etcetera KTC 1623 (etcetera-records.com)
Through this CD, Australian Kate Macoboy and Canadian Robert Meunier, who now reside in London, England attempt to restore Italian madrigal composers to their true position as some of the leading exponents of the medium. They even find time for some sensuous lute solos from the same group of composers.
In a CD of 19 tracks, it is difficult to single out the most emotive compositions, but Macoboy's interpretation of Pesenti's Aime, ch'io moro has a languorous, almost haunting, quality to it which is reminiscent of the greatest Italian madrigalists of the later stages of the Renaissance. It is difficult from this CD to imagine that these Italian composers were somehow overshadowed by their colleagues elsewhere in Europe. Poignantly, Ben mi credea passar mio tempo homai is not only pensive and moving because of its music but it benefits from the poetry of a certain Petrarch – and was still overlooked by contemporary audiences!
Then there is the lute playing. While it is once again difficult to select a personal favourite from these pieces, Da Milano's Fantasia 42 has a soothing and intricate quality ably brought out by Meunier. But this CD is really about its soprano. For the full range and power of Macoboy's singing skills, listen to Bartolomeo Tromboncino's Per dolor me bagno il viso, with its plaintive demands on both singer and instrumentalist.