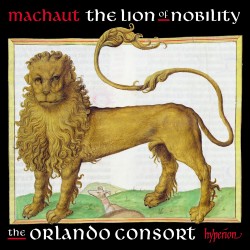 Machaut – The Lion of Nobility
Orlando Consort
Hyperion CDA68318 (hyperion-records.co.uk/dc.asp?dc=D_CDA68318)
Guillaume de Machaut's status as the 14th century's greatest composer is borne out by the respect in which he was held by his contemporary musicians as well as by the list of aristocratic patrons who supported him. One such patron, King John II of France, must surely have been the Lion of Nobility alluded to in the title of this CD; his capture at the battle of Poitiers in 1356 personified the massive English victory.
So it is that En demantant et lamentant comprises the longest track on this CD. (At a whisker under 18 minutes, it is an eternity by early music standards!) There are no choruses in this composition, as Machaut commences his powerful lament for King John's fate. He sums up his own distress as he recounts his sad task, going on to describe the King's bravery: "A lion of nobility in good times, leopard of ferocity in adversity..." Listen to the Orlando Consort as they unravel Machaut's text, the countertenor part adding its own ethereal quality.
Of course, there are other compositions. Dame, se nous m'estes lointeinne is a rarity, a monophonic composition, since Machaut is famous for his highly profound polyphonic pieces. Even stranger is his Moult sui de bonne heure nee – written from a woman's perspective. And, yes, the lady is as passionate and romantic in her love for her lover as the male nobles are for their ladies.
Overall, however, Machaut's tribute to King John dominates this CD. Much as Machaut dominated 14th-century music.