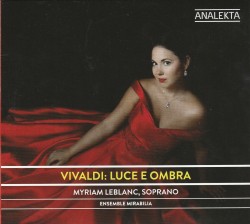 Vivaldi – Luce e Ombra
Myriam Leblanc; Ensemble Mirabilia
Analekta AN 2 9137 (analekta.com/en/albums)
Light and shade. One of those many contrasts brought out by Vivaldi in his exceptionally thorough output. For this CD soprano Myriam Leblanc and the Ensemble Mirabilia have paired two apparently conflicting emotions. From the start Leblanc displays a real range of emotions. There is a jarring interpretation of Gelido in ogni vena reflecting the coldness identified in its title. This is supported by the ensemble's flute, Baroque triple harp and cello. No one can be in doubt of the icy quality of Vivaldi's score.
Exactly personifying Vivaldi's contrasts is the chirpiness of Ercole Sul Termodonte. This draws on the flute-playing of Grégoire Jeay, which in turn forms an excellent and equally challenging accompaniment to the soprano. The musicians have made a balanced selection from the Red Priest's works. Arsilda, regina di Ponto continues the lively tones of light (rather than shade) around which this CD is formed. Again, the Baroque flute is prominent, but it should not disguise the intensity of the other parts.
This CD shows how deeply the musicians have looked into Vivaldi's repertoire. The Ombra aspect of Luce e Ombra is brought to our attention by the very appropriately named All'ombra di sospetto. Listen to the intensity of Leblanc's performance. This reviewer congratulates her on her first recording and wishes her many more.