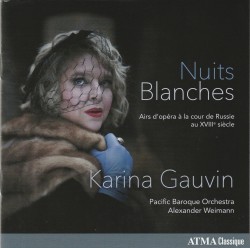 Nuits Blanches – Russian Opera Arias of the 18th Century
Karina Gauvin; Pacific Baroque Orchestra; Alexander Weimann
ATMA ACD2 2791 (atmaclassique.com/En)
Johann Sebastian Bach's ambition of becoming a musician at the Imperial Russian Court never materialized but that disappointing fact – plus the unfortunate reputation of 18th-century Russian music – has not deterred recent musicologists from discovering some very accomplished composers. Combine that with the artists listed above and Nuits Blanches is the pleasing result.
As might be expected, Karina Gauvin's soprano voice dominates this CD. Listen to the variations in her voice as she literally runs a gamut of emotion in determining Armide's relationship towards Renaud in Gluck's Armide. And then there is the opera Demofoonte by the tragically short-lived Maxime Sozontovitch Berezovski (1745-1777). This is a work which does not survive in completeness; what does survive is a disturbing unravelling of events which is deeper in intensity than many better-known and complete operatic works. The two arias recorded here bring home not just this complexity of plot but also the extent to which Gauvin's expertise is tested.
In fact, Gauvin's singing does not monopolize this CD. Listen to the Ouverture from Le Faucon by Dimitri Stepanovitch Bortnianski. It offers a genteel introduction to the subsequent complexities of the relationship between Don Federigo and Elvira.
This CD introduces listeners to music which is almost unknown. Enjoy, incidentally, not just its soprano and instrumental qualities but also some deeply researched and sometimes rather amusing program notes.