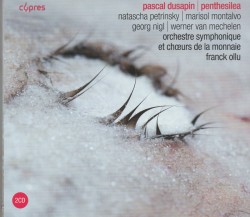 Pascal Dusapin – Penthesilea
Petrinsky; Montalvo; Nigl; Mechelen; Orchestre Symphonique et choeurs di al Monnaie; Franck Ollu
Cypres Records CYP4654
(naxosdirect.com)
The French composer Pascal Dusapin is known for drawing upon many contrasting styles – from the paroxysmal avant-garde to expressionist late Romanticism – throughout his impressive output. His new opera, Penthesilea is no exception. This is Dusapin's second foray into the operatic genre, and we receive a rather restrained and meditative musical interpretation of Heinrich von Kleist's almost absurdist verse play.
The music is meditative and unrelenting in its impressionistic treatment of the text and drama. The chant-like vocal writing is often set against vast tapestries of lower register washes from the ensemble. Several lesser-known instruments – such as the dulcimer and Egyptian rattle – create familiar beacons of a rather uneasy cerebral quality. While the near 90-minute work lacks a definitive climactic arch, the adventurous novelty of the musical material provides more than adequate satiation for the ear.