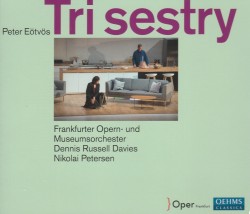 Péter Eötvös – Tri Sestry
Soloists; Frankfurter Opern-und; Museumsorchester; Dennis Russell Davies
Oehms Classics OC 986 (naxosdirect.com)
In this opera by Hungarian composer Péter Eötvös – a towering figure in the contemporary classical music world – a mind-boggling number of characters weave strange relationships that are all held together by a very strong musical setting of Chekhov's play Three Sisters. The orchestra and cast in this recording masterfully execute Eötvös' complex and demanding score. From the opening passages all the musicians create a world-class atmosphere of artistic confidence. The orchestra provides massive percussive screeches and rugged landscapes upon which beauty and hysteria interweave harmoniously.
With dozens of performances, it would be safe to say that his opera has become a standard of the repertoire – a testament to the masterful writing we are used to from Eötvös This opera is artistically sound, and the fabulous music-making by the singers and orchestra make for a compelling listen that is a must for contemporary opera lovers.