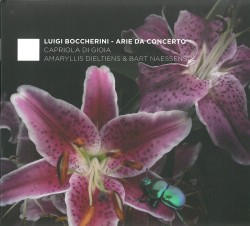 Luigi Boccherini - Arie da Concerto
Amaryllis Dieltiens; Capriola di Gioia; Bart Naessens
Evil Penguin Records Classic EPRC 0023 (eprclassic.eu)
This is an ensemble on a mission – what it calls rehabilitating Boccherini. Overshadowed by Mozart and Haydn and receiving mixed comments in Grove's Dictionary, Boccherini's few vocal compositions – few because Boccherini's patrons overwhelmingly demanded instrumental music – convey, according to Capriola di Gioia, a rare insight into the potential of the human voice. And so to the seven pieces selected by the Capriola di Gioia. Caro padre, a me non dei is a worthy introductory piece with an almost jaunty interpretation by Dieltiens – an approach repeated in Se non ti moro allato.
And yet, the heart of this CD is its intense concentration on classical themes. As perhaps might be expected from a piece with an inspiration of this nature, Caro luci, che regnate begins with a more stately character, a tone taken up by Dieltiens as she sings of Jason's predicament in Issipile. Misera, dove soni is a worthy combination of a classical theme with a text and instrumental scoring for strings which could have been written by any of the great Baroque composers who preceded Boccherini.
Capriola di Gioia's varied choice of Boccherini's Arie da concerto allows the listener to make up his or her mind as to whether the composer has actually been rehabilitated. This CD from Dieltiens and Naessens means Boccherini does deserve to be listened to. Indeed, the final track Se d'un amor tiranno with its sprightly string playing, deep continuo and pleading voice encapsulates all the reasons for doing just that.