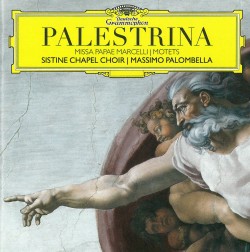 Palestrina – Missa Papae Marcelli; Motets
Sistine Chapel Choir; Massimo Palombella
Deutsche Grammophon 4796131
Review
David Olds' notes in the November Editor's Corner set the historical backdrop for Palestrina's Missa Papae Marcelli. This particular recording looks back to original Renaissance sources rather than existing editions. What is more, its authenticity is enhanced as it was recorded within the Sistine Chapel, the result being a more intimate sound.
So it is, with the initial Kyrie eleison and Credo, as the young boys of the Chapel bring a human, almost relaxed interpretation. Incidentally, the recording notes include some enchanting photographs of the choir off-duty and clearly happy in their choral responsibilities.
More solemn is the two-part Tu Es Pastor Ovium, taken from Matthew 16:19 and composed for the coronation of Pope Sixtus V in 1585. This motet has a dominant element of mercy, especially appropriate in the Holy Year of Mercy decreed by Pope Francis for 2016. The plea for mercy is reflected in Ad Te Levavi Oculos Meos, its second part expressing that plea at its most direct.
Palestrina's works do not have to be long or complex: O Bone Iesu, at under two minutes, conveys an intensely spiritual message in a simple structure. Equally uplifting is the Sistine Chapel's interpretation of Benedixisti, Domine, with its theme of God's forgiveness for His people's iniquities.
Last of the longer pieces in this selection is Jubilate Deo. This tests the abilities of the Sistine Chapel Choir – and its chief chorus master Massimo Palombella – more than any other piece on the CD. It goes without saying that its rendition of the Gloria Patri will revive even the most jaded of listeners.