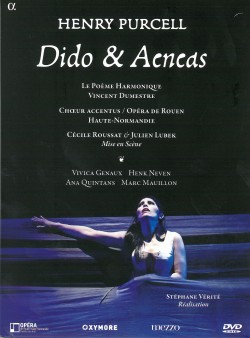 Purcell – Dido & Aeneas
Le Poème Harmonique; Vincent Dumestre; Choeur Accentus; Opera de Rouen Haute-Normandie;
Alpha 706
An opera by a composer described as the English Orpheus and selected by a French music company? And one which has never paid homage to an English composer before? Musical director Vincent Dumestre gives his reasons. First, there is Purcell's pure genius – he could not have been more than 25 when he composed Dido and Aeneas. What is more, he combined the melancholy of composers such as Dowland with the vitality of earlier English masques and the genius of contemporary composer Lully.
Purcell's operas did not stint on the elaborate nature of their stage productions, although this production differs in terms of its ingenuity in stage construction, its lack of complexity and certain demands on the performers. Marc Mauillon's sorceress/sailor roles exploit his gymnastic and trapeze skills, and the first witch and other sorceresses perform with agility on ropes – when they are not scaring the audience!
Vivica Genaux is a magnificent Dido, fully conveying the anguish of her isolation. Her rendition of When I am laid in earth, always a test for singers of all ranges and backgrounds, is accomplished with a haunting quality of which Purcell would no doubt be proud. In addition, Caroline Meng's first witch leaves no doubt as to the character's evil intent.
All in all, a highly original performance but one that still brings home Purcell's compassionate treatment of a tragic love story.