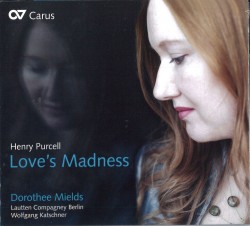 Purcell – Love's Madness
Dorothée Mields; Lautten Compagney Berlin; Wolfgang Katschner
Carus 83.371
Welcome to the antidote for those who believe that Purcell's works comprise over-ornate, highly theatrical operas. There was another side to Purcell suppressed for many (notably Victorian) years.
This is no compilation of songs for love-sick swains snubbed by ice-cold maidens. It gives ample examples of the "mad songs" that emerged in 17th century England, as musicians were inspired by the sometimes tenuous division between sane and insane. This is demonstrated by Dorothée Mields' strident performance of Purcell's Bess of Bedlam and 'Tis women makes us love, two of several such songs in this anthology. Her interpretations leave no one in any doubt as to the amount of insanity these songs express!
Then there are the more conventional pieces by Purcell: the songs from Dido and Aeneas and from the musical theatre productions he made his own, the expertly-played consort pieces, e.g. the Fantazia of 1680, and O, Solitude sung with a purity reminiscent of Alfred Deller's countertenor version.
Finally, traditional and often anonymous songs complete this highly varied 31-track(!) selection. Thomas Ravenscroft's The Three Ravens comes with imaginative recorder playing which conveys just how touching and moving this ballad is.
Yes, an introduction to Purcell's unknown side and to the "mad song" but a not inaccurate appetizer of English 17th century music.