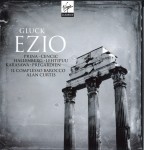 Gluck - Ezio
Max Emanuel Cencic; Ann Hallenberg; Sonia Prina; Il Complesso Barocco; Alan Curtis
Virgin Classics 50999 07092923
Gluck is often styled an operatic reformer, but he composed many successful examples in the earlier opera seria style in which virtuosic da capo arias alternated with simple recitatives. In the year 1750 he selected texts by Pietro Metastasio of Rome, partly because Metastasio specialized in classical themes and partly because his librettos were admired by composers and performers alike.
Ezio is set in Rome after the title character, a Roman general, has defeated Attila the Hun, promptly arousing the jealousy of Emperor Valentiniano III. An intense romantic intrigue is grafted by Metastasio onto the historical background.
From the start, Metastasio's words vary between heart-felt and lengthy arias and quick-fire exchanges during the recitatives. This is apparent in Act One, Scene Two when Ezio, Massimo and Fulvia reveal the initial romantic intrigue within the plot in a very short space of time before Ezio devotes an aria to pleading with Fulvia to be loyal to him.
Metastasio has created characters who are contradictory and flawed: Valentiniano is virtuous but at the same time he is cowardly and credulous, while Ezio is courageous but lacks a sense of caution. This is the backdrop against which Gluck composed his opera while Gluck had not yet himself settled in Vienna.
For all these problems and challenges, the opera lover can settle down to a complex but rewarding work, aided by Bruce Alan Brown's comprehensive and explanatory notes.