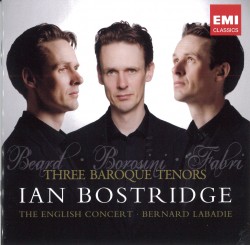 Three Baroque Tenors
Ian Bostridge; The English Concert; Bernard Labadie
EMI Classics 6 26864 2
Castrati were some of early opera's superstars; they eventually found their supremacy challenged by the rise of the tenor, often showcased by composers such as Handel. This CD features Ian Bostridge interpreting music for three star tenors of Handel's day – John Beard, Francesco Borosini and Annabile Po Fabri. The pieces selected reflect this showcasing, not least with Handel's Where congeal'd the northern streams and Vivaldi's La tiranna e avversa sorte, the latter's musical score combining with its lyrics to drive home the determination of Tamese to rule.
Ian Bostridge chooses two consecutive pieces to show how Gasparini and Handel each depict the torment of the defeated Bajazet. Gasparini exploits the tenor register to full effect; Handel is more contemplative – contrast Bajazet's resignation with the immediately following piece, Arne's militaristic Rise, Glory, rise, where even loud drums can not extinguish Ian Bostridge's inspired interpretation.
Even Handel's frenetic D'un barbaro scortese receives Bostridge's attention, demonstrating just how much energy could be generated by a leading baroque tenor. It should not, however, be thought that this collection is only about classical dignitaries laying down commands for mere subjects. William Boyce's Solomon depicts plaintive scenes of love drawn from the Song of Solomon. In short, every known emotion features in the baroque tenor's repertoire. And in Ian Bostridge's.