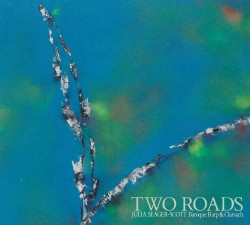 Two Roads
Julia Seager-Scott
Pipistrelle Music PIP1706 (harpmusic.ca)
In her inaugural solo recording, classically trained local modern pedal harpist Julia Seager-Scott embarks on an adventurous musical journey performing/arranging on two new instruments for her – the Baroque triple harp and the clarsach or traditional Gaelic wire-string harp.
Handel's Harp Concerto in B-flat Major, third movement, is the only non-arrangement performance here. Seager-Scott writes that she learned this staple of the pedal harp repertoire as a teenager but was thrilled to relearn and record it as originally written for triple harp. Her clear melodic lines against the lower contrapuntal notes are perfect, along with glorious Baroque ornamentation. Equally memorable is her performance of Monteverdi's Pur ti miro from Poppea, which showcases her confident sense of Baroque tempo and style. Seager-Scott also experiments with improvisation in two tracks with Monteverdi bass lines, as one take in the opening track, and layered takes in Harp Party Improvisation.
Her numerous tracks on clarsach harp of the traditional Irish folk music of Turlough Carolan (also known as O'Carolan) are a welcoming musical contrast to the Baroque music. Planxty Burke/Planxty Drew features an uplifting melody against a toe tapping lilt. Equally memorable is the slower emotional and touching performance of Clergy's Lamentation.
Production is clear and successfully captures the performer's musical nuances. The detailed liner notes are informative though the tiny print may be difficult to decipher. Keep listening to the end as a secret track with harp and singing complete Seager-Scott's multifaceted adventure.