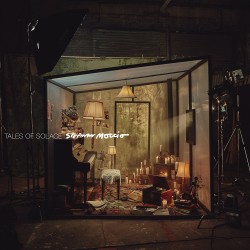 Tales of Solace
Stephan Moccio
Decca Records (stephanmoccio.com)
WholeNote readers may be familiar with Stephan Moccio from his acclaimed work as a world-class songwriter, penning megahits for such artists as Celine Dion, Miley Cyrus and Avril Levigne. On this recording, however, Moccio leaves behind his songwriting chair for the piano bench, as he returns to the keyboard and his beloved classical roots, with stunning results.
Tales of Solace offers us 16 beautifully crafted and intimate vignettes, each with its own particular sonic and thematic signature, united throughout by Maccio's poetic touch and great command of harmony, timing and space. Vaguely familiar sounding melodic motifs rise to the surface, only to disappear back into the rolling and shifting musical landscape, cinematic, yet intimate in its scope and detail.
Many of the pieces are deeply personal: Through Oscar's Eyes is for his son, and features a delicate melody over rolling arpeggiated figures. La Fille Aux Pouvoirs Magiques unfolds like a beautiful meditation, an acknowledgement for someone special in his life. All are performed and recorded on his custom-built Yamaha YUS5 piano.
It takes a great deal of patience and deep listening to create this kind of music. Thank you, Stephan Moccio, for one of the finest and most memorable releases of the year – one to treasure.